Tracy Nelson is an American dancer, actress, and writer, who is perhaps best known as "Sister Stephanie" from the television series "The Father Dowling Mysteries."
Biography
She was born on October 25, 1963, in Santa Monica, California, USA, as Tracy Kristine Nelson.
Her youngest brother Sam became a musician and music executive, while her younger brothers Gunnar and Matthew were musicians who formed the band, Nelson.
Her maternal grandparents were actress Elyse Knox and football star and sportscaster Tom Harmon, whereas her paternal grandparents were the famous singing-and-acting duo, Harriet and Ozzie Nelson.
Her father, Rick Nelson, died at 45 after a DC-3 charter carrying him and his band caught fire in midair and crashed outside De Kalb, Texas, killing Nelson and six others.
Tracy and her younger brothers, Gunnar Nelson and Matthew Nelson, have always said that their father's 1985 plane crash death was caused by a malfunctioning heater and not due to alleged drug use on board of the plane.
In 1968, at age 4, Tracy appeared in Yours, Mine and Ours, as one of the daughters of Henry Fonda and Lucille Ball. Before its release, the movie had three other working titles:
His, Hers, and Theirs;
Full House;
The Beardsley Story.
Nelson received education at The Buckley School and later transferred to the Westlake School for Girls (presently known as Harvard-Westlake School) graduating in 1981. After graduation, she briefly attended Bard College.
Tracy is a professional dancer, having studied ballet for 17 years with Tania Lachine and toured throughout California, USA, in a dance company while still in grammar school.
Throughout the 1980s and 1990s, Tracy made guest appearances on television series including:
Seinfeld (an American television sitcom which ran for nine seasons on NBC, from 1989 to 1998);
Family Ties;
Diagnosis Murder;
St. Elsewhere;
Matlock;
Murphy Brown;
Will and Grace;
The Nanny;
Melrose Place (an American primetime soap opera which aired on Fox from July 8, 1992, to May 24, 1999);
7th Heaven.
Husband
Nelson married William R. Moses (the son of advertising executive Richard Cantrell Moses Sr and actress Marian McCargo) in 1987.
The couple divorced in 1997.
Children
Tracy and Moses welcomed a daughter in 1992. Furthermore, she has a son, Elijah Nelson Clark, born August 22, 2001, with Chris Clark, a jazz, soul, and blues singer, who recorded for Motown Records.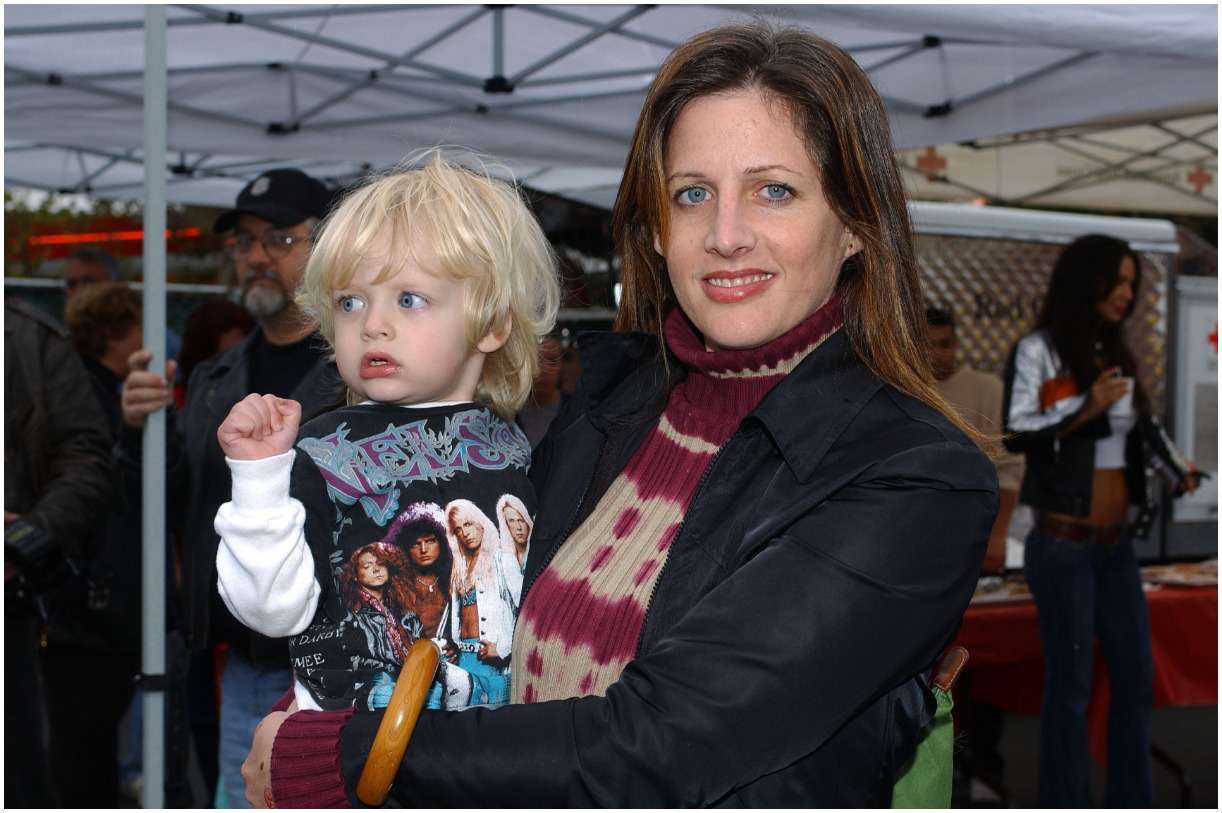 Trivia
Her acting mentor was Tom Bosley, an American actor, television personality, voice artist, and entertainer who is best known for portraying Howard Cunningham on the ABC sitcom Happy Days.
In 1986, Tracy landed the role of the anorexic daughter in Paul Mazursky's film Down and Out in Beverly Hills. In 1982, Nelson played "valley girl" Jennifer DeNuccio on the television series Square Pegs, an American sitcom that aired on CBS during the 1982–1983 season.
She is active in cancer research advocacy and was the spokesperson for The Lymphoma Research Foundation of America.
Tracy was diagnosed with stage 2 Hodgkin's Lymphoma 30 days after her 1987 marriage to William R. Moses. Hodgkin's Lymphoma is a type of cancer that starts in white blood cells called lymphocytes (white blood cells which are one of the body's main types of immune cells).
Hodgkin's Lymphoma may affect people of any age, however, it is most frequent in people between 20 and 40 years old and people over 55.
Factors which can increase the risk of this type of cancer include the following:
Past Epstein-Barr infection – individuals who have had illnesses caused by the Epstein-Barr virus, like – infectious mononucleosis, are more likely to develop HL than the people who haven't had Epstein-Barr infections.
Being male – males are slightly more likely to develop HL than females.
A family history of lymphoma. Having a blood relative with HL or non-Hodgkin's lymphoma increases your risk of developing HL.
Age – HL is most often diagnosed in individuals between 20 and 40 years old and those over 55.
Signs and symptoms of HL may include:
pain in your lymph nodes after drinking alcoholic beverages;
increased sensitivity to the effects of alcohol;
severe itching;
painless swelling of lymph nodes in the groin, neck, or armpits;
unexplained weight loss;
night sweats;
fever;
persistent fatigue.
READ MORE: Who is Jessica Jung's boyfriend?
Nelson went into remission after radiation and chemotherapy (ABVD) at Cedars-Sinai Hospital in Los Angeles, California. She also underwent a 7-hour medical procedure. The surgeons removed Nelson's spleen, samples of her lymph nodes, and a portion of her liver. During an interview, she said:
"I was opened from right under my rib cage all the way down to my pelvic region. I was like a human biology project."
Having suffered trauma from radiation, Tracy was diagnosed with thyroid cancer (a rare type of cancer which affects the thyroid gland) in 2005 and breast cancer in 2010.
After her cancer diagnosis, Tracy had a troubling but prophetic dream. She said:
"My father called me on the phone and said, I know you miss me, but it's not time for you to die. You have to go see a doctor."
Nelson blamed the cause of cancer on the stress she underwent after the death of her father (Rick Nelson) coupled with the battle for the custody of her youngest brother between her uncle and mother.
Other famous actors are Lainie Kazan, Duncan Trussell, and Burr.
Tracy Nelson – Net Worth
Nelson earned most of her wealth by appearing in numerous movies, such as – The Perfect Husband (2004), A Killer Upstairs (2005), Miracle at Sage Creek (2005), The Rival (2006), or A Grandfather for Christmas (2007).
Also, Tracey was a professional ballet dancer for over seventeen years with Tania Lachine. In addition, Nelson has written a book about her personal experience and a movie script about her family "The Nelsons." Therefore, Tracy Nelson has an estimated net worth of $7.6 million.
READ THIS NEXT: Rose Marie Net Worth
Featured image source – © Guliver / Getty Images.
Reference

https://people.com/tv/mark-harmon-sister-kristin-downfall-life-death/