What was Virgil Abloh's net worth at the time of his death?
Introduction
Virgil Abloh was an American music producer, DJ, and fashion designer known as the creative director for rap superstar Kanye West.
Abloh also founded Off-White, a luxury fashion label.
In March 2018, Virgil became the artistic director of Louis Vuitton's men's wear collection.
He is the first black man in Louis Vuitton's history to debut a menswear line.
Biography
On September 30, 1980, he was born in Rockford, Illinois, USA, to a family of immigrants from Ghana.
Virgil was raised in Chicago, Illinois.
Abloh began designing t-shirts at a young age incorporating things he did daily.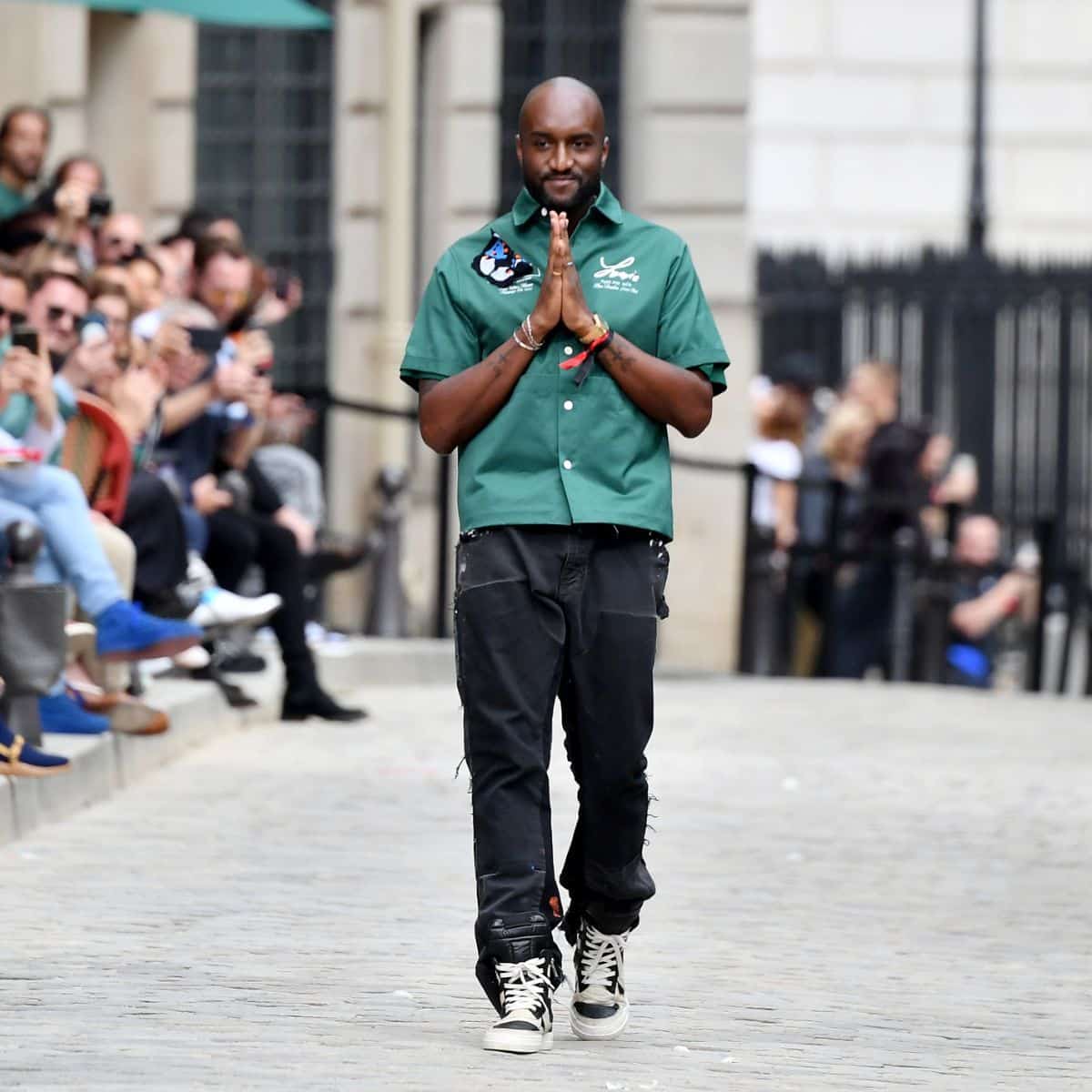 In 2002, Virgil graduated from the University of Wisconsin-Madison with a degree in civil engineering. He once said:
"My first degree was in structural engineering, which is super-boring."
In 2006, Abloh received his Master of Architecture at the Illinois Institute of Technology.
While studying architecture at the Illinois Institute of Technology, Virgil wrote for a blog named – "The Brilliance" on design and fashion.
In 2009, Abloh founded RSVP Gallery, a menswear boutique and art gallery in Chicago.
In the same year, he went to an internship at Fendi in Italy. There, Abloh got to know American rapper Kanye West. Later, the two started a collaboration.
In 2010, Virgil was named the creative director of Kanye West's creative agency, named – "Donda."
In 2011, Kanye asked him to serve as the artistic director for the Jay-Z/Kanye West album, "Watch the Throne."
Later that year, Riccardo Tisci (an Italian fashion designer who became creative director of Givenchy in 2008) and Abloh were nominated for the Grammy's Album Packaging award for their work with West.
Pyrex Vision
In 2012, he started a streetwear brand named Pyrex Vision in New York City.
The first garments were deadstock Ralph Lauren flannel shirts that he purchased for $40 per piece. After, Virgil screen printed the shirts with the number 23 (an homage to American former professional basketball player Michael Jordan) and the word "Pyrex," and then sold them for $550 per piece.
Pyrex Vision shuttered in 2013.
Off-White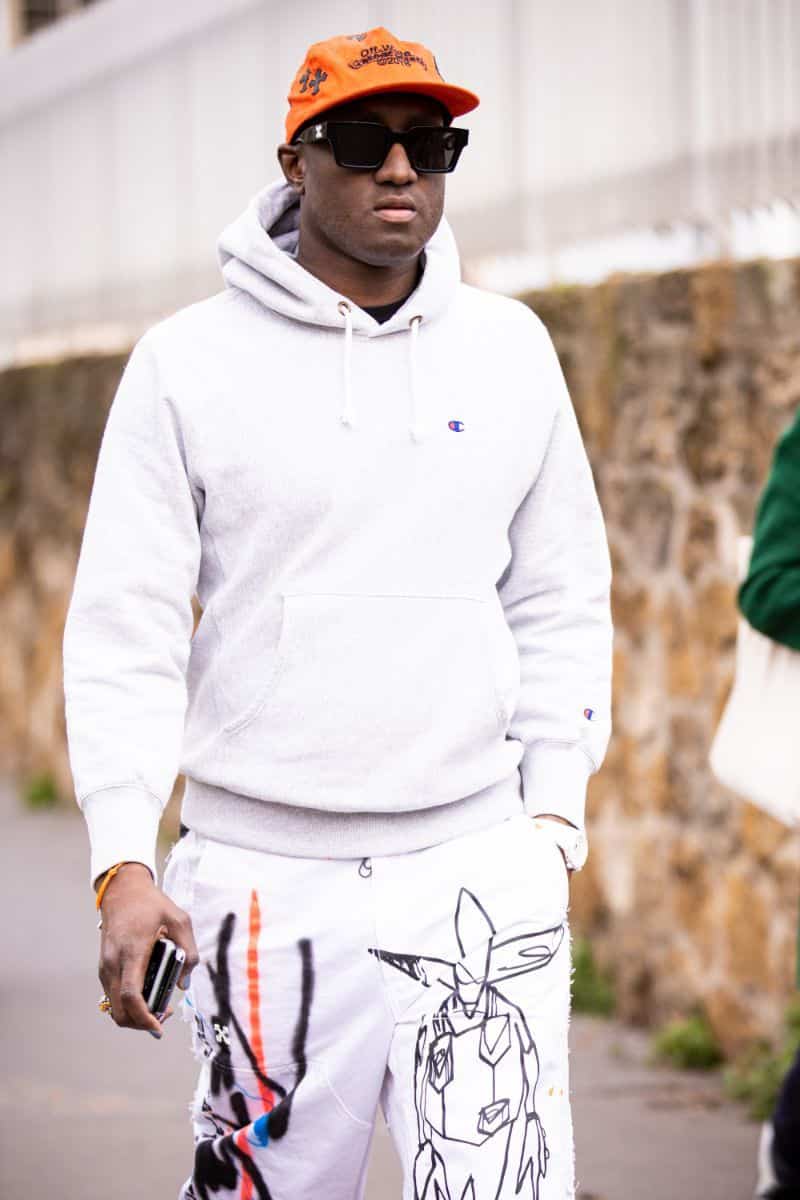 In 2013, he started a new brand named – "Off-White c/o Virgil Abloh."
He said:
"I think the reason why Off-White exists is to modernize fashion."
Off-White has collaborated with designers and brands such as:
Le Bon Marché;
Boys Noize;
Byredo;
ASAP Rocky;
Heron Preston;
Takashi Murakami;
Timberland;
Nike;
Umbro;
Levi;
Barneys New York;
Jimmy Choo;
Dr. Martens;
IKEA;
Converse;
Moncler;
Évian;
Browns;
Champion;
Warby Parker;
Sunglass Hut;
SSENSE.
Off-White's clothing uses stylized items like its use of – four-way arrows, which create a cross, yellow industrial buckle belt design, zip ties, and quotation marks.
The brand is carried by stores, including – Le Bon Marché, Harrods, Selfridges, and Barneys. It also has over 46 independent stores.
The first Off-White womenswear line debuted at Paris Fashion Week in 2014.
In 2015, the brand was among the finalists of the LVMH Prize.
In the follow-up year, Virgil opened his first concept store in the Aoyama area of Tokyo.
In 2017, Abloh won the International Design Designer at the GQ Men of the year awards.
Nike
Nike and Virgil started to work together in 2017. The first collaboration was on the Air Jordan 1. Since then, Nike and Abloh have released more than 33 shoes together, such as:
Zoom Fly;
Air VaporMax;
Air Max 97;
Air Force 1.
Louis Vuitton
In 2018, Virgil was named the artistic director of Louis Vuitton's menswear collections. He said:
"It is an honor for me to accept this position."
Abloh went on to say:
"I find the heritage and creative integrity of the house are key inspirations and will look to reference them both while drawing parallels to modern times."
In the same year, Japanese contemporary artist Takashi Murakami (the creator of the artistic movement "Superflat") and Abloh collaborated on a series of exhibitions at Gagosian Gallery's outposts in Beverly Hills, Paris, and London.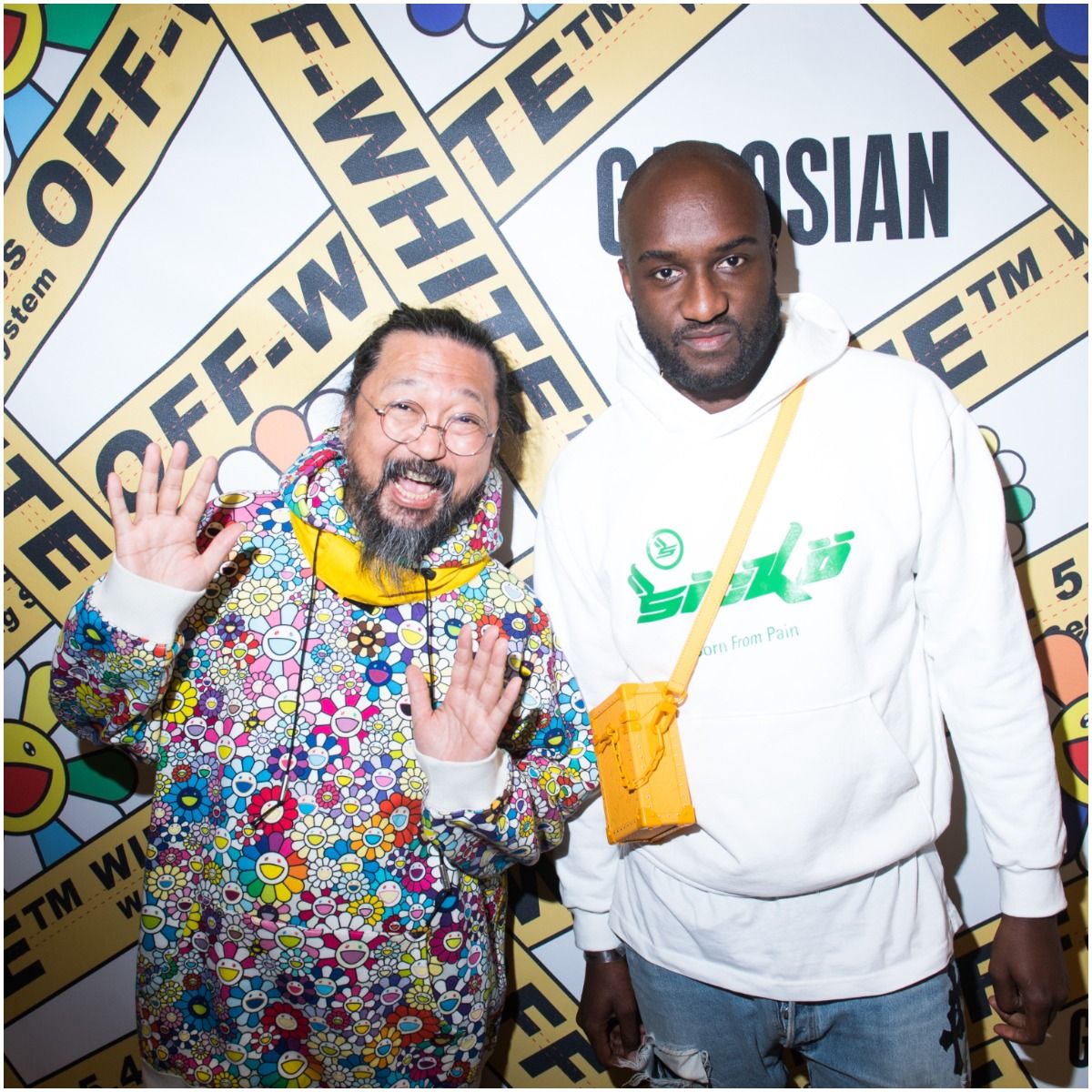 In 2018, Time magazine named Abloh one of the 100 most influential people in the world.
On March 29, 2019, Abloh teamed up with SSENSE to release a workout collection.
In June 2019, Virgil had his first show for Louis Vuitton in the Palais Royal gardens in Paris. In attendance were musician Kid Cudi and Kanye West.
In August 2019, British-based Portuguese billionaire businessman José Neves acquired New Guards Group, the parent organization of Off-White, for $675 million.
In 2019, Virgil was nominated for Menswear Designer of the Year.
In 2020, he founded the Virgil Abloh™️ "Post-Modern" Scholarship Fund.
READ MORE: Sidney Torres IV & Selina White
Wife
In 2009, Virgil Abloh married Shannon Abloh. They first met in high school.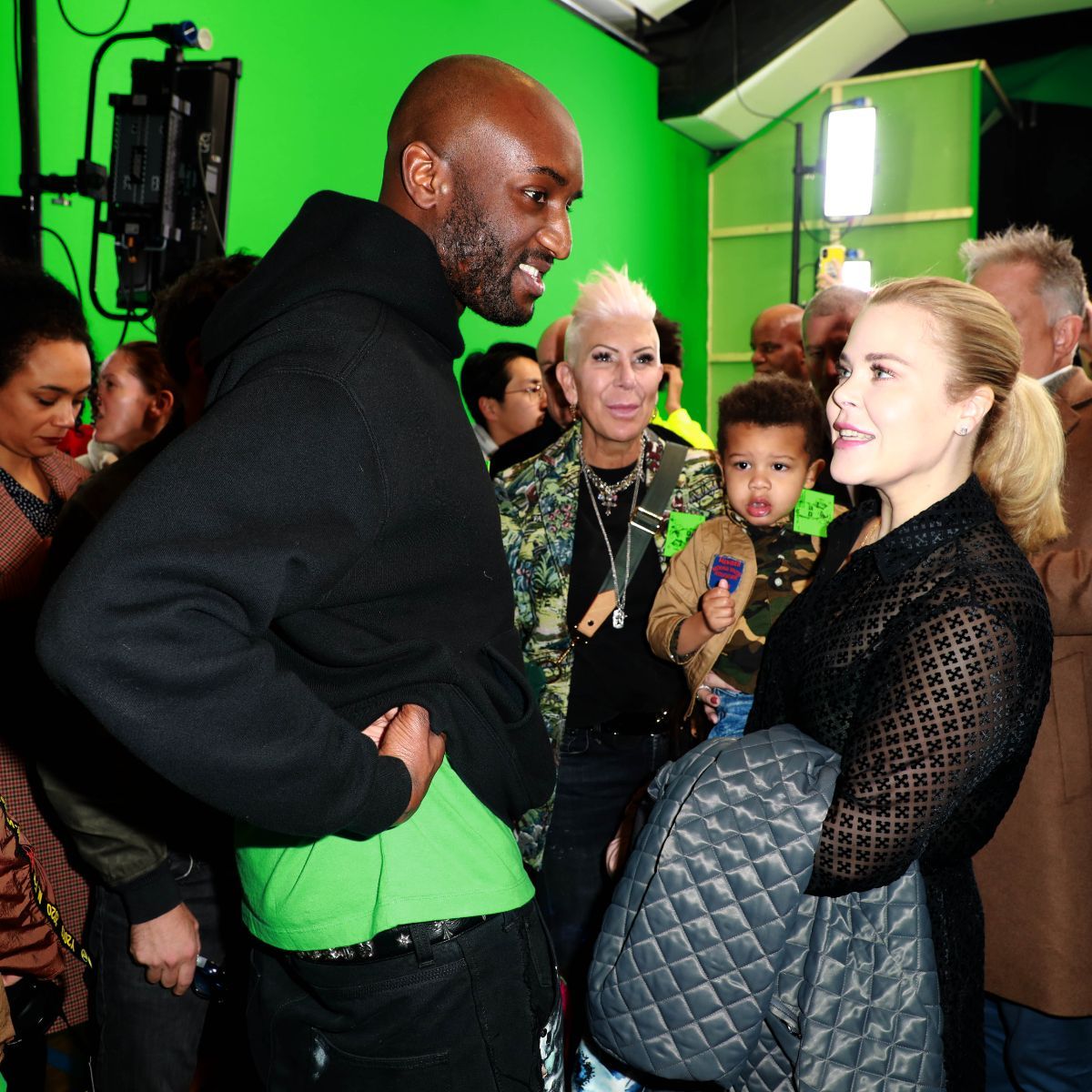 Children
The couple has two children, Grey and Lowe.
READ MORE: Greg Locke Net Worth
Death
In September 2019, Abloh announced that he is taking a few months off due to some health issues, most likely fatigue. He didn't say the exact reason; however, his doctors have recommended him not to travel (he usually travels around 350,000 miles per year for his work).
During an interview, the designer confessed:
"Essentially I'm working from home for the next three months, and in large part all my marketing events I'm canceling."
On November 28, 2021, Abloh died in Chicago after a two-year battle with cardiac angiosarcoma.
READ MORE: Who is Michael Symon's wife?
Virgil Abloh – Net Worth
Abloh earned most of his wealth from being the founder of a fashion brand named – "Off-White."
In 2019, José Neves acquired New Guards Group, the parent organization of Off-White, which is renting out its license to use the trademark for $675 million.
Virgil owned the intellectual property of the Off-White trademark. New Guards had an annual income of $354 million. Virgil also earned good money from being the artistic director of Louis Vuitton's menswear collections.
In January 2018, he released his first single, "Orvnge" with German DJ/producer Boys Noize.
In 2019, he was appointed to the board of directors of The Council of Fashion Designers of America, a not-for-profit trade association of more than 450 American accessory and fashion designers.
Abloh partnered up with the furniture company IKEA to design furniture for houses and apartments.
LVMH bought a 60% stake in Off-White in July 2021.
Therefore, at the time of his death, Virgil Abloh had an estimated net worth of $100 million.
READ THIS NEXT: Who is Adam Conover?