Sébastien Bourdais (birth name – Sébastien Olivier Bourdais) is a French driver who is best known as the winner of 4 consecutive Champ Car World Series titles.
Biography
He was born on February 28, 1979, in Le Mans, France.
His father was a race car driver and competed in the 24 Hours of Le Mans and European Touring cars.
Sébastien began racing carts at the age of 6.
In 1995, Bourdais finished ninth in the Formula Campus by Renault and Elf Championship.
In 1996, he was part of the winning Sologne Karting team which won the 24-hour Le Mans kart race at the Circuit Alain Prost.
In 1998, Sébastien won 5 races to become Rookie of the Year in French F3.
Later, he joined the Prost Junior Team in the International F3000 Championship.
In 2001, Sébastien moved to the DAMS team in Formula 3000. His first win was in the series at Silverstone.
In 2002, Bourdais won the Spa 24 Hours with Vincent Vosse, David Terrien, and Christophe Bouchut in a Larbre Compétition Chrysler Viper GTS-R.
In 2003, he joined Newman/Haas Racing for the CART season. Sébastien finished fourth in the overall standings and earned the Rookie of the Year title.
For the 2004 season, he won the Champ Car series with 8 poles and 7 wins in his McDonald's-sponsored Lola.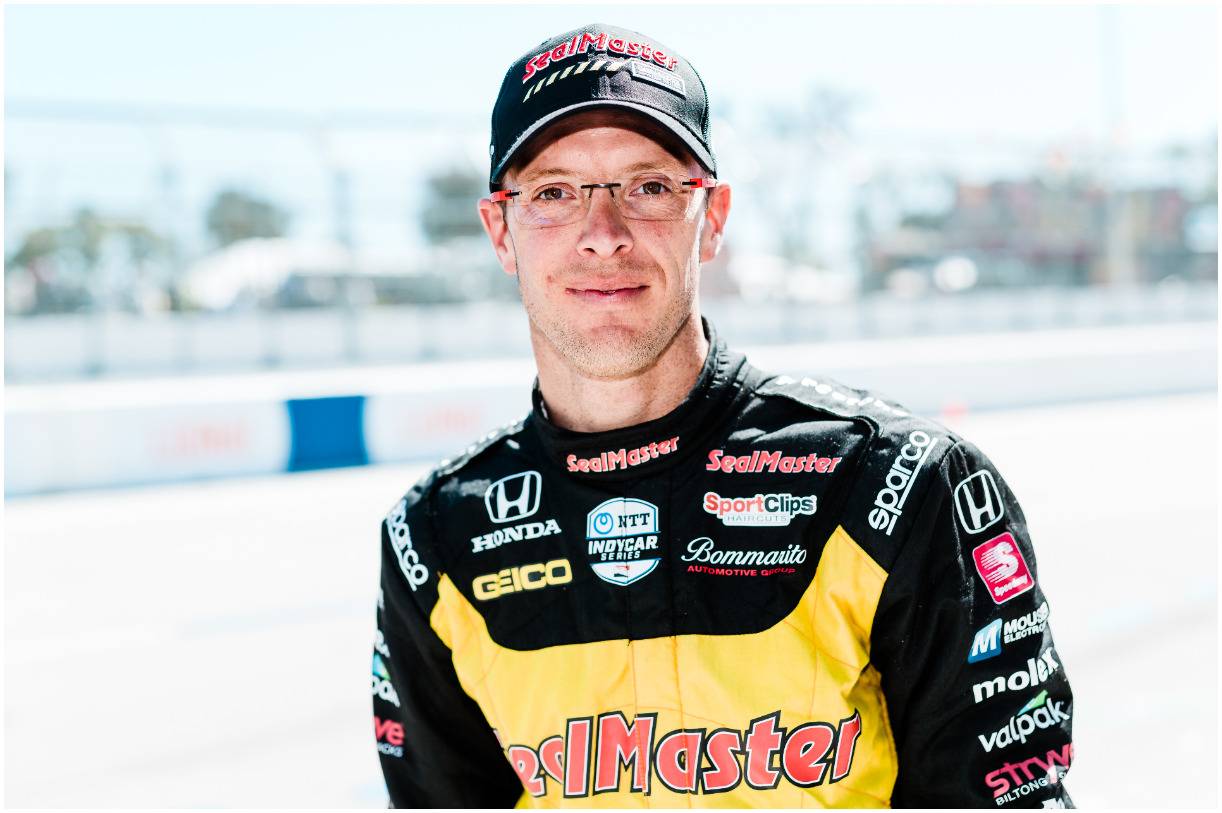 In 2005, Sébastien won the Champ Car title again. In 2006, he won a 3rd consecutive Champ Car title. In 2007, Sébastien won a 4th consecutive Champ Car title with victory at Lexmark Indy 300.
Formula One
In August 2007, he replaced Italian professional racing driver Vitantonio Liuzzi at Red Bull's b-team, Toro Rosso, as team-mate to German racing driver Sebastian Vettel.
On July 16, 2009, the Italian Formula One racing team Toro Rosso announced that Sébastien would no longer be driving for the Italian racing team.
After leaving Toro Rosso, he signed up to drive the Sevilla FC car in the Superleague Formula series.
In 2010, Bourdais returned to race for Olympique Lyonnais.
In October 2011, he drove with Australian professional racing driver Jamie Whincup in the Gold Coast 600 in the Team Vodafone Holden Commodore V8 Supercar.
In 2014, Sébastien won the Rolex 24 at Daytona in the Action Express Corvette DP with Brazilian former racing driver Christian Fittipaldi and Portuguese auto racing driver João Barbosa.
In the follow-up year, Bourdais won at the 12 Hours of Sebring with an Action Express Corvette DP.
Accident
On May 20, 2017, he was involved in a car accident (at over 230mph) while qualifying for the Indianapolis 500.
He was extracted from his Dale Coyne Racing cockpit and transported to the hospital where his injuries were diagnosed. Bourdais suffered a fracture to his right hip and multiple fractures to his pelvis.
According to a statement by IndyCar:
"Verizon IndyCar Series driver Sebastien Bourdais was diagnosed with multiple fractures to his pelvis and a fracture to his right hip following an incident today."
Later, he underwent surgery at IU Health Methodist Hospital.
Dale Coyne, the team owner, declared:
"Sébastien is in good hands here at IU Methodist Hospital with the staff and now we just wait for him to recover."
In November 2019, it was announced that Sébastien will leave the NTT IndyCar Series to join the Mustang Sampling, LLC in the 2020 and 2021 seasons of the IMSA WeatherTech SportsCar Championship.
Bourdais said:
"I want to thank Dale, Jimmy, and Sulli for giving me this opportunity to continue racing in the NTT IndyCar Series over the past few years."
Sébastien went on to say:
"I look forward to pursuing new opportunities in racing in the years ahead."
In February 2020, he joined A. J. Foyt Racing to drive part-time in the 2020 IndyCar Series season.
READ MORE: Abner Mares Net Worth
Wife
In 2006, Sébastien Bourdais married Claire Ragot, a French track and field standout.
Children
The couple has two children, daughter Emma Camille (born on December 2, 2006) and son Alex (born in 2009).
He once said about his daughter:
"Emma, she's supportive in everything but she's not particularly interested."
Bourdais later added:
"She's a dance freak and all she talks about is dancing and she dances about 28 hours a week."
The family lives in St. Petersburg, Florida. In 2018, they applied for green cards. He said:
"We didn't do it earlier because we didn't know how long we would stay or how long my contracts would be."
READ MORE: Shane Van Boening Biography
Quotes
"I'm just happy to be where I am now and you can bet that I will make the most out of this opportunity."
"The physical question is something which I undertake for the whole season and not especially for one event."
"Every car is particular and every series is different and your position changes obviously but the overall level of competition has gone up significantly."
"You can only be of help to the rookie as much as he is willing or wanting to learn from you."
"You can't be friends be everybody. I've come a long way and I enjoyed my stay in Champ Car."
READ MORE: Buakaw Banchamek Net Worth
Sébastien Bourdais – Net Worth
Bourdais earned most of his wealth from working as a professional driver. During the 2008 and 2009 seasons, he drove in Formula One for the Toro Rosso team. After his contract with Toro Rosso was ended in 2009, the Italian team settled with Sébastien with a $2.1 million payment.
Moreover, he is the only Indy car driver to win four consecutive championships (2004-2007). Therefore, Sébastien Bourdais has an estimated net worth of $4.8 million.
Featured image source – © Guliver / Getty Images.
READ THIS NEXT: Rickson Gracie Movie
References

https://racer.com/bourdais-barbosa-headed-to-jdc-miller/
https://www.indycar.com/Bourdais-citizenship-winners-plaque
https://www.motorsport.comcoyne-confirms-shock-bourdais-exit/