Dustin Poirier (birth name – Dustin Glenn Poirier), nicknamed – The Diamond, is an American professional mixed martial artist, who competes in The UFC's lightweight division.
Poirier co-founded the Good Fight Foundation with his wife and was featured in the MMA documentary "Fightville."
Biography
He was born on January 19, 1989, in Lafayette, Louisiana, USA.
Dustin is of French descent, specifically, of Cajun heritage, also known as Acadians.
He attended the Northside High School in Lafayette, Louisiana.
Dustin turned professional in 2009.
On November 12, 2010, he won a match vs Zach Micklewright (a mixed martial artist who is also in the US Marine Corps) at WEC 52 via first-round TKO.
UFC
On January 1, 2011, Dustin won his first match in The Ultimate Fighting Championship vs American former professional mixed martial artist Josh Grispi.
On June 11, 2011, Poirier won a fight vs Jason Young through unanimous decision at the UFC 131.
Also in 2011, he was featured in the documentary Fightville by Michael Tucker and Petra Epperlein. Fightville features interviews with a group of fighters and coaches, which includes Ronny Lis, Derrick Krantz, Albert Stainback, Tim Credeur, and Dustin.
On November 12, 2011, Poirier defeated American mixed martial artist Pablo Garza at UFC via second-round D'arce choke.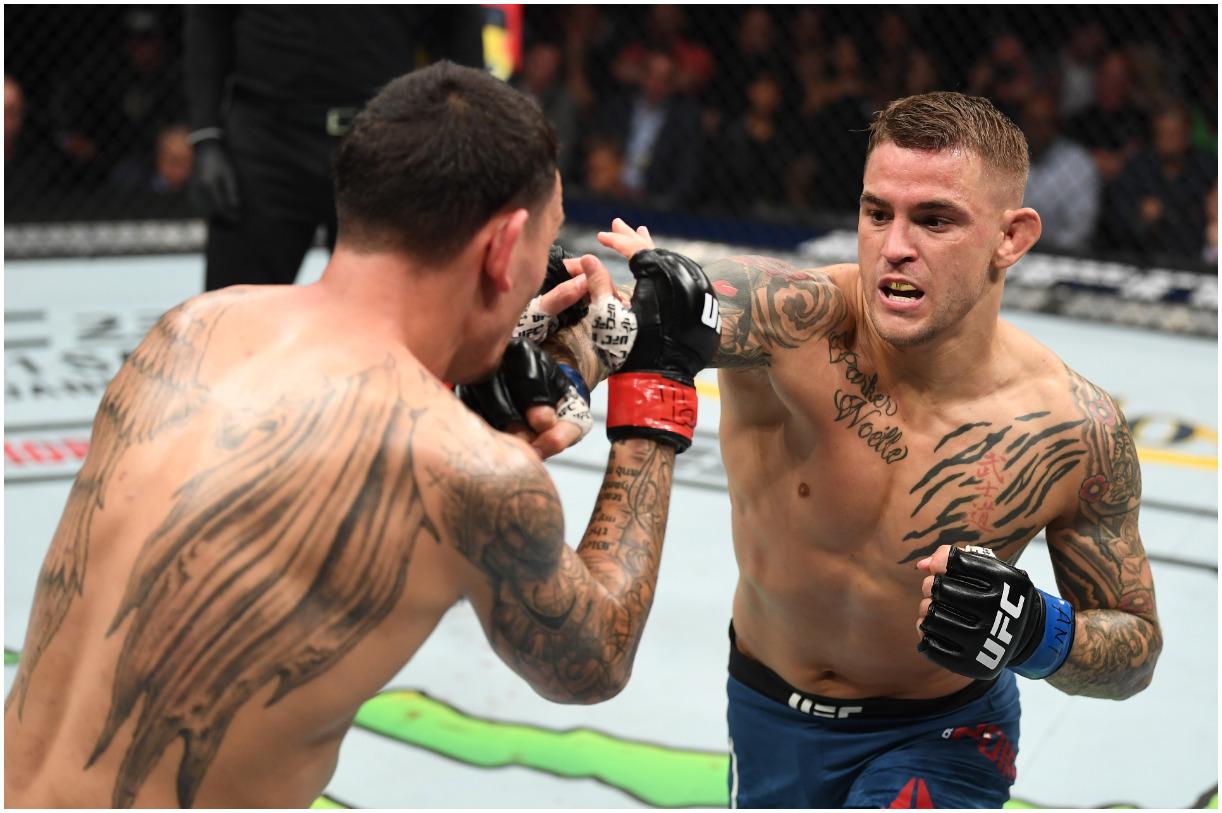 On May 15, 2012, he was defeated via submission (D'arce Choke) in the fourth round by Chan Sung Jung in the main event at UFC on Fuel TV: Korean Zombie vs. Poirier.
On December 15, 2012, Dustin won a fight at The Ultimate Fighter 16 Finale by D'arce Choke vs American mixed martial artist Jonathan Brookins.
On February 16, 2013, he lost a fight via unanimous decision in a match vs Cub Swanson at UFC on Fuel TV: Barão vs. McDonald.
On December 28, 2013, Poirier defeated Diego Brandão, at UFC 168 via knockout in the first round.
In 2014, Dustin won a fight vs Akira Corassani via TKO in the second round at The Ultimate Fighter Nations Finale.
On September 27, 2014, Poirier lost the match vs Conor McGregor by TKO in the first round at UFC 178.
On April 4, 2015, Dustin defeated Carlos Diego Ferreira via knockout in the first round in a lightweight bout, at UFC Fight Night 63.
On June 4, 2016, Poirier won a fight vs Bobby Green via knockout in the first round at UFC 199.
On September 17, 2016, Dustin lost a fight vs Michael Johnson via first-round knockout at UFC Fight Night 94.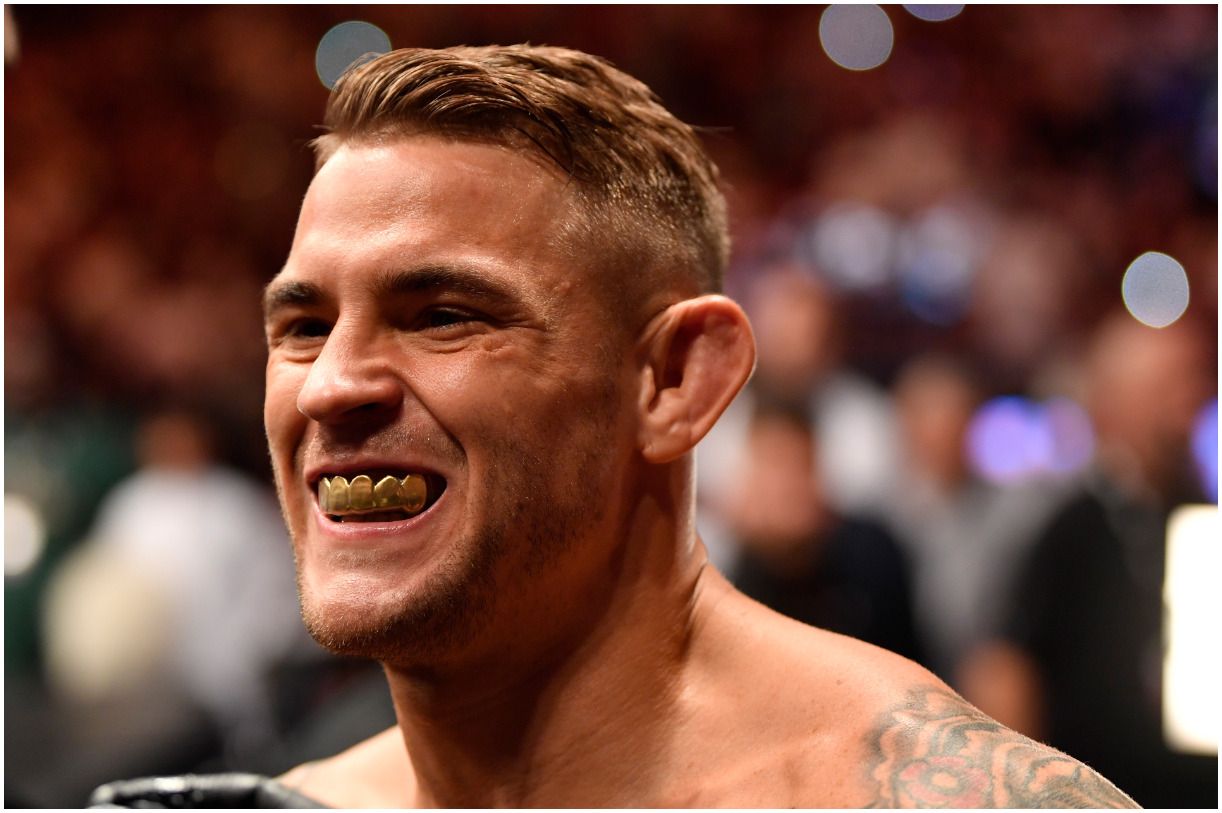 On November 11, 2017, Poirier defeated Anthony Pettis via TKO at UFC Fight Night 120. He said after the match:
"This last one was a bloodbath."
On July 28, 2018, he won a match vs Eddie Alvarez via TKO in the second round at the main event at UFC on Fox 30.
On April 13, 2019, Poirier defeated Max Holloway by unanimous decision at UFC 236 for the Interim UFC Lightweight Championship.
On September 7, 2019, Dustin lost a match vs Khabib Nurmagomedov via rear-naked choke submission in the third round at UFC 242.
Dustin said after the match:
"Thank you guys for the support, it means a lot to me."
Poirier went on to say: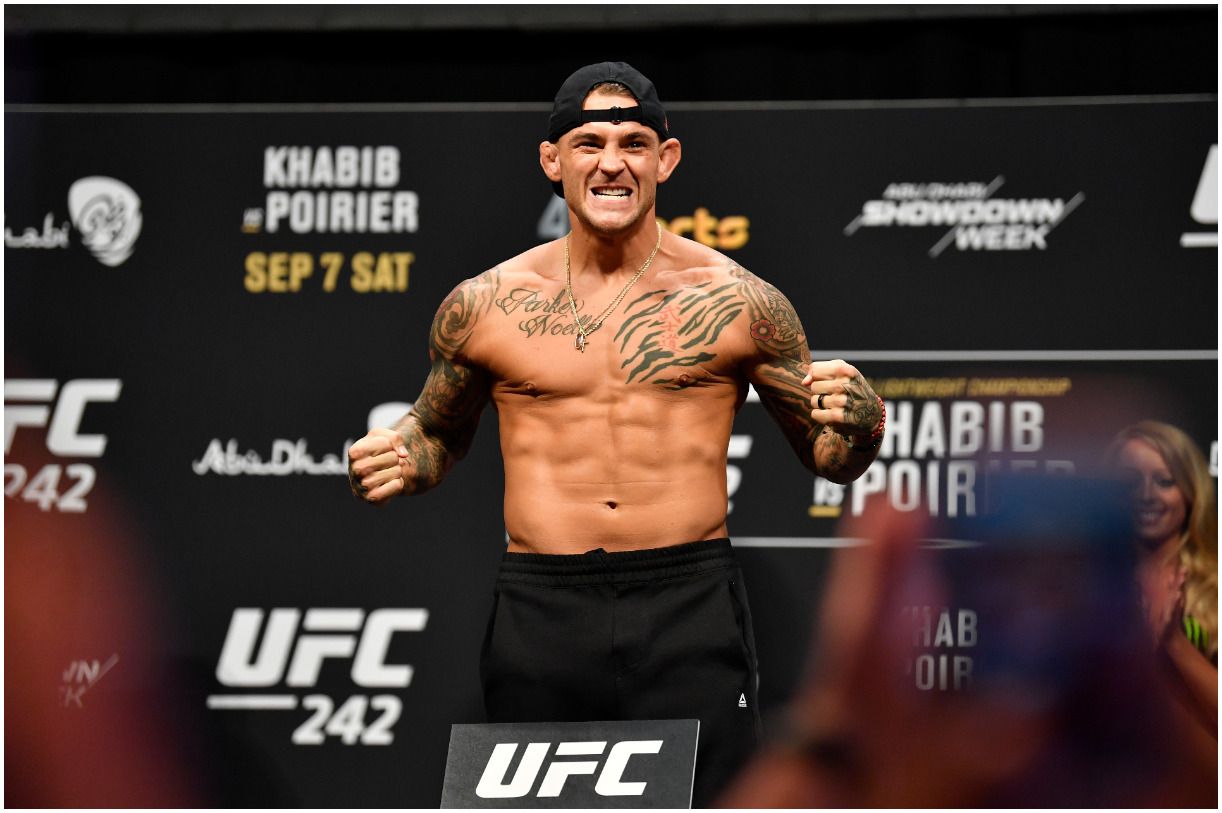 "If I choose to fight again, I'll be back strong. If not I'll see what God has in store for me."
Wife
On September 4, 2009, Dustin Poirier got married to Jolie. She is the owner of Bourbon & Threatd LLC. Her Instagram account (mrsjoliepoirier) has almost 20k followers.
In April 2018, the two co-founded the Good Fight Foundation. Dustin got the idea to start a foundation in 2017 after he auctioned his fight-used gear.
He said for UFC: "That was the fuse to start a foundation."
Good Fight Foundation donated 1,000 meals to medical staff in Louisiana in April 2020. He said: "There's three major hospitals here in Lafayette." Dustin continued: "We want to feed every employee – doctors, nurses – at every hospital."
Children
Jolie and Dustin have a daughter named Parker Noelle (b. August 2016).
READ MORE: Who is Anthony Curcio's wife?
Tattoos
He has many tattoos. For instance, Dustin has tiger stripes on the left side of the chest, while on the right side of the chest, Poirier has the name of his daughter tattooed. In addition, Dustin has 3 Japanese characters on his chest that say "bushidō." He got his first tattoo at around age 14.
Height
Poirier is 5 ft 9 in (175 cm) tall.
Quotes
"We fall, but we get up because the ground is no place for a champion."
READ MORE: Myron Mixon Net Worth
"You take the risk…That's just fighting. It's so unpredictable." (Source)
"It makes me want to do better, do more, come back stronger and show that it's another lesson I learned."
"Every day I wake up and go to sleep, I'm thinking about beating Cub Swanson."
Dustin Poirier – Net Worth
Poirier earned most of his wealth from competing in UFC. So far, Dustin earned over $2.59 million from fighting. For example, he earned $330,000 from his match vs Max Holloway at UFC 236.
In addition, Dustin has several sponsors. In 2013, he thanked his sponsors on Facebook. Some of his sponsors at the time were – Ortoll Holdings Inc., Muscle Pharm, Moores Machine Shop, Genox Transportation, Tomahawk Rents, and HeadRush.
In 2018, it was reported that Poirier is sponsored by Joe Rogan's company Onnit. Therefore, Dustin Poirier has an estimated net worth of $2 million.
READ THIS NEXT: Who is Ramin Djawadi?
Featured image source – © Guliver / Getty Images.