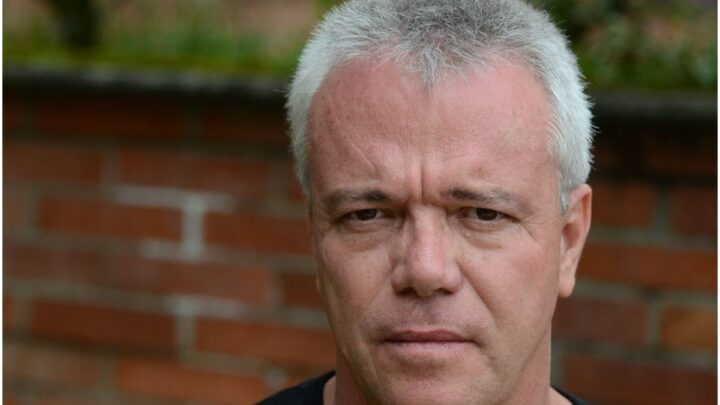 John Jairo Velásquez (birth name – Jhon Jairo Velásquez Vásquez), nicknamed – Popeye, was a former Columbian assassin who confessed to more than 300 killings as part of the criminal structure of the Medellin Cartel.
He spent more than 23 years in prison in Colombia. John often describes himself as the "living memory" of the Medellín Cartel. He once said:
"I'd estimate I've killed around 250 people with my own hands, but only a psychopath keeps count."
In 2013, Velásquez declared:
"If Pablo Escobar were to be reborn I'd go with him without thinking."
Biography
He was born on April 15, 1962, in Yarumal, Antioquia, Colombia.
When Velásquez was 7, he and his family moved to Medellin. During an interview, Popeye said:
"A whole new world opened up to me. In the city, I was much freer. At the time, it was already very violent."
Velásquez added:
"One day, seven people were killed near my house. The smell of blood, the death, it fascinated me."
At age 18, he started working for Colombian drug lord Pablo Escobar. He said:
"When I met Escobar it was as if I'd met God! I was very young."
He recalled about his first kill:
"I had to kill a bus conductor in the Medellin suburb of Envigado."
Velásquez went on to say:
"When he was the driver, the mother of a friend of Pablo Escobar's got off the bus and had a fall, and he didn't help her. He left her there and she died."
Popeye continued:
"So when this guy got some money, he asked Escobar to help him get revenge on this driver."
Velásquez once said about Pablo Escobar:
"Pablo Escobar Gaviria was an assassin, a terrorist, a drug trafficker, a kidnapper, a racketeer, but he was my friend."
Prison
In 1989, Velásquez was part of a plot to assassinate César Gaviria, a Colombian presidential candidate, by blowing up a plane. There were 110 people killed in the process.
César Gaviria was supposed to be on the flight, however, he never got on the plane after his chief of security raised concerns about him traveling. Gaviria went on to become president of Colombia from 1990 to 1994.
For plotting the murder of César Gaviria, Popeye received a 30-year sentence in a maximum-security jail in Bogota.
While imprisoned, John obtained 14 diplomas on different short courses.
In 2014, Velásquez was released from a Colombian prison after serving more than 2 decades.
Life After Prison
Since his prison release, Velásquez has taken to YouTube activism on his channel. Currently, his YouTube channel has more than 1.17 million subscribers and over 91 million views.
His channel is named "Popeye Arrepentido" or "Regretful Popeye."
According to his channel description:
"I have had the opportunity to be born again after 23 years and three months of the worst punishment a human being can afford."
On the channel, John has provided outspoken commentary on Colombian political issues. He also tells riveting stories from his years with the Medellin Cartel.
In 2017, he was present at a birthday party for Juan Carlos Mesa, one of Colombia's most-wanted drug traffickers. Later, the Colombian authorities wanted to re-arrest him for violating his parole.
On May 25, 2018, Popeye was arrested in Medellín on charges of extortion and criminal conspiracy.
Book
In 2015, he released a book, titled – "Surviving Pablo Escobar: "Popeye" The Hitman 23 Years and 3 Months in Prison."
TV Show
On February 8, 2017, Netflix has launched a TV series called "Alias J.J.," which is based on his book.
In part one of Alias J.J., Velásquez talked about bombing a Colombian airliner in 1989. The first episode of Alias J.J. debuted with a total of over 8.4 million viewers in Colombia.
In part two of Alias J.J., Popeye described Pablo Escobar's intense reliance on aviation for cocaine production.
In part three of the series, John details how Pablo Escobar's operation fed the crack epidemic in the United States in the late 80s and early 90s.
READ MORE: Matt Chandler Quotes
Wife/Girlfriend
John Jairo Velásquez was romantically involved with a former lover of Escobar, named – Wendy Chavarriaga Gil.
But, he shot her fatally twice in the forehead, after Popeye received a phone call with a recording of Gil speaking with DEA agents. He also received a choice: "love or death."
Death
Jhon Jairo Velásquez died on February 6, 2020 in Bogotá.
Quotes
"Live honestly like I do, with discipline and without being hunted by anyone."
"I am not against peace, I am against the agreement and the Nobel Peace Prize the Norwegians gave to Santos."
"I'm a professional killer, I kill for money. I also killed out of love and respect for Pablo Escobar."
"I've been famous for 30 years. I only want to have an opinion because I am an activist."
READ MORE: Nicole Byer Biography
Trivia
In 2016, he was robbed at gunpoint by two men in Colombia. Popeye said:
"The blokes who did it didn't say anything to me."
John added:
"Each one of them stuck a gun to my window. There was nothing I could do."
In the past, Velásquez didn't feel regret for his killings. In his words:
"That idea that a person cannot sleep for thinking about dead people doesn't apply to me."
Popeye went on to say:
"Neither did I need to take drugs, or smoke, or take pills to calm myself down. The deeds that I have done don't deprive me of sleep."
However, John has worked with a therapist. He confessed:
"Every day, I made a list of all the nasty things I said to the guards. Little by little, I changed my way of thinking and acting."
On April 1, 2017, Velásquez participated in a march against corruption in Columbia.
During childhood, John wanted to work on the side of the government, as a policeman.
READ MORE: Is Mike Iaconelli married?
John Jairo Velásquez – Net Worth
Velásquez probably made millions while working for the Medellin Cartel, however, most of that money is gone after he was arrested and incarcerated.
After John was released from prison, he started a very popular YouTube channel. But, the channel is not monetized.
Popeye makes money from selling his book (available on Amazon) as well as selling the rights to Netflix. In 2019, he appeared in the film X Sicario – Pablo Escobar's Hitman. Therefore, at the time of his death, John Jairo Velásquez had an estimated net worth of $0.3 million.
Featured image source – © Guliver / Getty Images.
READ THIS NEXT: Who is Jerry Miculek?
References

https://www.vice.com/ehow-to-survive-an-interview-with-pablo-escobars-hitman
https://correspondent.afp.com/interview-assassin
https://www.scmp.com/pablo-escobars-hit-man-popeye-accused-violating-parole