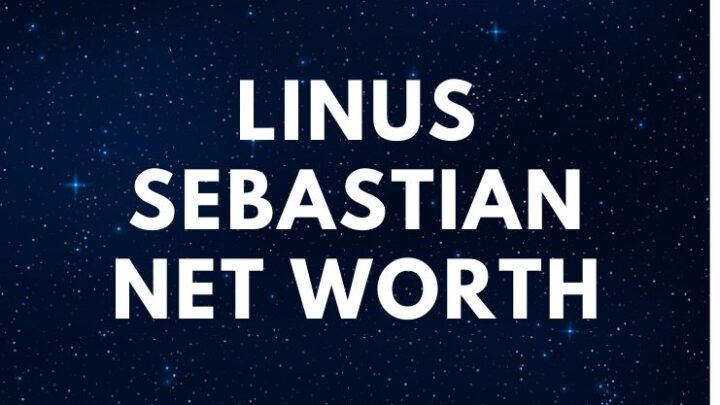 Linus Sebastian (birth name – Linus Gabriel Sebastian) is a Canadian YouTuber, producer, and founder of Linus Media Group. He is best known for his popular YouTube channel "Linus Tech Tips."
Biography
Linus was born on August 20, 1986, in Ladner, British Columbia, Canada.
Sebastian has four siblings – two brothers, George and Asher, and two sisters, Emily and Isabelle.
Education
He went to Garibaldi Secondary School. After high school, Sebastian enrolled in the University of British Colombia.
During college, Linus worked at the electronics shop "NCIX" (the company filed for bankruptcy in December 2017 after over two decades of operation).
In 2007, his boss at NCIX asked Linus to produce videos about products after he noticed that at the competition. Linus said:
"I was given the assignment even though I had no prior experience."
His first video was a demonstration for a Sunbeam processor heatsink.
Later, Sebastian dropped out of college.
YouTube
On November 24, 2008, he started his Linus Tech Tips YouTube channel. He has earned more than 13 million subscribers and over 4.5 billion views.
The channel's most popular videos are "Building a PC CHEAPER in CHINA?! feat. Strange Parts" and "Arctic Hobby Land Rider 503 RC Firetruck Unboxing & First Look Linus Tech Tips."
He also has the following YouTube channels:
Channel Super Fun – 104 million views/815,000 subscribers;
TechLinked – 232 million views/1.46 million subscribers;
Techquickie – 589 million views/3.79 million subscribers.
In 2018, Linus uploaded a video in which he claimed an Apple Authorized Service Provider and Apple denied to service his damaged iMac Pro.
Retirement?
In January 2020, Sebastian celebrated his 10 million subscriber milestone on YouTube. During a very emotional live stream, Linus talked about wanting to retire since his personal life has affected his passion for making YouTube videos and tech. He said:
"The truth is, I've been thinking about retiring for quite some time now."
Sebastian went on to say:
"It felt so far off, I didn't think I'd ever get there. I'd often joke that's what I should do for ten million, just like 'hey, thanks, it's been a wild ride, see ya!"
He further added:
"So, I'm not retiring. That's why the stream, which is not clickbait, is titled 'I've been thinking of retiring.' … I'm just taking a different approach and we're going to see how it goes."
On the live stream, he also talked about a boy who had stage four Leukemia Cancer who asked for a personalized video through the Make-A-Wish foundation.
Wife
In May 2011, Linus Sebastian married Yvonne Ho.
She is a pharmacy manager at Costco Wholesale Canada as well as the CFO of Linus Media Group.
Children
The couple has three children, a son and two daughters.
How Tall Is Linus Sebastian?
Linus is 6 ft and 1 in (185 cm) tall.
READ MORE: Is Steve Hofstetter married?
Lamborghini?
Sebastian calls his Honda Civic a Lamborghini.
In one Instagram photo, Linus joked (or not) of getting tired of his Lamborghini, and currently owns a Lotus Exige.
Other famous YouTubers who have or had a Lamborghini are Parker Nirenstein and Alex Choi.
Amazon Go Store Drama
In 2018, he started an online drama after he uploaded a YouTube video titled "We Stole Tampons from the Cashier-less Amazon Go Store." In the video, Sebastian exploited a vulnerability in an Amazon Go store in Seattle.
The Amazon Go store uses sensors to bill customers for what they walk out with. He showed in the video how you can "steal" from the store, however, his viewers were more upset that he called the product "tampons" when they were "menstrual pads."
READ MORE: Alexandra Grant Net Worth
Trivia
When asked by Media Kix about what he finds most rewarding about being a YouTuber, he responded:
"I love the spotlight and I love sharing my love of technology. I don't think it's possible to design a job that's better suited for me than this one."
Linus continued:
"I also love working with a world-class team every day."
His favorite YouTubers are:
Austin Evans;
RoboLax;
TotalBiscuit.
When asked by Life Hacker about the best advice he has ever received, Linus replied:
"Execution is everything. Sitting around and planning is worthless unless it turns into something tangible."
Sebastian added:
"You're better off to have 100% execution of a 50% plan than 50% execution of a 100% plan."
He owns two Bengal cats, named Rumble and Rocket.
In 2015, Inc. magazine ranked Linus fourth in a list of the Top 30 Power Players in Tech.
Linus Sebastian – Net Worth
Sebastian earned most of his wealth from ads on his YouTube channels as well as from sponsors. All of his channels have approximately 5.4 billion views – about $12 million in revenue before taxes.
In January 2013, he founded Linus Media Group with Brandon Lee, Edzel Yago, and Luke Lafreniere. Therefore, Canadian YouTuber Linus Sebastian has an estimated net worth of $5 million.
READ THIS NEXT: Who is Toby Fox?