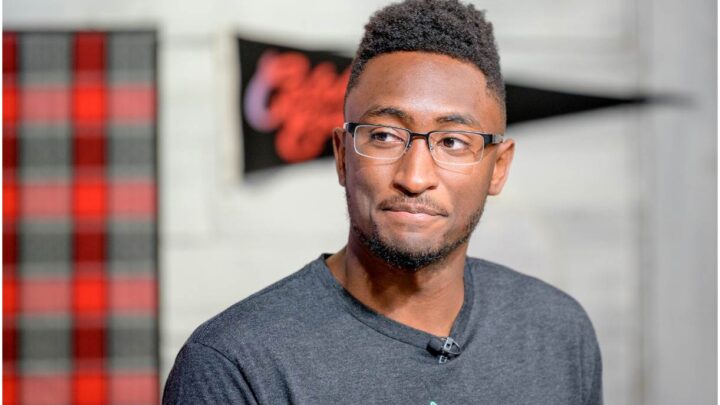 Marques Brownlee, also known as MKBHD, is a social media personality who is best known for his technology-focused YouTube channel. The channel (MKBHD) was named after his initials and HD for high definition.
Biography
He was born on December 3, 1993. Marques grew up in Maplewood, New Jersey. He has a sister named Simone Brownlee.
In May 2015, Brownlee earned his bachelor's degree from Stevens Institute of Technology with a minor in Information System and Marketing and a major in Business and Information Technology.
In 2008, he started his YouTube career at age 15. However, he only started uploading videos the following year.
His first several hundred videos were mainly hardware tutorials. On his YouTube channel, all the reviews are based on his personal experiences. Marques once declared that he doesn't get paid to review the products.
In the meantime, Brownlee was approached by companies to demonstrate their paid hardware and software, nevertheless, Marques only reviews products that would be of interest to his online audience.
MKBHD channel is said to be one of the fastest-growing channels and one of the most subscribed-to in the technology industry. His popularity furthered when he was featured in the official websites of:
Time Magazine;
CNET;
HuffPost Tech;
Forbes Tech;
The Verge.
He once said:
"In five years, I hope every video I produce makes today's videos look bad."
In August 2013, Vic Gundotra, former Senior Vice President, Social for Google until 24 April 2014, called Marques:
"the best technology reviewer on the planet right now."
In December 2013, he did an interview with Motorola CEO Dennis Woodside.
In May 2014, he did the first over-the-air interview with Evan Blass, an American blogger who gained international notoriety for a series of numerous tablets and smartphone leaks on Twitter.
In 2016, Marques took the interview of Apple's senior vice president Mr. Craig Ferderighi when they were releasing their Mac book pro.
In 2017, he started to create physical awards that were featured in the video, some of which were later sent to the companies whose phones won them.
In 2018, Brownlee interviewed Tesla founder Elon Musk. The 17-minute conversation is filled with hot air about making "products that people love," traction control, and the upcoming Tesla Roadster which Marques pre-ordered sight unseen.
"How do you spend time at Tesla? What do you do?" Marques asked.
Musk replied:
"I'm basically in the factory, in design or engineering meetings, in production. So, that's like, 80 or 90 percent of the time."
Musk went on to say:
"I think sometimes people think I spend a lot of time on Twitter. I don't know why they would think that. That's crazy. Actually, that's like, almost nothing."
On March 29, 2018, he uploaded his 1000th video. Brownlee said:
"All I think about is my next video and making it as good as possible. Until recently, that's all it was."
Marques later added:
"Now I'm thinking more about one or two years from now, as this team grows — I've never been a boss before, so I'm trying to get better at that."
Brownlee also interviewed the professional NBA player Kobe Bryant. During the interview, they spoke about Kobe's technology interests.
In 2018, Brownlee won the Shorty Award for Creator of the Decade.
In 2019, Marques nailed an interview with Bill Gates and got the tech mogul to speak on different topics outside his regular talking points.
Gates noted:
"Electric cars are still an emitter because of the indirect emission from the electricity uses."
Bill continued:
"So, only in the places where you get the electric cars to be a high percentage (of total vehicles sold) and the electricity sources to be zero-emission, you've really got [the emission in] the passenger car sector to zero."
Height
Brownlee is 6 ft 3 in (191 cm) tall.
Girlfriend
Marques Brownlee is dating a woman known as Nikki Hair on Instagram.
Parents
His mother's name is Jeaniene Brownlee, while his father's name is Marlon Brownlee.
READ MORE: Facts About Alexis Ren
Trivia
The most popular video of his to date is the one in which Marques reviewed the sapphire crystal display of the iPhone 6. Sapphire captivated the tech world, as it offered the potential of a nearly scratch-proof and more touch-sensitive display.
Brownlee literally tampered with the display shield in every possible way to show its durability. scratched and stabbed it multiple times and even drove a car over it. After that "test," an inspection of the panel revealed that:
"the worst blemish on the surface was actually [his] fingerprint marks."
When asked about his sleep routine, Marques replied:
"Late to bed, early to rise. I can't stand getting up late—makes the day feel way too short. But the hardest thing at the end of the day is putting down the camera/mouse and going to sleep."
Marques has collaborated with numerous tech YouTubers including:
In 2018, Marques discussed in a Reddit AMA about a possible channel expansion, to focus on not just smartphones, but other interesting techs as well.
READ MORE: Who is Heidi Somers dating?
The first desktop he ever used was the HP Pavilion DV 70 and this was the product that Brownlee first reviewed.
At the start, he filmed his videos from his dorm room at Stevens College, but, currently, he moved to a new location.
"We relocated, so basically everything is in a studio environment now, which facilitates video shooting obviously. It makes it a lot easier to have more space. But as far as a lot of the tech goes, it's actually a lot of the same stuff."
In November 2018, a truck hit his Tesla Model S. The car ended up in the shop for quite some time, with about $40,000 worth of estimated damage.
In December 2018, he was featured on YouTube Rewind, later releasing a video on his complaints about the series.
He is a former professional ultimate frisbee player with the New Jersey Hammerheads.
His most popular video is a review of the OnePlus 6 phone. In the present day, the video has gained over 21 million views on YouTube.
READ MORE: Who is Leanna Bartlett?
He has a car Tesla Model S P100D which features dual electric motors and a 100kWh battery.
During one of the 2016 Democratic presidential primary debate, he asked the candidates whether the government and tech companies can find a middle ground over encryption while considering national security and rights to privacy.
Tip Before Buying a New Phone
"Buying a new iPhone 3 weeks after it came out is smart, but if it's been a year and an Apple event is two weeks away, it's probably best to wait."
Marques Brownlee – Net Worth
Brownlee earned most of his wealth from advertisements on his YouTube channel. Earnings on YouTube are difficult to calculate, but, on average, 1,000 views bring approximately $2. His YouTube channel has over 2 billion views, which translates in around $4 million in revenue, before taxes.
Moreover, Marques gets paid for being a part of the "New York Rumble." Also, he is popular on Instagram with over 2.7 million followers. A paid post on his Instagram account can bring him around $20,000. Therefore, Marques Brownlee has an estimated net worth of $4 million.
Featured image source – © Guliver / Getty Images.
READ THIS NEXT: Philip DeFranco Net Worth
References

https://mashable.com/tesla-model-y-hidden-easter-egg-message
https://www.theverge.com/whats-in-your-bag-marques-brownlee-mkbhd