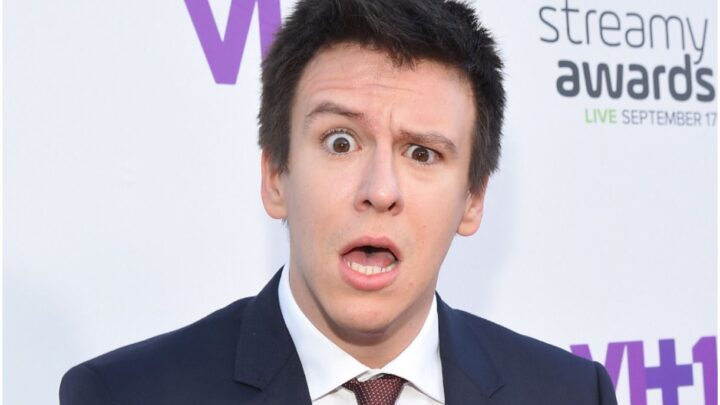 Philip DeFranco, better known online as SXEPhil or Philly D, is an American YouTube personality and news commentator, who is best known for hosting The Philip DeFranco Show.
Philly D focuses on current news, politics, gossips, and trendy events on his YouTube channels where he airs his opinion usually in a satirical manner.
Biography
He was born on the 1st of December, 1985, in The Bronx, New York City, USA.
His real name is Philip James Franchini Jr. He holds an American nationality and regarding his ethnicity, he is of Italian descent.
His parents divorced when he was about 10 years old, leading his mother to move with him to Asheville, in North Carolina.
He graduated from the Asheville-Buncombe Technical Community College. After, he attended East Carolina University.
DeFranco started his YouTube career during his last year at East Carolina University when he created his sxephil YouTube channel, calling it "The Philip DeFranco Show," in which he talks about:
"newsie type stuff, and things that matter to [him] today."
Philip worked as a waiter before uploading his first YouTube video.
His main channel has accumulated over 6.4 million subscribers and 2.7 billion views.
In the late 2000s, his main channel was among the top 5 most subscribed of all time.
In 2008, DeFranco was named the "Sexiest Geek" by the "Wired Magazine."
In July 2010, along with Toby Turner, Philip co-created CuteWinFail, an online series that has been described as:
"essentially the YouTube equivalent of America's Funniest Home Videos."
In September 2012, it was reported that Philip received around 30 million views a month.
In November 2013, he was a special guest on a live pre-show simulcast for the Doctor Who 50th anniversary from YouTube Space LA.
In 2016, Philip won the Show of the Year award at the Streamy Awards.
On May 1, 2017, he posted a video stating that for the first time in four years he is no longer a part of an MCN (Multi-Channel Network).
In May 2017, he created DefrancoElite, a fan-fun initiative through popular fan-funding website Patreon.
In a tweet on May 19, 2017, he revealed his viewership at that time to mainly consist of people between the age of 18 and 34.
Height
1.83 m
BetterHelp
He has promoted a company known as "BetterHelp" a couple of times on his YouTube channels. BetterHelp is an online portal that has over 3,500 US-based licensed professionals that are certified in virtually all help areas.
Plans start from $35 per week and can go up to $55 per week. Many YouTubers called out Philip for his involvement on BetterHelp, including:
PewDiePie;
Keemstar;
Memeology 101.
Wife
Philip DeFranco is married to Lindsay Jordan DeFranco.
Lindsay is a famous YouTube star who shares her excitement on YouTube about making videos about the places she visits. She has more than 98,000 subscribers on her YouTube channel LinzLoves.
They wedded on the 7th of March, 2015.
Meghan Tonjes and Jess Lizama were bridesmaids. The ceremony was officiated by Michael Buckley.
According to some photos, apparently, Philip's former editor Matthew Boman split his pants and had no underwear on.
Other YouTubers in attendance included:
AlphaCat;
Shay Carl;
GloZella.
Children
Within a week after the dreamy marriage proposal, his wife announced that she and DeFranco were expecting their first child whom she gave birth on the 22nd of April, 2014.
READ MORE: Angel Love Davis from Basketball Wives
Lindsay gave birth to their 2nd son named Carter William DeFranco on the 8th of September, 2017.
The couple also has two dogs, Rookie and Ace. The entire family lives together in Sherman Oaks, Los Angeles, US.
Trivia
The vlogger's most popular video – "Youtube Is Shutting Down MY Channel And I'm Not Sure What To Do" – was uploaded in 2016 and has over 6,200,000 views.
In 2013, DeFranco had an internet discussion about gun laws with U.S. Vice President Joe Biden.
Philip says that he has used cannabis in the past, stating:
"I have a prescription and I take it to sleep. Also if it makes the movie I'm falling asleep to 10x funnier, that is a side effect I am ok with."
Before the availability of the YouTube partner program, Philip asked for donations from his viewers after claiming to have run out of money. Moreover, DeFranco sold everything except his camera, Mac, and clothes, so he could spend a night in a hotel.
READ MORE: Who Is Leanna Bartlett?
Philip once lived in a car until the time he finally moved in with his father in Tampa, Florida, on the condition that he would continue his college education.
His 2nd YouTube channel is called "PhilipDeFranco." His third channel is called – SourceFed.
Philip had "SourceFed" and "The Philip DeFranco Show" nominated for awards in the third installment of the Streamy Awards.
His fourth channel is SourceFedNerd where he talks about PC games, movies, and cell phone apps.
In addition, in March 2015, he launched a family vlogging channel, "The DeFranco Fam."
READ MORE: What is BatDad's net worth?
His staff consists of 15 members:
two Patreon assistants;
two production assistants;
four researchers;
Dani Rosenberg;
Zach Taylor;
Joe Nation;
Briana Duncan;
Brian Borst;
James Girardier;
Keith Battista;
Amanda Morones.
In August 2007, he conducted an experiment by uploading a video titled "Big Boobs and You." The video's thumbnail image was what the title described, while the rest of the video's content was Philip talking. This video became his most successful video at the time, with 2.1 million views.
In 2013, SourceFed won the Award for Audience Choice for Best Series of the Year.
He has polycystic kidney disease that he inherited from his father. Polycystic kidney disease causes one's kidneys to enlarge and lose function over time.
Philip says he was raised Roman Catholic, nevertheless, he states that he is an atheist, the absence of belief in the existence of deities.
DeFranco has described his political views as:
"fiscally conservative, socially liberal, for the most part."
In December 2019, he bought Encino Tennis Court Estate for $4.1 million. The house covers 5,931 square feet with five and a half bathrooms and five bedrooms. Some of the area's other famous residents include Eva Gutowski, Logan Paul, James Charles, Joey Graceffa, and Colleen Ballinger.
READ MORE: Meet Phil Swift from Flex Seal
Philip DeFranco – Net Worth
DeFranco earned most of his wealth from advertisements on YouTube, sponsors, and selling merch (especially T-shirts). Earnings on YouTube are difficult to calculate, however, on average, 1,000 views on a YouTube video brings around $2.
Currently, all his YouTube channels combined have around 4,000,000,000 views, which translates in about $8,000,000 as revenue (before state taxes). Therefore, Philip DeFranco has an estimated net worth of $7 million.
Featured image source – © Guliver / Getty Images.
READ THIS NEXT: Key Facts About Gino Jennings
Reference
https://variety.com/youtubes-philip-defranco-buys-encino-tennis-court-estate
https://www.theverge.com/youtube-child-exploitation-philip-defranco-creators