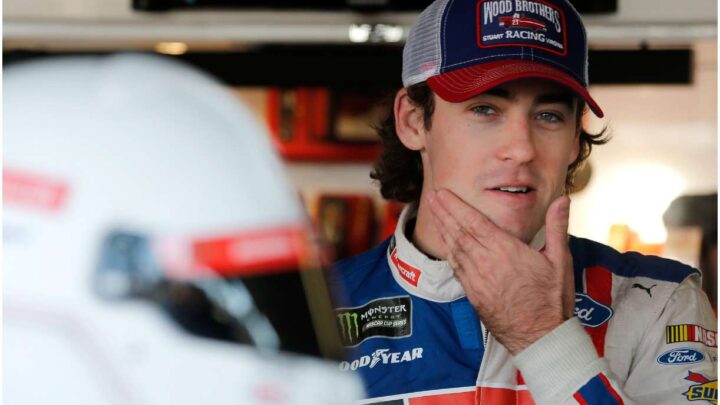 Ryan Blaney is an American professional stock car racing driver who competes in the NASCAR Cup Series for Team Penske.
Biography
Blaney was born on December 31, 1993, in Hartford Township, Trumbull County, Ohio, USA.
He is of Irish descent.
Ryan is the grandson of dirt track legend Lou Blaney. Also, Lou was a part-owner of Sharon Speedway.
His father is Dave Blaney, a semi-retired American professional stock car racing driver who won the 1983 All-Star Sprint Circuit Rookie-of-the-Year award.
His uncle, Dale Blaney, is a sprint car driver.
Ryan has two sisters: Erin and Emma.
He won his first race at age 9.
At age 12, Ryan won the Lowe's Motor Speedway Young Lion's Winter Heat Point Championship.
At age 14, he made his debut in late model racing at Orange County Speedway.
At age 15, Blaney started to compete in the Pro All Stars Series-sanctioned South Super Late Model Series.
At age 18, Ryan won his first NASCAR race – The 2011 K&N Pro Series West event at Phoenix International Raceway.
Later, he signed with Tommy Baldwin Racing to compete in six NASCAR Nationwide Series races.
In 2012, Ryan won the American Ethanol 200 at Iowa Speedway. In the same year, he signed a contract to drive for Team Penske a minimum of 3 races.
On September 15, 2012, he won his first career Truck Series race at Iowa Speedway.
In 2013, he won his first career pole in the Camping World Truck Series at Kentucky Speedway. Later that year, Ryan received the Rookie of the Year award in NASCAR's Camping Truck Series.
In January 2014, Ryan announced that he would be running 2 Sprint Cup Series and 15 Nationwide Series races for Team Penske.
In 2015, he started his Xfinity Series schedule at Las Vegas in the Boyd Gaming 300.
In 2017, Ryan performed as a delivery boy in Logan Lucky, an American heist comedy film that is based on the debut screenplay of Rebecca Blunt and directed by Steven Soderbergh.
Also in 2017, he voiced Ryan "Inside" Laney in Cars 3, a 3D computer-animated comedy-adventure film released by Walt Disney Pictures and produced by Pixar Animation Studios.
In June 2017, Blaney won his first career Cup race at the Axalta presents the Pocono 400 at Pocono Raceway. In the follow-up month, Ryan announced he would be moving to Team Penske's No. 12 car for the next season.
On April 20, 2018, he performed as Special Agent Nathan Wood in the TV show Taken episode Imperium.
In 2019, Ryan won the Talladega fall race in a photo finish of 0.007 seconds over Newman.
Podcast
Since 2017, Blaney co-hosts a podcast named – "The Glass Case of Emotion" on NASCAR.com.
Ryan Blaney – Girlfriend
For the moment, Ryan Blaney doesn't have a girlfriend. Also, he was not married. He tweeted in April 2019:
"Been single for 25 years. Will see what happens."
His sister, Erin Blaney, is dating William Byron – a professional stock car racing driver who competes full-time in the NASCAR Cup Series.
Height
Ryan is 5 ft 7 in (170 cm) tall.
Tattoo
Blaney has a tattoo of a sprint car on his chest.
READ MORE: Facts about Courtney Force
Trivia
He is a self-professed Star Wars fan. Ryan even dressed once as Princess Leia from the 1983 film Star Wars: Return of the Jedi. In February 2019, he visited "Star Wars" Land. Blaney said for Auto Week:
"We did all the parks yesterday. We had a guy walking us around. I like that stuff."
Ryan went on to say:
"We saw the makings of 'Star Wars' Land. I can't wait for that."
When asked by Forbes about what race car drivers did he watch while growing up, he responded:
"Obviously my dad is someone I look up to, always have, and he still races."
Blaney continued:
"But I also looked up to Jeff Gordon, Tony Stewart, Jimmie Johnson."
In February 2020, his car bumped into Ryan Newman's car at Daytona 500.
The incident has led Newman into a fiery crash. Later, Newman was treated at Halifax Health Medical Center in Daytona Beach. It took safety workers about ten minutes to remove Ryan Newman from the car.
READ MORE: Eric LeGrand Net Worth
Fortunately, Newman was released from Hospital on February 19, 2020, and appears to be on the road to recovery.
Later, Blaney wrote on his Twitter account:
"To see him walk out of that hospital with his girls brought a tear to my eye."
Ryan added:
"I was lucky enough to speak with him last night briefly about what happened Monday, it was just good to hear his voice, to be honest."
Other famous professional car racing drivers that compete or used to compete in NASCAR are Jennifer Jo Cobb and Kerry Earnhardt.
Net Worth
Blaney earns most of his wealth from working as a professional stock car racing driver. In addition, Ryan earns money from sponsors. For example, he is sponsored by BODYARMOR since 2015.
He once said about the company – "BODYARMOR is very involved and committed to making a better sports drink." Therefore, Ryan Blaney has an estimated net worth of $5.5 million.
READ THIS NEXT: Who is Christian Yelich dating?
Featured image source – © Guliver / Getty Images.