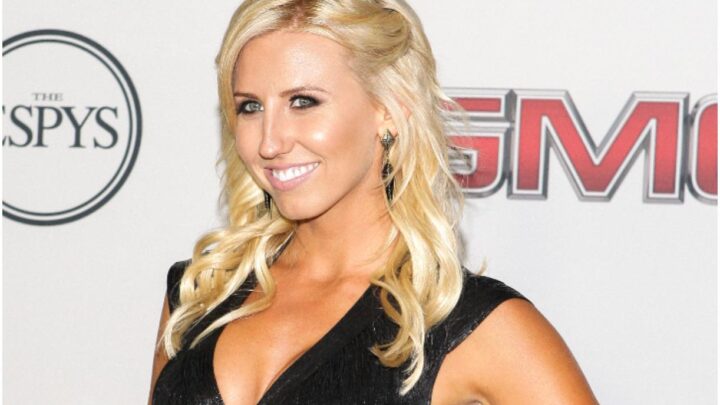 Courtney Force is an American former drag racer who won the Top Alcohol Championship (it refers to two different classes in professional drag racing) at the end of the 2009 season.
Biography
She was born on June 20, 1988, in Yorba Linda, California, USA.
Her father, John Force, is the owner of John Force Racing as well as a 16-time NHRA champion. Courtney once said about her father:
"When I was a little kid, I used to draw pictures in school of Funny Cars and of me racing my dad."
Force also has three sisters:
Brittany Leighton Force – an NHRA drag racer since 2013;
Ashley Force Hood – the President of John Force Entertainment since 2012;
Adria Hight – the CFO of John Force Racing JFR.
Courtney went to Esperanza High School. In 2010, Force graduated from Cal State Fullerton with a degree in communications.
In 2008, Courtney began racing in Super Comp. On July 19, 2009, she won her first national event in the Top Alcohol Dragster category.
On August 5, 2012, she won her first Funny Car race in the final round of The Northwest Nationals.
In 2013, Force became the first woman to ever win the O'Reilly Auto Parts Winternationals.
On July 27, 2014, she had become the record holder of most FC wins by a female driver in NHRA history. In the same year, Courtney earned the 100th win by a female driver in NHRA.
After the 2018 NHRA race season, Force stated:
"I feel that the 2018 season was one to be extremely proud of."
Courtney went on to say:
"My team really pulled together through the highs and the lows and I'm so fortunate to be working with a group of guys who are always motivating me to be my best and never give up."
Retirement
On January 24, 2019, Courtney announced she would stop competing in drag racing, reported Motorsport. She said:
"I will be stepping away from my driving duties, effective immediately."
Courtney continued:
"This was a personal choice as I feel I'm ready to see what the next chapter in my life has in store for me, while spending more time with family."
Force also stated that she wants to stay involved within the NHRA by maintaining off-track partnerships. She said:
"I intend to remain involved in the industry I love and continue to work with a few select partners as I go forward in 2019."
In a May 2019 interview with NBC Sports, Force confessed she misses drag racing. She added:
"But you know, it's kind of nice, after seven years of racing professionally and being on the road constantly between my schedule and my husband's schedule in IndyCar, we never really got a lot of time to ourselves."
Husband
On November 21, 2015, Courtney Force married Graham Rahal at Dos Pueblos Ranch in Santa Barbara, California.
Note – Graham is the son of Bobby Rahal (a former winner of the Indianapolis 500) and a race car driver who participates in the IndyCar Series.
At the wedding, there were 10 bridesmaids, including two of Rahal's sisters, Samantha Rahal and Michaela Hatcher.
Children
The couple has a daughter, Harlan Ann Rahal (b. in November 2020).
Height
Courtney is 5 ft 8 in (173 cm) tall.
Quotes
"Don't let my dad's smile fool you."
READ MORE: Jay Williams Net Worth
"Anyone else notice how packed the gym and studios are after the holidays or is that just me?"
Trivia
She has two Malamutes.
Courtney was born on the day after her father's victory on Father's Day in Columbus, Ohio.
She was featured with her family on Driving Force, a reality TV program that was centered on her father. It ended on May 15, 2007.
Courtney Force – Net Worth
She earned most of her wealth from drag racing. In six of her seven professional seasons, she was a top 10 finisher in the NHRA Mello Yello Drag Racing Series.
Courtney also made money from her sponsors, including – Brandsource, Traxxas, Ford, and Sanyo. After her retirement, she started to work with Hot Wheels and as a brand ambassador for Advance Auto Parts. Therefore, former drag racer Courtney Force has an estimated net worth of $4.5 million.
Featured image source – © Guliver / Getty Images.
READ THIS NEXT: Tragedy didn't stop Vols' Inky Johnson