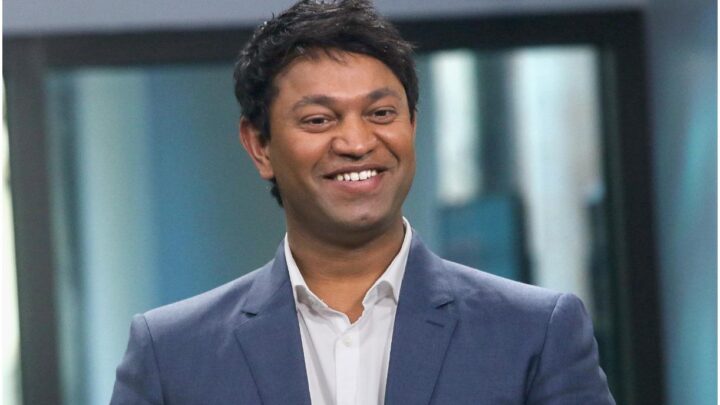 Saroo Brierley (birth name – Sheru Munshi Khan) is an Indian-born Australian businessman who published a book titled "A Long Way Home."
The book was adapted into Garth Davis' biographical drama "Lion."
Biography
Brierley was born on May 22, 1981, in Khandwa, Madhya Pradesh, India.
His birth mother is named Fatima Munshi.
At age 5, Saroo got lost on a train in India while he was riding the train from Khandwa to Burhanpur, about 70 km to the south.
During an interview, Brierley recalled about the time he realized that he was lost:
"The panic set in. I was crying for my mom and my brother and my sister."
The journey eventually ended at the railway station in Kolkata, nearly 1500 km from his hometown. He said:
"I must have been on that train for two days."
Saroo went on to say:
"I ended up in Calcutta [now Kolkata] in this sort of massive train station with three different platforms."
Not knowing where he was from or the name of his family, Brierley survived for 3 weeks on the streets of Kolkata by sleeping underneath the station's seats and scavenging scraps of food in the street.
In an interview, Saroo confessed:
"I still remember the moment I got off at the station. I had no idea what I'd encounter. Here I was in a station I'd never seen before."
Brierley continued:
"I felt totally alienated and scared. At that point solitude was required. And solace. I never envisaged that a train could take me so far away. I cried for hours."
After 3 weeks, he was taken into an orphanage and was officially declared a lost child. Later, he was adopted by a couple in Australia.
His adoptive parents are John and Sue Brierley. His adoptive mother said:
"Saroo's arrival was a kind of birth into our family."
Sue continued:
"It was just a fantastic moment, filled with love and joy."
In another interview, Sue declared:
"Right from when I first adopted Saroo, I was aware that he was born to another woman."
She added:
"And when I realized how wonderful he was, I knew that he must have been loved."
About 25 years later, Saroo was able to locate and reunite with his birth mom, solely from utilizing the newly developed Google Earth and his childhood memories of his village.
He said:
"I used mathematics and everything I could remember about the landmarks and the architecture of my home town."
In 2012, Brierley traveled to India and showed locals and residents photographs of himself as a child in Hobart and asked them if they knew of any family that had lost their son 25 years ago.
Local people soon led him to his mother, and he was reunited with his biological family.
He said about his first meeting with his biological mother in more than 2 decades:
"She saw my face, after 25 years of separation. I still have that sort of babyface within me."
Brierley went on to say:
"A mother like her would not have forgotten one of her children's looks. She knew who I was, and I knew who she was."
Then, Saroo learned that his brother had been killed the very day that he had fallen asleep on the train waiting for him.
Later, Brierley bought his biological mother a house.
Book
In 2013, he published his book, titled "A Long Way Home."
In the book, he details his ordeal as a lost 5-year-old as well as his adoption by an Australian family.
In A Long Way Home, Saroo also wrote about his search for his Indian family.
READ MORE: Alex Wassabi Net Worth
Film
A film based on his life ("Lion") was released at the 2016 Toronto International Film Festival. The film stars Rooney Mara, Nicole Kidman, and Dev Patel (as Saroo).
The film received 6 Oscar nominations at the 89th Academy Awards, including Best Adapted Screenplay, Best Supporting Actress (Nicole Kidman), Best Supporting Actor (Dev Patel), and Best Picture. However, it did not win an Oscar in any of the categories for which it was nominated.
At Australia's 7th AACTA Awards, Lion won 12 awards.
Saroo said about Nicole Kidman:
"I really admire her as an actress. She's Australian, she's an adoptive mother – we're really on the same page."
The film made over $140 million worldwide.
In April of 2019, Saroo announced that he is conducting a search for his biological father, who left his family when Saroo was a young child.
READ MORE: Who is Kwebbelkop dating?
Girlfriend
Saroo is currently dating Lisa Williams.
Trivia
His story was made into an ad for Google Earth that was recognized as Ted's "10 Ads Worth Spreading" in 2014 and Forbes "The Most Unforgettable Ad Campaigns of 2013."
He traveled first class with the train from Mumbai to Kolkata to re-trace his journey of 25 years earlier.
His pseudonym is a mispronunciation of his given birth name, "Sheru," a diminutive of the Hindi word for "lion."
READ MORE: Alissa Violet & Team 10
Saroo Brierley – Net Worth
Brierley earns most of his wealth from being a successful businessman in Australia. His finances rose after he published his book – "A Long Way Home." The book sells very well, especially on Amazon, where it has over 1,380 reviews (4.7 out of 5).
His story was published in various media outlets such as The Today Show, 60 Minutes, Hollywood Reporter, Vanity Fair, AP, BBC, and CNN. Additionally, Saroo earned some money from the film "Lion," which was inspired by his book. Therefore, Saroo Brierley has an estimated net worth of $1.5 million.
Featured image source – © Guliver / Getty Images.
READ THIS NEXT: Who is Mo Vlogs?
References

https://www.taiwannews.com.tw/en/news/3106472
https://glamadelaide.com.au/saroo-brierley-author-of-lion/
https://apnews.com/lion-story-behind-unlikely-family-reunion
https://www.bigissue.com/incredible-story-lions-saroo-brierley/