What was Slim Pickens' net worth at the time of his death?
Introduction
Slim Pickens (real name – Louis Bert Lindley, Jr.) was an American Western actor who is best known for appearing in The Sun Shines Bright, The Great Locomotive Chase, Eye for an Eye, Blazing Saddles, How I Learned to Stop Worrying and Love the Bomb, or Dr. Strangelove.
During the filming, Louis was able to drive a stagecoach pulled by a six-horse team or gallop his own Appaloosa horses across the desert and did not need a stand-in for horseback scenes.
His brother Samuel was also an actor, using the stage name Easy Pickens.
Biography
He was born on June 29, 1919, in Kingsburg, California, USA.
Pickens got his first horse when he was 4 years old. He attended Hanford High School in Hanford, California.
At age 12, Slim became a rodeo clown. At age 16, he dropped out of school to join a rodeo.
In his words:
"My father was against rodeoing and told me he didn't want to see my name on the entry lists ever again."
Pickens went on to say:
"While I was fretting about what to call myself, some old boy sittin' on a wagon said, 'Why don't you call yourself Slim Pickens, 'cause that's shore what yore prize money'll be."
Before breaking into the film industry, he worked as a rodeo clown for nearly two decades. While he participated in rodeos, Slim specialized in wild horse racing, Brahma bull riding, and bronc busting.
During his rodeo career, Slim broke almost every bone in his physical body. He said:
"I had one side of my body X-rayed after I got throwed one time and it showed I had 17 broken bones on that side alone."
In 1950, Pickens made his film debut in "Rocky Mountain." The film is set near the end of the American Civil War. It was directed by William Keighley.
In 1960, Louis appeared in the episode "Sour Annie" of "Overland Trail," an American Western series starring Doug McClure and William Bendix that aired on NBC from February 7 to June 6, 1960.
In 1975, Slim played the limping bank robber in Walt Disney's The Apple Dumpling Gang. The film is based on the novel of the same name by Jack Bickham.
In 1979, Pickens appeared in Steven Spielberg's 1941. The story of this movie involves a panic in the LA area after the December 1941 attack on Pearl Harbor.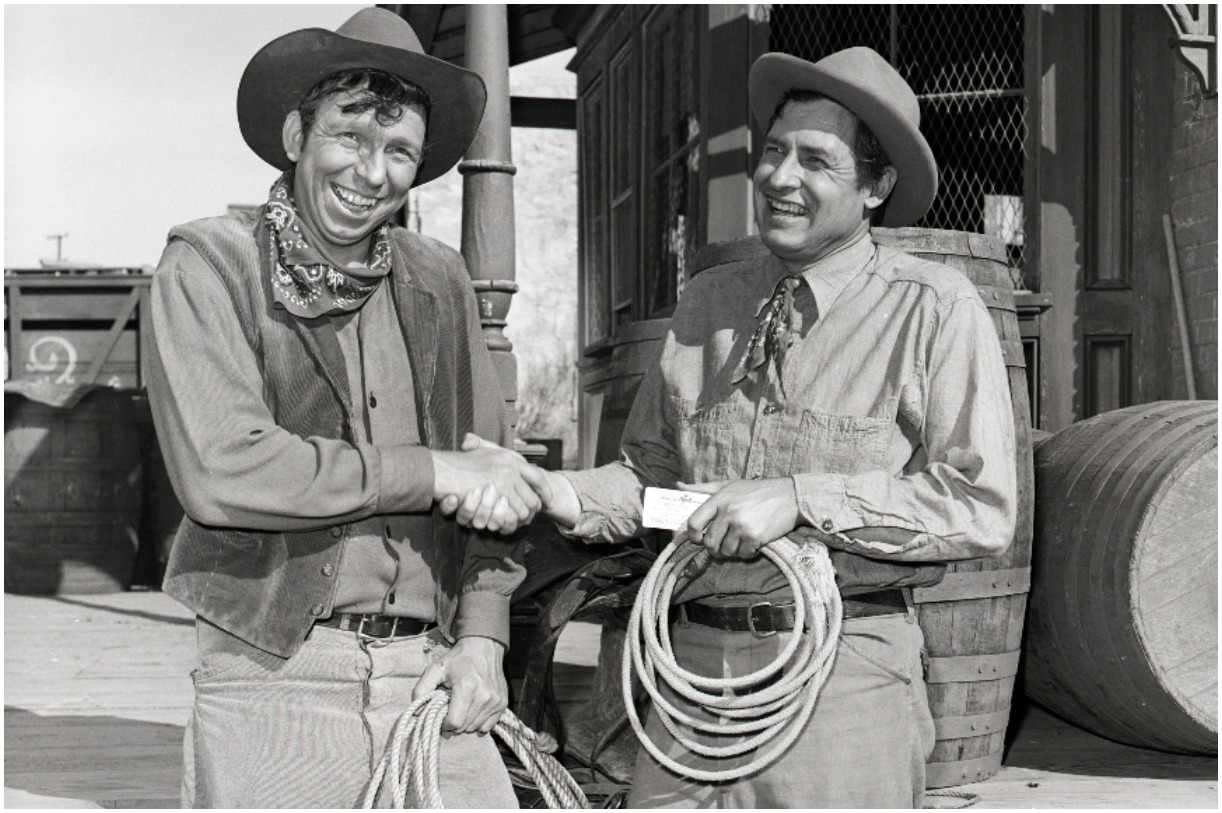 In the same year, he voiced B.O.B., one of the main robot characters in the SF film "The Black Hole."
In 1982, he was inducted into the Hall of Great Western Performers of the National Cowboy and Western Heritage Museum.
The last film of his career was called "Pink Motel (1982)," a sex comedy where Slim starred along with Andrea Howard and Phyllis Diller.
In 2005, he was inducted into the ProRodeo Cowboy Hall of Fame in Colorado Springs.
In 2006, Slim was inducted into the Happy Canyon Hall of Fame and Pendleton Round-Up.
Wife
Slim Pickens was married to Margaret.
Children
The couple had two daughters, Maggie Lou and Daryle Ann.
Quotes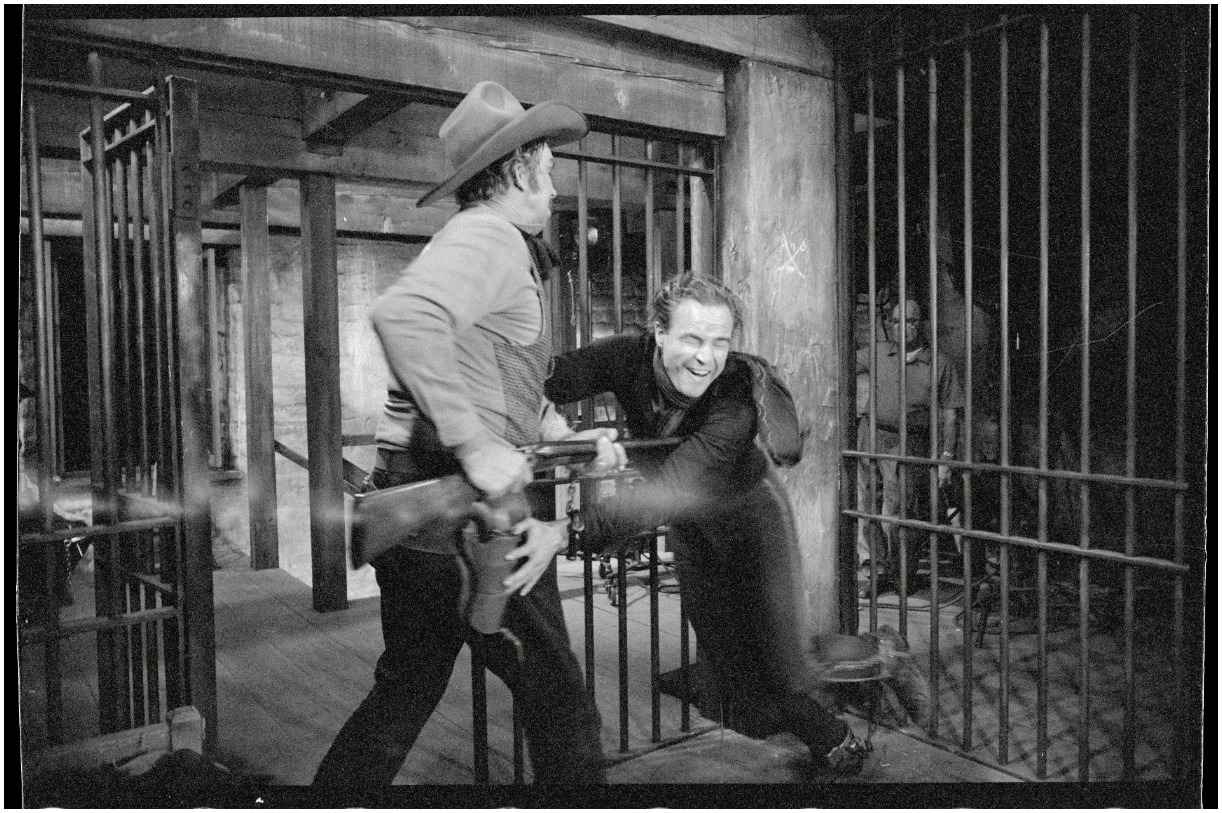 "I plan to retire from the picture business only when they shovel dirt in my face. There's no use retiring if you like what you're doing and you're making money."
"As far as I'm concerned, acting is like a license to steal. I know of no occupation where, with less money invested, you can make so much."
Height
Slim was 6′ 2″ (1.88 m) tall.
Movies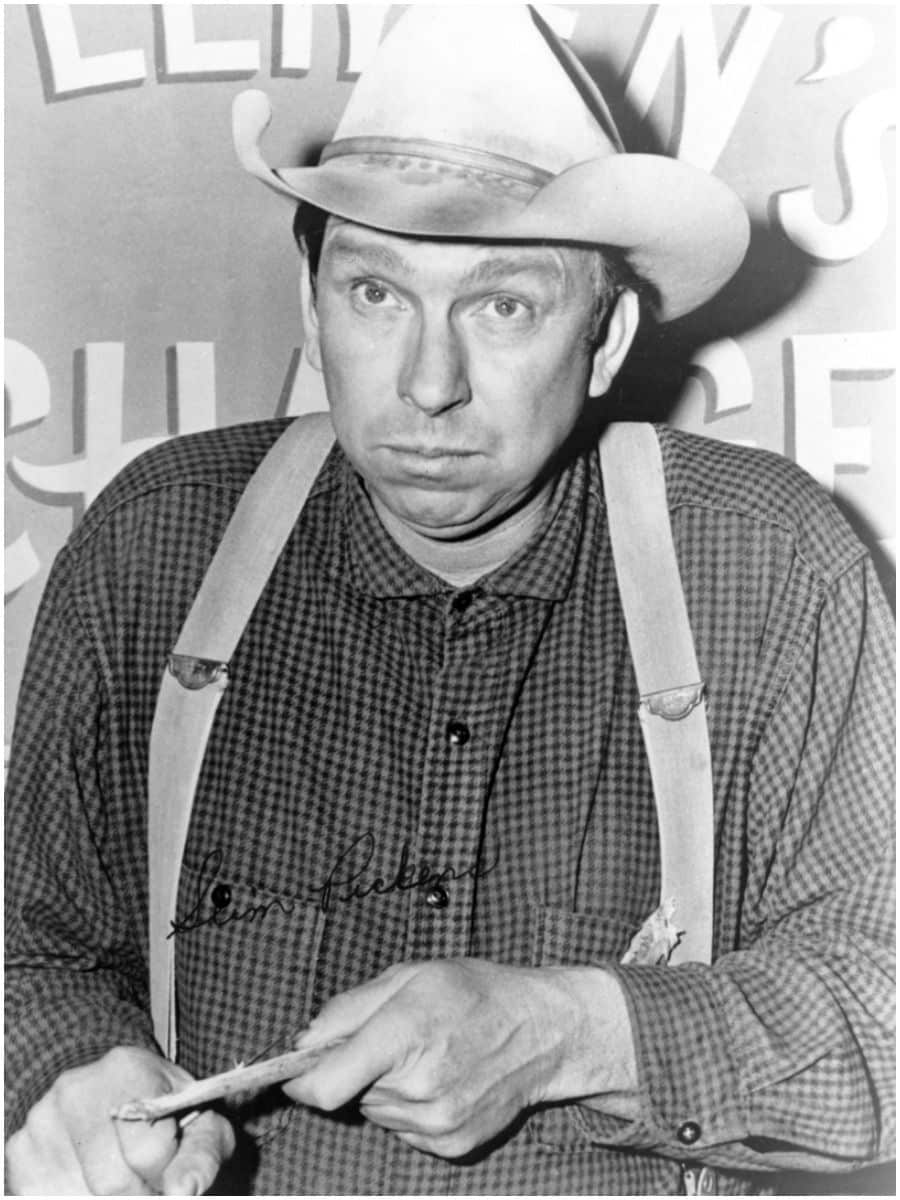 His strong physique, husky voice with a Texas-like twang, and big eyes were well utilized by Hollywood. Pickens appeared in over 150 television series and movies. A few of his most impressive acting credits include:
Pat Garrett and Billy the Kid (1973);
An Eye for an Eye (1966);
Beyond the Poseidon Adventure (1979);
Tom Horn (1980);
Rancho Deluxe (1975);
Poor Pretty Eddie (1975);
Blazing Saddles (1974);
Ginger in the Morning (1974);
The Getaway (1972);
The Cowboys (1972);
Never a Dull Moment (1968);
the remake of Stagecoach (1966);
Major Dundee (1965);
Dr. Strangelove (1964);
One-Eyed Jacks (1961);
Tonka (1959);
Down Laredo Way (1953);
Old Oklahoma Plains (1952);
Rocky Mountain (1950).
He also appeared in episodes of:
Kung Fu;
How the West Was Won;
Vega$;
Baretta;
That Girl;
The Virginian;
Daniel Boone;
Alias Smith and Jones;
The Legend of Jesse James;
The Travels of Jaimie McPheeters;
The Fugitive;
Riverboat;
The Westerner;
Maverick;
The Tall Man;
Route 66;
Frontier Doctor;
The Lone Ranger;
Alfred Hitchcock Presents;
Sugarfoot;
Cheyenne.
READ MORE: Pat Harrington Jr. – Cause of Death
Death & Cause of Death
On December 8, 1983, Pickens died at a convalescent hospital in Modesto, California, US. He was 64 years old.
Slim battled a brain tumor.
His funeral was held at Presbyterian Church of the Forty-Niners in Colombia.
Dean Krakell said:
"We will all miss Slim. He had a lot of friends here on Persimmon Hill."
His wife died in 2011 at the age of 89–90.
READ MORE: Sam Riegel Age
Trivia
In an episode of CBS's Hawaii Five-O, Pickens portrayed the patriarch of a family of serial killers.
Pickens enlisted in the United States Army during WWII. When the recruiter asked him his profession, Pickens responded, "Rodeo." Interestingly, this was misread as radio, and Slim spent his entire enlistment in the United States Army at a radio station in the American Midwest.
READ MORE: James O'Halloran & Jaimee Gooley
Slim Pickens – Net Worth
Pickens earned most of his wealth from appearing in about 150 movies and TV shows, such as Filthy Rich, B.J. and the Bear, and The Legend of Custer.
Moreover, Slim worked for almost 20 years as a rodeo clown.
Therefore, at the time of his death, American actor Slim Pickens had an estimated net worth of $2.7 million (according to the current inflation rates).
READ THIS NEXT: Meghan Markle Net Worth
References

https://www.upi.com/actor-Slim-Pickens-who-went-from-riding
https://oklahoman.com/article/2049673/slim-pickens-dead-at-age-64