Yayoi Kusama, sometimes called 'the princess of polka dots,' is a Japanese filmmaker, writer, sculptor, and painter, whose works include environmental installations, performance art, sculptures, collages, and paintings.
Biography
She was born on March 22, 1929, in Matsumoto City, Japan.
From an early age, Yayoi was prone to distorted perceptions of the world, vivid hallucinations (like pumpkins speaking to her), enhanced by shape and colors due to mental illness.
Kusama began painting when she was ten years old, as a way of escaping a childhood of neglect. Her mother was not supportive of her creative endeavors.
At age 13, Yayoi was sent to work in a military factory.
From 1948 to 1949, she studied Nihonga (a style of traditional Japanese painting that was inspired by the work of the Tang dynasty and influenced by the arrival of Chinese sumi ink painting) at the Kyoto School of Arts and Crafts.
In 1952, Kusama presented her first solo show in Japan.
In 1957, the artist moved to Seattle. There, Yayoi had an exhibition of paintings at the Zoe Dusanne Gallery. In 1958, she moved to New York City. Yayoi recalled in an interview:
"When I first arrived in New York, I went to the top of the Empire State Building."
Kusama went on to say:
"Seeing the big city, I promised that one day I would conquer New York and make my name in the world with my passion for the arts."
In 1959, she had her first solo show in New York at the Brata Gallery, where she showed Infinity Nets.
In the early 1960s, Kusama began to create immersive installations (called Accumulations) that feature objects covered with phallic protrusions.
In 1965, she created the world's first mirrored-room environment, a precursor to her Infinity Mirror Rooms, at the Castellane Gallery in NYC.
In 1967, she produced Self-Obliteration – a film exploration of her work. In 1968, the short documentary was awarded at the fourth International Festival for Short-Films in Belgium.
In 1970, she was arrested for obscenity when she organized a nude happening in Tokyo.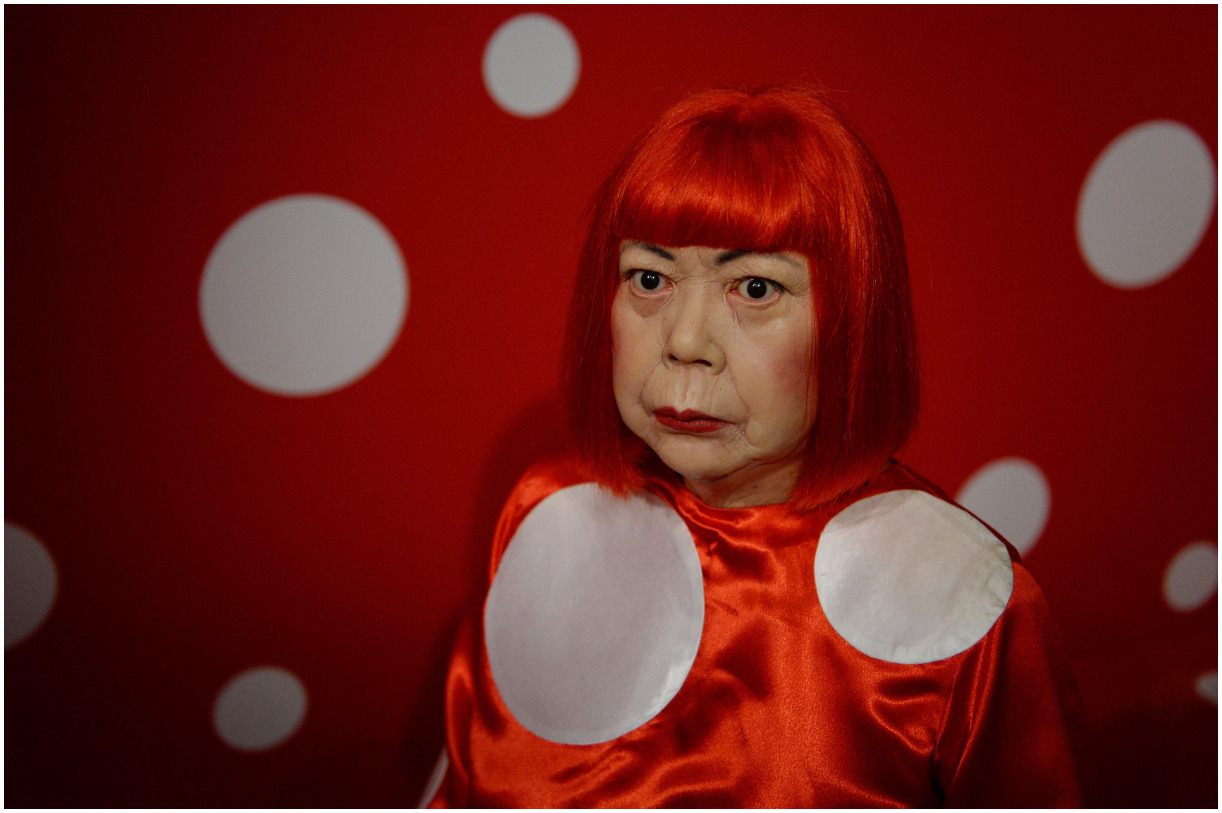 In 1977, Kusama checked herself into a psychiatric hospital in Tokyo. She later said:
"I was hospitalized at the mental hospital in Tokyo in 1975 where I have resided ever since."
In the same year, Yayoi published a book of poems and paintings entitled 7.
In the 1980s, Kusama began incorporating pumpkins into her prints, drawings, and dot-motif paintings.
In 1983, Yayoi's novel "The Hustlers Grotto of Christopher Street" won the Tenth Literary Award for New Writers.
In 2000, she received the Education Minister's Art Encouragement Prize and Foreign Minister's commendations. In 2001, she was awarded the Asahi Prize.
In 2003, Kusama released "Infinity Net: The Autobiography of Yayoi Kusama." The book offers a glimpse into Yayoi's exhilarating world.
In 2006, the Japanese artist received the Japan Art Association's Praemium Imperiale prize for painting.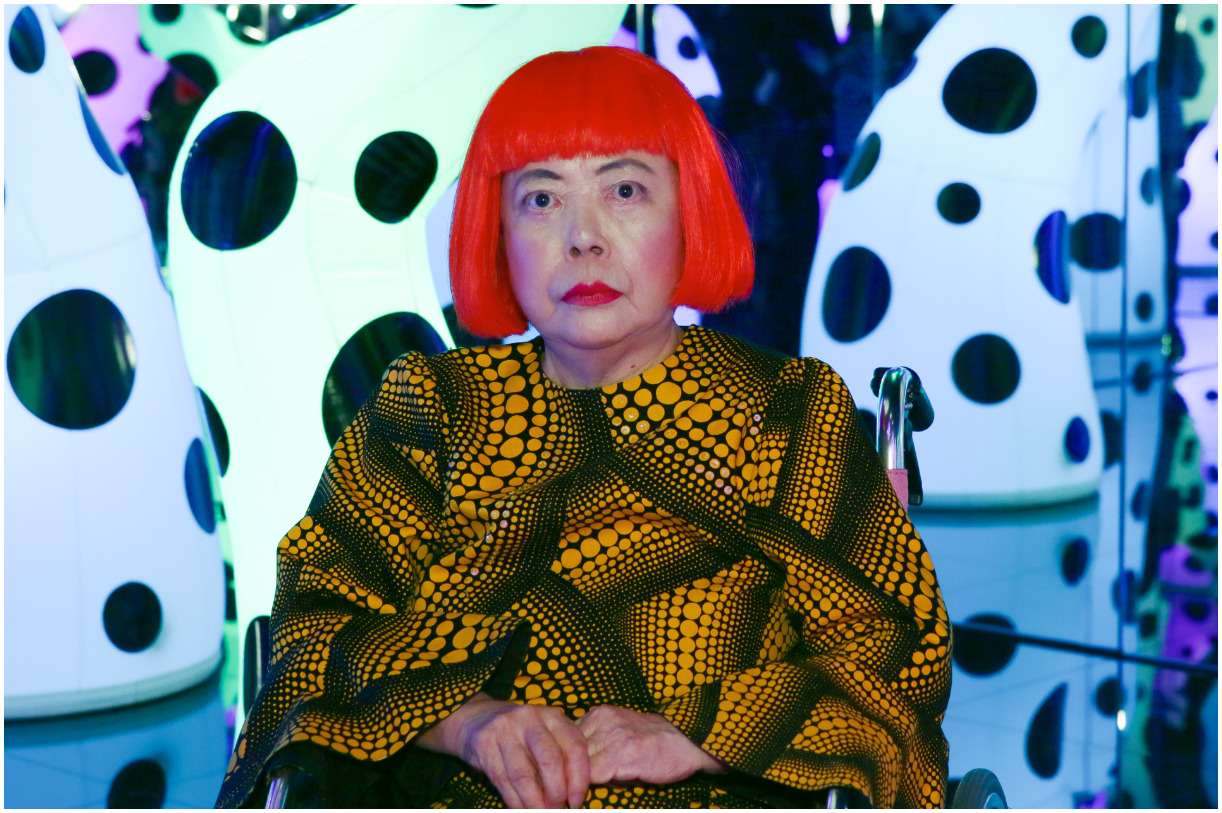 In 2012, she had a collaboration with Louis Vuitton.
On October 1, 2017, a museum dedicated to her work, Yayoi Kusama Museum, opened in Tokyo.
In January 2019, she made her Las Vegas debut with two works that fill entire rooms at the Bellagio Gallery of Fine Art.
Obsession With Pumpkins
Kusama's obsession with the pumpkin is rooted in her own childhood memories of growing up in Japan. Yayoi wrote in her autobiography:
"The first time I ever saw a pumpkin was when I was in elementary school and went with my grandfather to visit a big seed-harvesting ground."
Kusama also wrote:
"And there it was: a pumpkin the size of a man's head . . . It immediately began speaking to me in a most animated manner."
In a 2015 interview, Yayoi confessed:
"I love pumpkins, because of their humorous form, warm feeling, and a human-like quality and form."
Kusama later added:
"My desire to create works of pumpkins still continues. I have enthusiasm as if I were still a child."
Mental Health
Kusama has coped with severe psychological difficulties since she was a young child.
She is also both repulsed and fascinated by sex. She said in a 2005 interview:
"I grew up hearing repeated lectures about the dangers of making friends with the impure opposite sex."
Yayoi continued:
"My phobia of men and my obsessive fear of men became increasingly severe, resulting in my extreme fear of anything phallic. It reached the point where I was assaulted by countless phallic visions."
She considers herself asexual. Kusama also said that art is what saved her life. In her words:
"If it were not for art, I would have killed myself a long time ago."
In a 2017 interview, Kusama said about her mental health:
"The art world in Japan ostracized me for my mental illness. That is why I decided to leave Japan and fight in New York."
Quotes
"I don't have much need for possessions."
"In my decades of work, I have always thought of humankind's love and world peace."
"I integrate my philosophy about the eternity of inter-relationships into my artworks."
"I would confront the spirit of the pumpkin, forgetting everything else and concentrating my mind entirely on the form before me."
READ MORE: Who is Vicky Stark dating now?
"I am always happiest when I am making my art."
"In this universe, the moon, the sun, each and every star, my own life, your life, they are all a single polka dot among billions."
"It is my wish to leave a message to the whole world from the universe, a message of love and peace to the people of the world."
READ MORE: James Corden Net Worth
Trivia
During the Vietnam War, Yayoi wrote to Richard Nixon. She wrote:
"Let's forget ourselves dearest Richard and become one with the Absolute, all together."
Kusama is mentioned in the lyrics of the Le Tigre song "Hot Topic."
Yayoi also wrote a letter to the president of France. She wrote:
"Dear Sir, I would like to see your country, France. Please help me."
READ MORE: Karl Kani Net Worth
Yayoi Kusama – Net Worth
Kusama earned most of her wealth from the art she created. Her work is held in museum collections worldwide, including:
the Whitney Museum of American Art, New York;
Walker Art Center, Minneapolis, Minnesota;
the Centre Georges Pompidou, Paris;
Tate Gallery, London;
David Zwirner Gallery, New York;
Hirshhorn Museum and Sculpture Garden, Washington, DC;
Stedelijk Museum, Amsterdam;
Los Angeles County Museum of Art;
National Museum of Modern Art, Tokyo;
The Museum of Modern Art, New York.
Currently, Yayoi holds the record for the most expensive artwork sold at auction by a living female artist at $7.1 million for White Net No. 28.
Therefore, Japanese contemporary artist Yayoi Kusama has an estimated net worth of $20 million.
READ THIS NEXT: Who is Molly Bloom?
References

https://www.anothermag.com/not-know-about-yayoi-kusama
https://mymodernmet.com/yayoi-kusama-pumpkins/