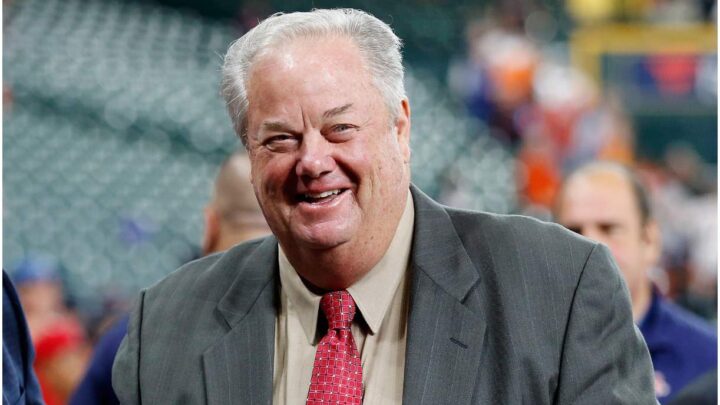 Joe West (birth name – Joseph Henry West), nicknamed Country Joe or Cowboy Joe, is an American professional baseball umpire (the person charged with officiating the game) in Major League Baseball who officiated in five World Series between 1992 and 2012.
Tim Kurkjian, a baseball reporter for ESPN, said about Joe:
"He's one of the most intimidating umpires."
Biography
He was born on October 31, 1952, in Asheville, North Carolina, USA.
In 1970, Joe played on the freshman football team at East Carolina University.
From 1971 to 1973, West was a quarterback for Elon College (currently known as Elon University).
While playing for Elon College, West was named Most Valuable Player on the team that lost the Division I National Association of Intercollegiate Athletics title game to Abilene Christian.
In 1974, Joe decided to attend a baseball umpiring school. There, West finished first in his class.
He started his umpire career in 1976.
Joe worked in a few minor-league circuits (American Association, Southern League, Florida Instructional League, Puerto Rican League, and the Western Carolinas League).
He made his first National League appearance in 1976.
In 1978, West joined the full-time NL staff.
On October 13, 1981, Joe became the youngest National League umpire to call an LCS.
In 1986, he was inducted into the Elon Sports Hall of Fame.
He is also known as a singer-songwriter. In 1987, he released his first album, titled – "Blue Cowboy."
In 1988, West made a cameo appearance on The Oldest Rookie, an American TV crime drama.
In the same year, he performed as a third base umpire in The Naked Gun: From the Files of Police Squad!, a comedy film.
In 1992, he made his first World Series appearance when the Toronto Blue Jays faced the Atlanta Braves.
In 1999, he resigned during the Major League Umpires Association's mass resignation. However, he was rehired in 2002.
In 2008, West released his second album, named – "Diamond Dreams." On the album, Joe had a collab with George Jones, an American songwriter, musician, and singer who died on April 26, 2013. During his career, George had over 150 hits.
On July 30, 2009, Joe worked his 4,000th career game, at Miller Park in Milwaukee.
In 2011, he umpired in his second NLDS (and fifth LDS).
In the same year, Joe was named the best MLB umpire by 5% of players during a poll.
He was hit on the side of the head while umpiring the Washington Nationals-Toronto Blue Jays game on July 30, 2020.
Height
West is 6′ 1″ (1.85 m) tall.
READ MORE: Robert O'Neill & Navy SEAL
Quotes
"I don't like it. I don't think you can take away a pitcher's ability to get himself ready at his own pace."
"Baseball has opened a lot of doors for me that the average person wouldn't get."
"It's something [his 5,000th MLB game] I'm not making a big deal out of, but it's something I'm very proud of."
Trivia
He has appeared at the Grand Ole Opry, a weekly country music stage concert in Nashville, Tennessee.
READ MORE: Nicole Byer Husband
In 2017, he was suspended for 3 games for calling Adrian Beltre (a Dominican former professional baseball third baseman) the biggest complainer in baseball. The World Umpires Association put out a statement:
"Joking interactions between umpires and players are a routine part of the game."
The World Umpires Association added:
"We disagree strongly with the decision to punish Joe West simply for sharing a humorous exchange with a player."
In 1983, Joe was suspended for 3 days and fined $500 after a shoving incident with Joe Torre, Atlanta Braves' former manager.
In October 2019, Joe sued Paul Lo Duca (an American retired professional baseball player who played 11 MLB seasons with Florida Marlins, Washington Nationals, Los Angeles Dodgers, and the Mets) for defamation over comments Paul Lo Duca made on a podcast in May 2019, suggesting that a teammate used to bribe West by letting him borrow his vintage car.
Additionally, the complaint says Joe suffered from unspecified damages as a result of Paul's claims.
The lawsuit says:
"These statements impugn the integrity, honesty and professional fitness of Mr. West and affect his profession as a Major League Baseball umpire."
In 1990, West threw Dennis Cook (an American former professional baseball pitcher) to the ground while attempting to break up a fight.
In 2015, Joe had become MLB's most senior umpire.
READ MORE: Who is Jerry Miculek's wife?
Joe West – Net Worth & Salary
West earned most of his wealth from working as an American professional baseball umpire.
Joe is one of only 3 umpires to work over 5,000 games. He has appeared in two Wild Card Games, eight League Division Series (LDS), ten League Championship Series (LCS), three All-Star Games, and six World Series.
West's salary as an umpire was not released to the public, however, on average, experienced umpires can make around $460,000 a year, while the minimum salary is $150,000.
He is also president of the World Umpires Association. Joe and the union's governing board negotiated the biggest umpiring contract in the history of MLB.
Moreover, Joe makes money from selling his albums as well as from singing. Therefore, Joe West has an estimated net worth of $1.8 million.
Featured image source – © Guliver / Getty Images.
READ THIS NEXT: John Jairo Velásquez Net Worth
References

https://www.espn.com/umpire-joe-west-sues-ex-catcher-paul-lo-duca
https://deadspin.com/joe-west-picked-one-hell-of-a-time-to-make-his
https://www.si.com/umpire-joe-west-knocked-over-rajai-davis-home
https://eu.usatoday.com/joe-west-paul-lo-duca-billy-wagner-lawsuit/