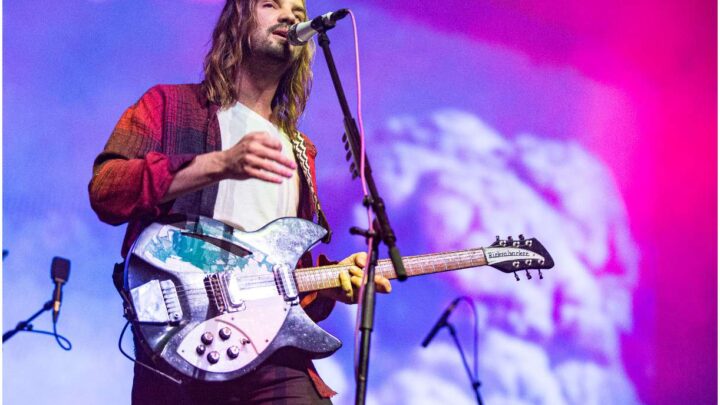 Kevin Parker is an Australian Indie and psychedelic rock musician who is best known as the songwriter and lead singer for the group Tame Impala.
Biography
He was born on January 20, 1986, in Sydney, Australia.
Parker is of mixed ethnicity, as his mother is from South Africa, while his father was from Zimbabwe.
His parents split up when he was four. Kevin said:
"My mum was quite poor and my dad was rich. She didn't dig that so she left him."
In a different interview, he said about his childhood:
"I have almost no memory of my parents ever speaking to each other."
Parker went on to say:
"They split up on bad terms. I assumed that's what family life was like. Just essentially a soap opera."
Kevin started playing drums at the age of 11.
At age 13, he met Dominic Simper in their music class at John XXIII College, Perth.
Along with Dan Debuf, the pair started off playing covers of Korn, Sunk Loto, Unwritten Law, and Rage Against the Machine songs.
At age 18, he was writing heavy 70's-style almost prog-rock songs.
Mink Mussel Creek
In 2005, Shiny Joe Ryan, Nick Allbrook. and Parker formed Mink Mussel Creek.
READ MORE: Johnny Rivers Net Worth
The Dee Dee Dums
In the same year, he formed The Dee Dee Dums, which would become the basis of Tame Impala.
Tame Impala
In late 2007, he renamed the band The Dee Dee Dums to Tame Impala.
Tame Impala consists of:
Julien Barbagallo (drums, vocals);
Cam Avery (bass guitar, vocals);
Dominic Simper (was nominated for Best Bassist at the 2009 WAMI Awards);
Jay Watson (Australian psychedelic rock musician, singer-songwriter, and drummer, who is best known for his solo project Gum);
Parker (guitar, vocals).
READ MORE: Norman Greenbaum Net Worth
Kevin said about Tame Impala:
"I'm always surprised whenever someone tells me Tame Impala reminds them of getting blazed."
Parker added:
"I never think my own music is druggy at all."
In 2008, Tame Impala released their first EP Tame Impala [H.I.T.S. 003] that had one of the band's first popular songs, called – "Half Full Glass of Wine." In 2008, the song was ranked one of the Triple J Hottest 100 songs.
On May 21, 2010, the band released its debut studio album, titled – "Innerspeaker." The album won 5 nominations at the ARIAs, a Rolling Stone Award and a J Award for Album of the Year.
During mid-2010, Tame Impala was busy touring with its "Innerspeaker album tour." They mostly sang as the opening band for MGMT's 2010 American tour.
On October 5, 2012, Tame Impala released their second album, entitled – "Lonerism."
The album won many Album of the Year awards from the likes of Triple J, Rolling Stone Magazine and NME Magazine.
READ MORE: Who is Jacob Forever dating?
In 2015, they released a third studio album, titled – "Currents."
For this album, Kevin received the Engineer of the Year award and the Producer of the Year award at the 29th Australian Recording Industry Association Music Awards in Sydney.
Kevin said about "Currents":
"I didn't realize it would add a completely extra dimension of absolute nervous breakdowns."
Parker later added:
"I was just sitting in my studio going, 'F###. How am I going to do this?'"
On February 14, 2020, the album The Slow Rush was released. It debuted on #3 on the US Billboard 200 chart.
Wife
On February 11, 2019, Kevin Parker married his girlfriend Sophie Lawrence.
They exchanged vows in front of 175 guests at a vineyard in Western Australia.
Celebrity friends, including Mark Ronson and Lady Gaga, were invited to the wedding, however, neither could make it as Mark was a guest at an event in LA, while Lady Gaga was due to perform at the Grammys.
Kevin used to date Melody Pinochet, a French musician.
READ MORE: Things You Didn't Know about Sammy Kershaw
Quotes
"It's not always easy to cross that over into the real world but as long as it comes from the same place as the music you can be pretty sure it will bond with the music."
"I'm actually a really poor judge of how successful Tame Impala is. I tend to underestimate it."
"My Mum's always doing crazy shit, like riding bikes up trails. One time we went up Bare Rock together, everyone else in the group was half her age."
"I'm being very narrow-minded here, but rock 'n' roll music's kind of got to be rock 'n' roll, you know what I mean?"
READ MORE: Everything to know about Carl Thomas
"I used to be pretty withdrawn on stage a few years ago. I didn't even stand in the middle. I was terrified to look anywhere other than my own feet."
"It's always been my fantasy — this idea of [being] someone behind the scenes, pulling strings, writing these fucking amazing songs."
Trivia
In 2016, he remixed Miguel's "Waves" on the artist's EP, "Rogue Waves."
READ MORE: Jagged Edge Group Member Kyle Norman Marries
Kevin collaborated with Mark Ronson for the tracks "Leaving Los Feliz," "Daffodils," and "Summer Breaking" on Mark's album titled – "Uptown Special."
Some of the genres which his music falls under include space rock, dream pop, and neo-psychedelia.
Kevin Parker – Net Worth
Parker earns most of his wealth from being part of the band Tame Impala. They make money from sponsors, selling t-shirts, selling albums and songs, and selling tickets to their concerts.
In addition, Tame Impala has a YouTube channel with more than 1 million subscribers. The channel has over 619 million views, meaning about $1.5 million in revenue, before taxes. Therefore, Kevin Parker has an estimated net worth of $2 million.
READ THIS NEXT: What is Excision's real name?
Featured image source – © Guliver / Getty Images.
References

https://www.vice.com/tame-impalas-kevin-parker
https://www.standard.co.uk/tame-impalas-kevin-parker-interview
https://faroutmagazine.co.uk/kevin-parker-opens-up-about-feeling