Tim Tebow (birth name – Timothy Richard Tebow) is an American professional baseball player who was the star quarterback for the University of Florida Gators.
Biography
Tebow was born on August 14, 1987, in Makati City, Philippines, to Pam Tebow and Bob Tebow.
At the time of his birth, his parents were serving as Christian Baptist missionaries in the Philippines.
He has Scottish, Irish, German, and English ancestry.
His mother had dysentery (a type of gastroenteritis that results in diarrhea with blood) and fell into a coma while she was pregnant with him. Doctors advised her to abort in order to protect her life. The Tebows decided against it.
Tim said for FOX News:
"You see, my mom 32 years ago had doctors tell her she needed to abort me because if she didn't, it was going to cost her life."
Tebow went on to say:
"And they didn't even believe that I was a baby. They thought I was a tumor."
In a different interview, he said:
"I'm so grateful that my mom trusted God with my life and her life."
His father was diagnosed with Parkinson's disease in 2016.
Tim has two sisters (Christine and Kathryn) and two brothers (Robby and Peter).
In 2006, he accepted a scholarship to the University of Florida.
In 2007, Tebow became the first sophomore to win the Heisman Trophy while playing at the University of Florida.
During the summer of 2010, he signed a contract with the Broncos that had a base value of $11.25 million.
Broncos head coach Josh McDaniels said about drafting Tim:
"He has all the traits you look for. It's a good pick."
On March 21, 2012, he was traded to the New York Jets. On April 29, 2013, Tim was released by the New York Jets.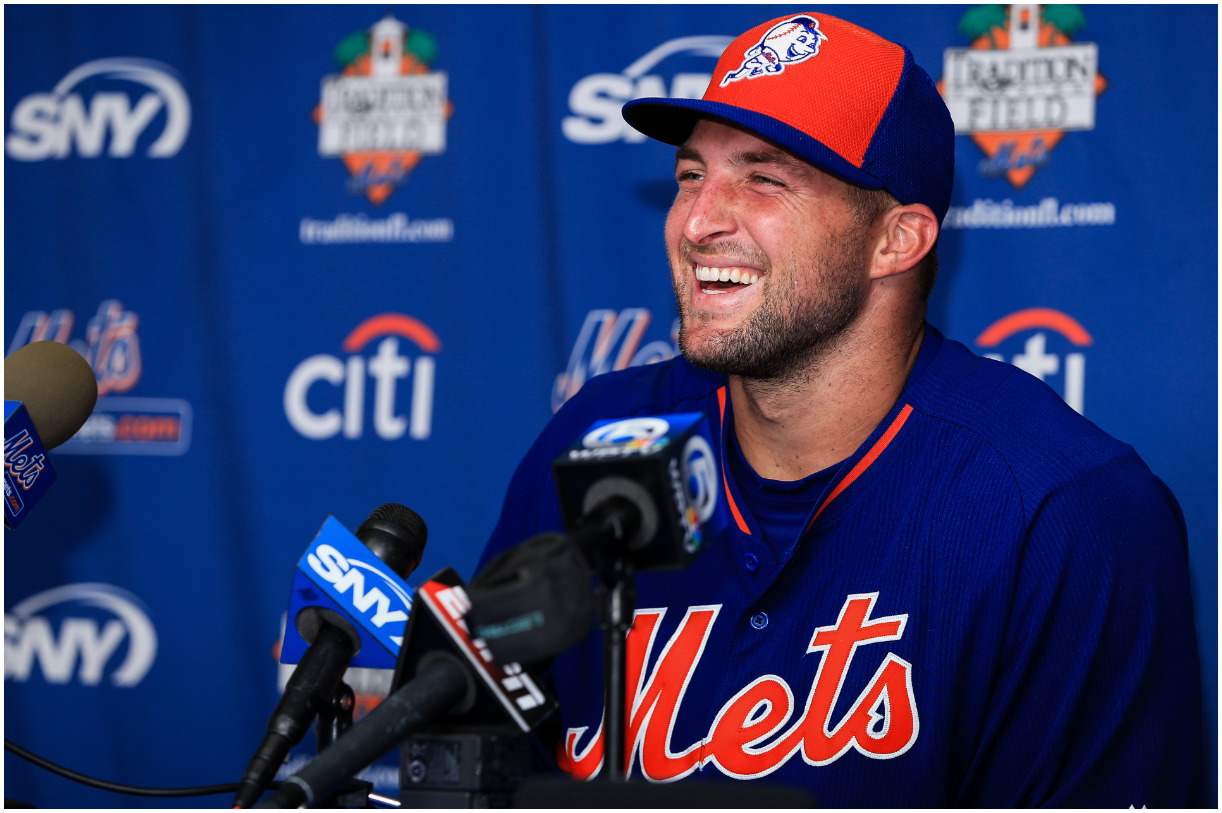 On June 10, 2013, he was signed by The New England Patriots. On August 31, 2013, Tebow was released from the Patriots.
On December 30, 2013, he was hired by ESPN as a college football analyst.
On April 20, 2015, Tim signed a 1-year contract with the Philadelphia Eagles. On September 5, 2015, he was released by the team.
In August 2016, he announced his intention to pursue a professional baseball career. On September 8, 2016, Tebow signed a minor league contract with the New York Mets.
In November 2018, he was assigned to the Syracuse Mets.
In 2018, he was the executive producer of the Run the Race, a Christian drama film that follows two high school brothers whose father abandons them after their mom dies. "Run the Race" made $2.3 million in its opening weekend. It was directed by Chris Dowling.
Tim said about "Run the Race":
"I wanted to be part of something that's encouraging and inspirational to the viewer."
Tebow continued:
"I believe 'Run the Race' accomplishes this by showing two brothers struggling with real life, but them getting through it by supporting each other and their faith."
Books
In 2011, he published a book, titled "Through My Eye."
In 2016, he released "Shaken: Discovering Your True Identity in the Midst of Life's Storms." The book won the Evangelical Christian Publishers Association Book of the Year in 2017.
In 2018, Tebow published "This Is the Day." The book focuses on inspiring people to chase their dreams.
Wife
In 2018, Tim Tebow began dating Demi-Leigh Nel-Peters, the 2017 Miss South Africa and Miss Universe in the same year.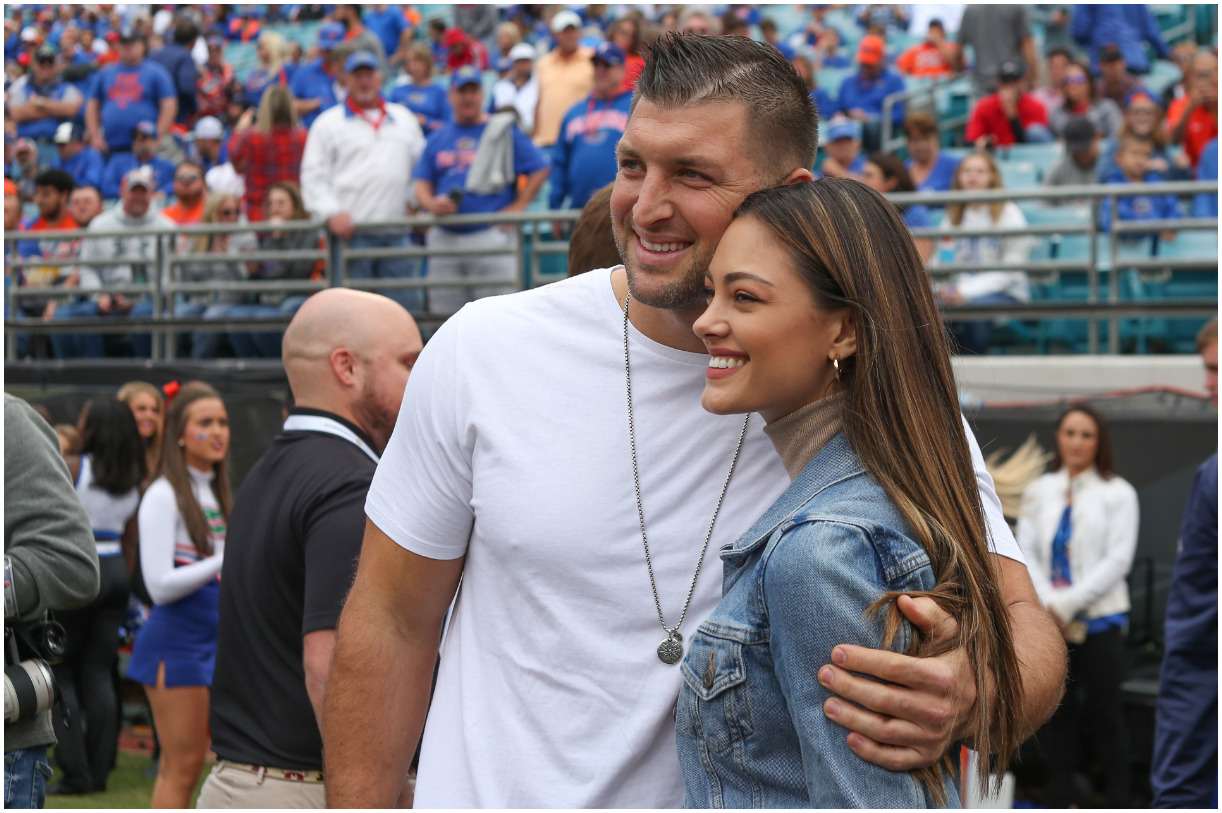 He said about Demi-Leigh:
"She is a really special girl and I am very lucky and blessed for her coming into my life."
Tebow and Nel-Peters got married on January 20. 2020. The wedding featured a mix of South African and American traditions and cultures. He said:
"I've been waiting my entire life for someone special, who I can spend the rest of my life with. I was waiting for the right person to come along."
Tim added:
"And now I'm marrying Demi. I can't wait to see what our future holds."
The couple spent their honeymoon at the Maldives' five-star Soneva Jani resort.
Height
Tebow is 6 ft 3 in (191 cm).
Quotes
"I believe I'm doing what God wants me to do — to serve those who may not have a lot of people who are serving them."
"We were created by Love, in love, and for love."
READ MORE: Who is Christian Yelich?
"Although I'm extremely competitive and driven in sports, you've also got to remember that it's just a game."
Trivia
He said about Kobe Bryant to USA Today:
"To me, he had an unflinching drive and focus I only can compare to Tiger Woods or Michael Jordan."
In 2011, a documentary, Tim Tebow: Everything in Between, was released.
Tebow stated that he will abstain from sex until he is married.
He owns the trademark for the word "Tebowing" – the act of taking a knee during games while holding a clenched fist against his forehead.
"Tebowing" was included as a feature in the Madden NFL 13 video game.
Tim has raised money for Shands Hospital Paediatric Cancer Center in Gainesville.
READ MORE: Ryan Blaney Net Worth
He has been eating keto since 2012.
Other famous American football players are Jessie Armstead and Matt Mitrione.
Tim Tebow – Net Worth
Tebow earned most of his wealth from playing in the NFL as well as from playing for the New York Mets. So far, he has received over $9 million from his contracts.
Tebow is also an analyst for ESPN since 2013. In 2017, he signed a multi-year extension of his contract with ESPN.
Moreover, he makes money from sponsors. For instance, Tim signed an endorsement deal with Nike Inc. for $300,000 while playing for the Broncos. In 2016, Tebow signed with Adidas. In 2019, he bought a mansion in Florida for $2.9 million. Therefore, professional baseball player Tim Tebow has an estimated net worth of $10 million.
Featured image source – © Guliver / Getty Images.
READ THIS NEXT: Is Mike Fisher married?