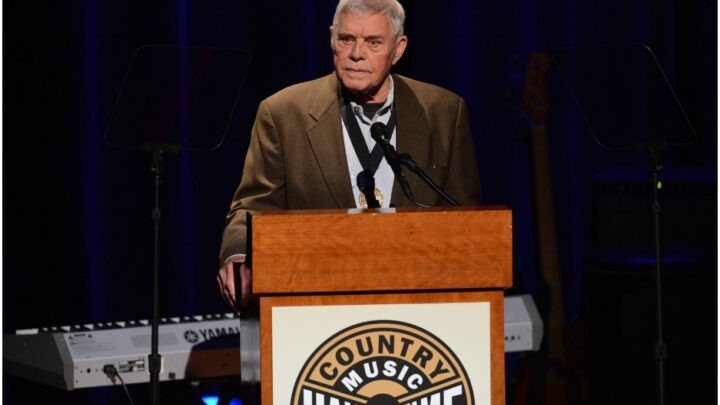 Tom T. Hall, popularly known as the "Storyteller," is an American songwriter and entertainer, whose storytelling skill has been recognized in "(Old Dogs, Children and) Watermelon Wine," among others.
Hall is best known for writing the hit "Harper Valley PTA," that was a No. 1 Billboard magazine country and pop smash written for Jeannie C. Riley. Also, Tom has written 11 #1 Hits, with 26 more that hit the Top 10.
Biography
He was born on May 25, 1936, in Olive Hill, Kentucky, USA.
Tom is the son of a bricklaying minister. He said about his childhood:
"I was born in the foothills of the Appalachian mountains, and spent my whole life trying to get out of there."
He was one of eight children.
By the time he was 9, Tom had composed his first song, called – "Haven't I Been Good to You." This song was inspired by the conversations of neighbors and by the music of the Grand Ole Opry.
As a teenager, Hall played in a band named – "Kentucky Travelers" which entertained audiences before the beginning of movies.
In 1957, he enlisted in the US Army and was stationed in Germany. There, Tom performed at local NCO clubs on the Armed Forces Radio Network.
After the Army, Tom enrolled at Roanoke College in Virginia to pursue writing.
His big songwriting break came in 1963, when Jimmy C. Newman (a country singer) recorded his song, "DJ For a Day."
In 1963, he moved to Nashville.
In 1973, Hall won a Grammy Award.
In 1979, he appeared on the PBS music program called – "Austin City Limits during Season 4."
During the early 1980s, Hall served as a television show host for the show – "Pop! Goes the Country."
In 1996, Tom reemerged on the music scene with the release of an album that was recorded at his winter home on a Gulf Coast island, named – "Songs from Sopchoppy."
In 1998, in a BBC Radio 2 poll to find the United Kingdom's favorite easy listening record, his 1972 song "Old Dogs, Children and Watermelon Wine" came in 2nd place.
In 2008, Tom was inducted into the Country Music Hall of Fame.
On June 13, 2019, he was inducted into the Songwriters Hall of Fame.
Wife
In 1968, Tom T. Hall got married to Dixie Hall (born Iris Violet May Lawrence). They met at a 1965 music industry award dinner.
During an interview, she said:
"I ran into him later at the Disc Jockey Convention, and he invited me to go fishing, and I jumped at the chance. I thought he was okay."
Dixie went on to say:
"We went fishing and caught a huge catfish. I made him keep it in the bathtub in his apartment because I just couldn't see it being killed. It was huge."
Dixie is considered one of the most prolific female songwriters in bluegrass music. She has over 500 songs to her name.
Together with his wife, Tom won the Bluegrass Song Writer of the Year (an award that is given by the Society for the Preservation of Bluegrass Music of America) award for 12 consecutive years – 2002, 2003, 2004, 2005, 2007, 2008, 2009, 2010, 2011, 2013, 2014, and 2015.
Dixie passed away in January of 2015 at the age of 80.
Children
Tom has a son, Dean Hall, who is a singer and member of the MuzikMafia.
Books
Hall has published several books, including:
What a Book! (1996);
Spring Hill, Tennessee (1990);
Christmas and the Old House (1989);
Homewords (1986);
The Acts of Life (1986);
The Laughing Man of Woodmont Coves (1982);
The Storyteller's Nashville (1979);
The Songwriter's Handbook (1976);
How I Write Songs, Why You Can (1976).
READ MORE: Excision Net Worth
Quotes
"I was well-traveled, and I created this illusion of literacy through reading and writing. I wrote a book of short stories."
"It used to be that you'd have a song recorded by a major country artist and if it was a hit, you could buy a car. Now you can buy a dealership."
"My best album is called In Search Of A Song. That was my best shot right there. My finest hour, as they say. I could listen to the whole thing all the way through. There's nothing really crammed into it."
"This generation should entertain this generation. It's only fair. When I was a kid, I mowed the lawn. Now, somebody else's kid can mow the lawn."
"I had the notion that I wanted to write the great dirty American novel, so I went to Roanoke College on the GI Bill."
"I love winners when they cry, losers when they try."
READ MORE: Who is Johnny Rivers' wife?
Trivia
His mother died when he was young. At age 15, his father was shot in a hunting accident. As a result, Tom had to start working in a factory.
His songs were largely reflections of his own experiences, from his life as a country music star and national television celebrity to his rural working-class beginnings.
His last public performance was in 2011.
Tom is frequently referred to as "The Storyteller" for his ability to tell stories in songs.
READ MORE: Kevin Parker Net Worth
Tom T. Hall – Net Worth
Hall earned most of his wealth from selling his albums and singles. According to the statistics, he had 11 No. 1 singles, including – "Faster Horses (the Cowboy and the Poet)" (1976), "I Care" (1974–75), "Country Is" (1974), "I Love" (1973–74), (Old Dogs, Children and) Watermelon Wine" (1972–73)," "The Year That Clayton Delaney Died" (1971)," and "A Week in a Country Jail" (1969–70).
In addition, Tom has published several books and earned money from selling tickets to his concerts. Therefore, Tom T. Hall has an estimated net worth of $3 million.
Featured image source – © Guliver / Getty Images.
READ THIS NEXT: Is Carl Thomas married?
References

https://eu.pnj.com/songwriter-tom-t-hall-and-art-storytelling
https://eu.tennessean.com/dixie-hall-prolific
https://www.theguardian.com/heroes-tom-t-hall-country