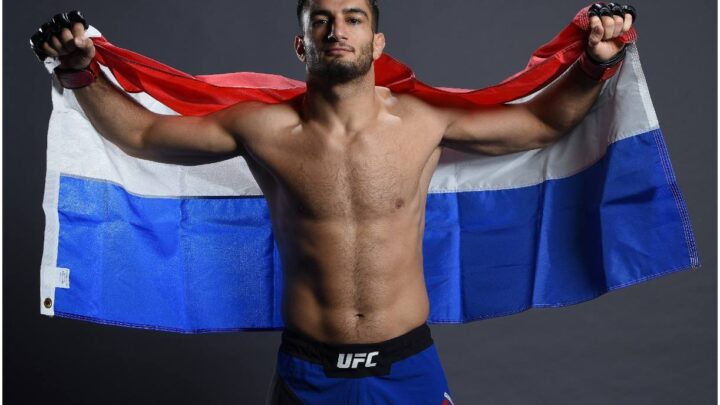 Gegard Mousasi, nicknamed – The Armenian Assassin or The Dreamcatcher, is a professional Armenian Dutch kickboxer and mixed martial artist who has notable wins over "The African Assassin" Rameau Thierry Sokoudjou, Renato Sobral, Mark Hunt, Ronaldo Souza, Melvin Manhoef, Denis Kang, Evangelista Santos, and Hector Lombard.
Biography
Mousasi was born on August 1, 1985, in Tehran, Iran to Armenian parents. He once said about his parents:
"My mum and dad were born in Iran. There's a small community of Armenians there, but slowly everyone is leaving."
Gegard went on to say:
"I think there were 200,000 of us there at one time, and it's fallen to around 50,000 now."
He has one older brother named Gewik.
Gegard and his family relocated to Leiden, Netherlands when he was 4 years old.
At age 8, he began training in judo.
He said for The Telegraph:
"My dad would take me to judo a few times a week. I got all these things that I was able to do once we were set up in Holland."
Mousasi later added:
"Everything was taken care of. I think Holland is a country that takes care of their people – one of the best countries in the world."
Mousasi started his training in boxing at the age of 15.
In 2001, Gegard won the Netherlands Amateur Boxing National Championship.
On February 1, 2008, Mousasi defeated Evangelista Santos via TKO. Santos is a Jiu-Jitsu black belt Brazilian mixed martial artist. He won his MMA debut on November 20, 1997. He also fought for the Strikeforce Welterweight Championship.
In 2006, he signed with Pride FC to take part in Pride's Welterweight Grand Prix.
In 2008, Mousasi earned Fighter of the Year honors from Bleacher Report.
On November 21, 2008, ADCC Europe confirmed the signing of Gegard as one of 2009's ADCC Championships.
On April 17, 2010, he lost the Strikeforce Light Heavyweight Championship belt in his first defense to American professional wrestler Muhammed Lawal.
UFC
On January 15, 2013, the Ultimate Fighting Championship announced Gegard would be joining 19 other Strikeforce fighters in a move to the Ultimate Fighting Championship.
On May 16, 2015, Gegard faced Greek-Cypriot mixed martial artist Costas Philippou and won the fight by unanimous decision.
Bellator
On July 10, 2017, Mousasi signed a 6-fight deal with Bellator MMA. At the moment of his departure from the Ultimate Fighting Championship, Mousasi was #4 in the official UFC middleweight rankings.
Scott Coker, President of Bellator, said in a statement:
"I'm thrilled to welcome Gegard to the growing Bellator family."
In January 2018, Gegard has withdrawn from his title defense against Rafael Lovato Jr. due to a back injury, reported ESPN.
On May 25, 2018, he won a match via TKO in the first round vs Rafael Carvalho at Bellator 200 in London, England. Gegard became the first fighter to win a world title in both Strikeforce and Bellator MMA.
On June 22, 2019, he lost his title by majority decision in a match vs Rafael Lovato Jr. Later, Gegard has accused Rafael Lovato Jr of taking performance-enhancing drugs. According to RT, he said:
"It's not even a little bit steroids, they're like monkey steroids."
In another interview, Mousasi declared:
"I should have won this match even with him using PEDs. I told the commission that it's clear that he was on PEDs."
On September 28, 2019, Mousasi won a fight against Lyoto Machida at Bellator 228.
At Bellator 250, which was held in October 2020 at the Mohegan Sun Arena in Uncasville, Gegard defeated Douglas Lima via unanimous decision.
Girlfriend
Gegard Mousasi used to date Cindy Dandois, a Belgian mixed martial artist who began her judo training at the age of 5.
In February 2017, it was announced that Cindy had signed with the UFC.
Height
Mousasi is 6 ft 1 in (185 cm) tall.
Quotes
"I couldn't take a lot of rest. I neutralized him. I had to fight like this."
"I feel comfortable fighting from my back but I'd rather have the top position on the ground like a lot of fighters. So stand up or ground, I feel I will do fine."
"I'm not going to cry about it. I'm going to go out and give it all."
"The guillotine was tight, but nothing I would have tapped for."
READ MORE: Christmas Abbott Net Worth
Trivia
His nickname, The Dreamcatcher, was given by a friend. Gegard explained:
"My friend came up with it [The Dreamcatcher], so blame it on him. I don't like nicknames, to be honest."
He is the godfather of Japanese–born Croatian mixed martial artist Satoshi Ishii's son Mousasi Ishi.
Another famous UFC fighter is Travis Browne.
READ MORE: Lorenzo Gordon Net Worth
Gegard Mousasi – Net Worth
Mousasi earned most of his wealth from fighting in Strikeforce, UFC, and Bellator. Gegard is the former Strikeforce Light Heavyweight Champion, former Cage Warriors World Middleweight Champion, former DREAM Middleweight Champion, and the former DREAM Light Heavyweight Champion. Therefore, professional mixed martial artist Gegard Mousasi has an estimated net worth of $2 million.
READ THIS NEXT