Franklin Graham (birth name – William Franklin Graham III) is an American Christian evangelist and the president of Samaritan's Purse (an international Christian relief organization) and the Billy Graham Evangelistic Association.
Biography
He was born on July 14, 1952, in Asheville, North Carolina, USA, to Ruth Graham and Billy Graham, an American evangelist as well as the spiritual adviser to Barack Obama, Harry S. Truman, Richard Nixon, Lyndon B. Johnson, and Dwight D. Eisenhower.
In 1983, Billy Graham was rewarded with the nation's highest civilian award, Presidential Medal of Freedom.
Franklin wrote in his autobiography that "just being the son of Billy Graham won't get me into heaven."
His maternal grandfather was a medical missionary to China for over two decades.
He attended The Stony Brook School, a private, Christian, college-preparatory boarding school.
Franklin graduated from Montreat-Anderson College in 1974. In the same year, Franklin converted to Christianity after visiting Jerusalem.
In 1978, he graduated from Appalachian State University.
Samaritan's Purse
In 1978, he was elected to the Board of Samaritan's Purse, an evangelical Christian humanitarian aid organization that works in over 100 countries.
During the 2010 federal tax year, Samaritan's Purse reported gross receipts of more than $414 million. During the 2012 tax year, the organization generated more than $376 million.
In 1982, Graham was ordained by the Grace Community Church in Tempe.
The Billy Graham Evangelistic Association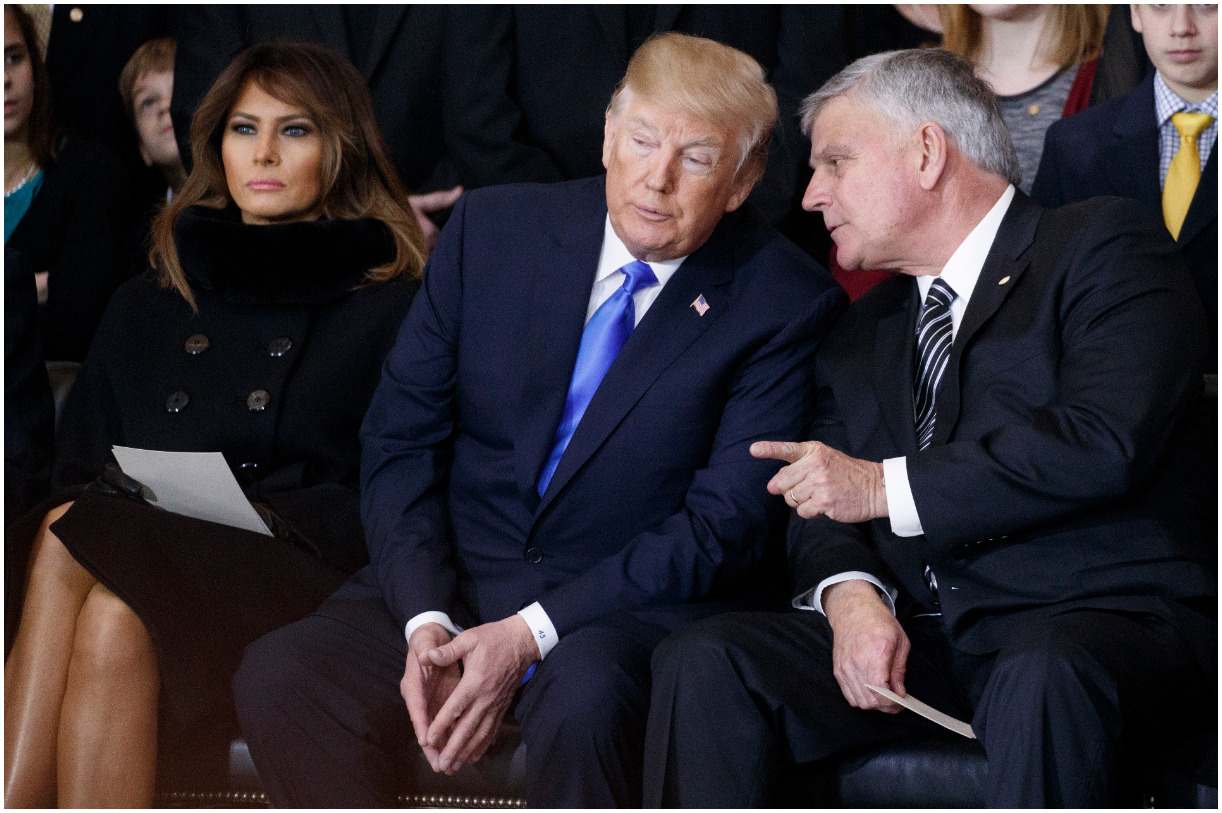 In 2000, Graham became the CEO of the Billy Graham Evangelistic Association, a non-profit Christian outreach organization that was founded in 1950 by Billy Graham in Minneapolis.
In 2002, Franklin was named "Daniel of the Year" by World magazine.
In a March 2011 interview, Franklin said that the 2011 earthquake in Japan "may be" the second coming and Armageddon. He also said:
"Maybe this is it, I don't know. We should pray and be vigilant."
Graham went on to say:
"The Bible teaches us Jesus is going to return someday. Many of us we believe that day is sooner rather than later."
In 2011, Graham said about Donald Trump:
"The more you listen to (Donald Trump), the more you say to yourself, 'You know, maybe the guy's right.'"
In 2012, Franklin supported North Carolina Amendment 1.
In 2013, Putin signed a nationwide law banning the distribution of materials promoting LGBT relationships among minors. Graham stated that it was sad that "Russia's standard [of morality] is higher than our own," in a March 2014 issue of Decision Magazine. He added, "just a few generations ago, America held the high moral ground. How the times have changed!"
In a 2016 tour, he visited all 50 state capitals. More than 230,000 people attended.
After President Trump won the United States elections, Graham declared for The Hill:
"I think God was behind the last election."
In an interview with Fox News, Franklin confessed:
"My father knew Donald Trump, believed in Donald Trump, and in this last election, he voted for Donald Trump."
Franklin announced he was adopting a vegan diet for six months, as a New Year's resolution for 2017. He said:
"Do you think I'll survive? Everyone is betting I won't last two days."
Graham later added: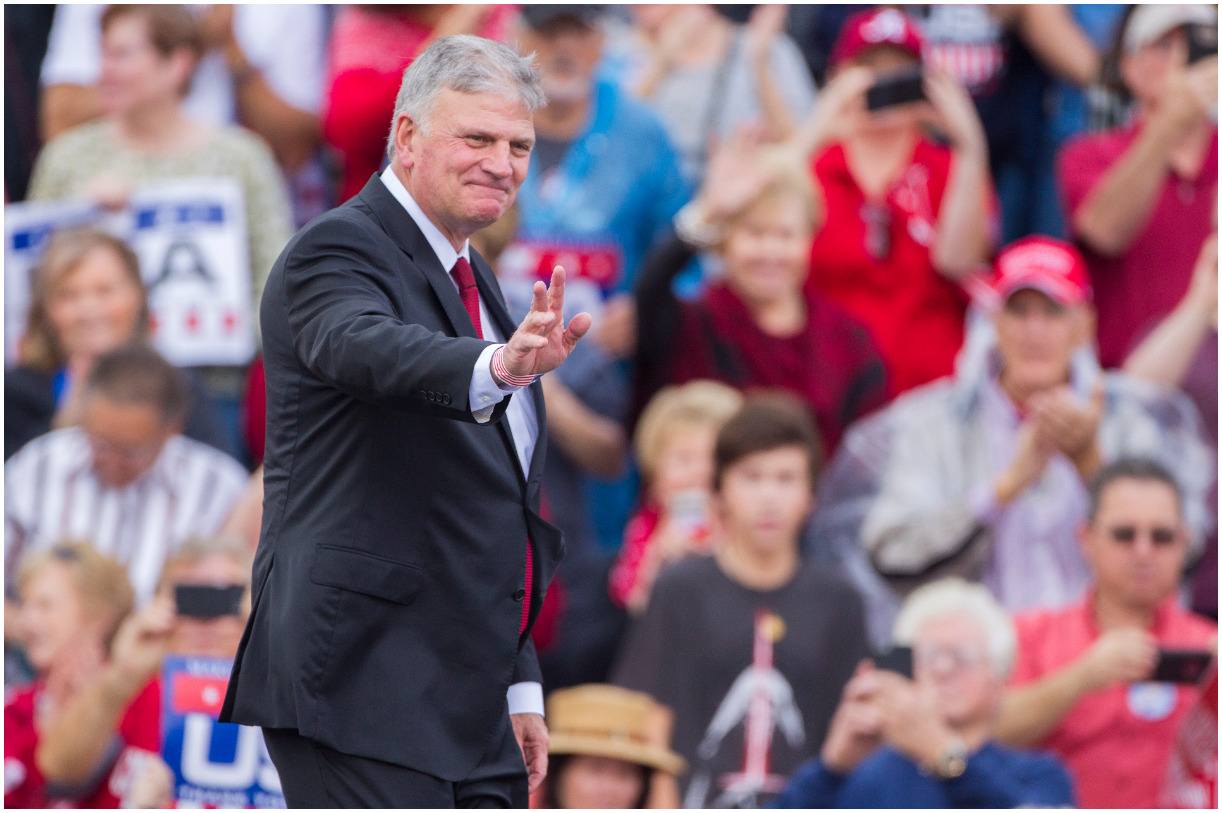 "Remember in the Bible, Daniel went on a complete vegetable diet and after 10 days his appearance was better than the others who hadn't."
In 2018, he took his Decision America Tour to 17 cities in California, Oregon, and Washington. Also in 2018, The Billy Graham Evangelistic Association created a permanent Billy Graham Channel.
Wife
In 1974, Franklin Graham got married to Jane Austin Cunningham.
Children
The couple has four children:
Jane Austin Graham Lynch (Cissie);
Edward Bell Graham;
Roy Austin Graham;
William Franklin Graham IV (Will).
His daughter, Cissie, is married to Corey Lynch, a former football safety who was drafted by the Cincinnati Bengals in the sixth round of the 2008 NFL Draft.
Franklin and his wife have 12 grandchildren.
Quotes
"We are all flawed people."
"I believe in the power of prayer and I hope this will be a reminder to everyone to take their needs and concerns to God because He cares."
"Every life is precious to God. God created every one of us."
"The hope of Christ gives us peace & security, not only for this life, but for eternity."
"Lawmakers in Washington need prayer today – that they'd be able to work together & look to God for wisdom and direction."
READ MORE: Bishop Noel Jones Net Worth
"I think Newt Gingrich is a Christian; at least, he told me he is."
Trivia
Other famous pastors and televangelists are Joseph Prince, Rod Parsley, and Tony Evans.
He is part of the top 20 richest pastors in the world list.
Franklin Graham – Net Worth
Graham earned most of his wealth from being the president of the Billy Graham Evangelistic Association and Samaritan's Purse.
In 2008, Graham's salary from both organizations was around $1.2 million. In 2015, Franklin received $258,000 for acting as CEO of the Billy Graham Evangelistic Association and about $622,000 salary as the president of Samaritan's Purse.
In addition, Graham makes money from selling his books, Bob Pierce: This One Thing I Do, Miracle in a Shoe Box, Rebel With A Cause: Finally Comfortable Being Graham, Through My Father's Eyes, Living Beyond the Limits: A Life in Sync with God, The Name, Kids Praying for Kids, All for Jesus, A Wing and a Prayer, and The Sower. Therefore, evangelist Franklin Graham has an estimated net worth of $10.5 million.
Featured image source – © Guliver / Getty Images.
READ THIS NEXT: Is John Hagee divorced?