Mark Manson is an American writer and blogger who is best known for his bestselling books "The Subtle Art of Not Giving a F*ck" and "Models: Attract Women Through Honesty."
As an internet entrepreneur, Mark is the owner of markmanson.net – one of the largest independent personal growth websites in the world.
Biography
He was born on March 9, 1984, in Austin, Texas, USA.
In 2007, Mark graduated from Boston University with a degree in finance.
Later, Manson began coaching men on how to approach attractive women.
Website
He started his first blog in 2009.
Currently, he owns MarkManson.net, a website that has over 2 million monthly readers.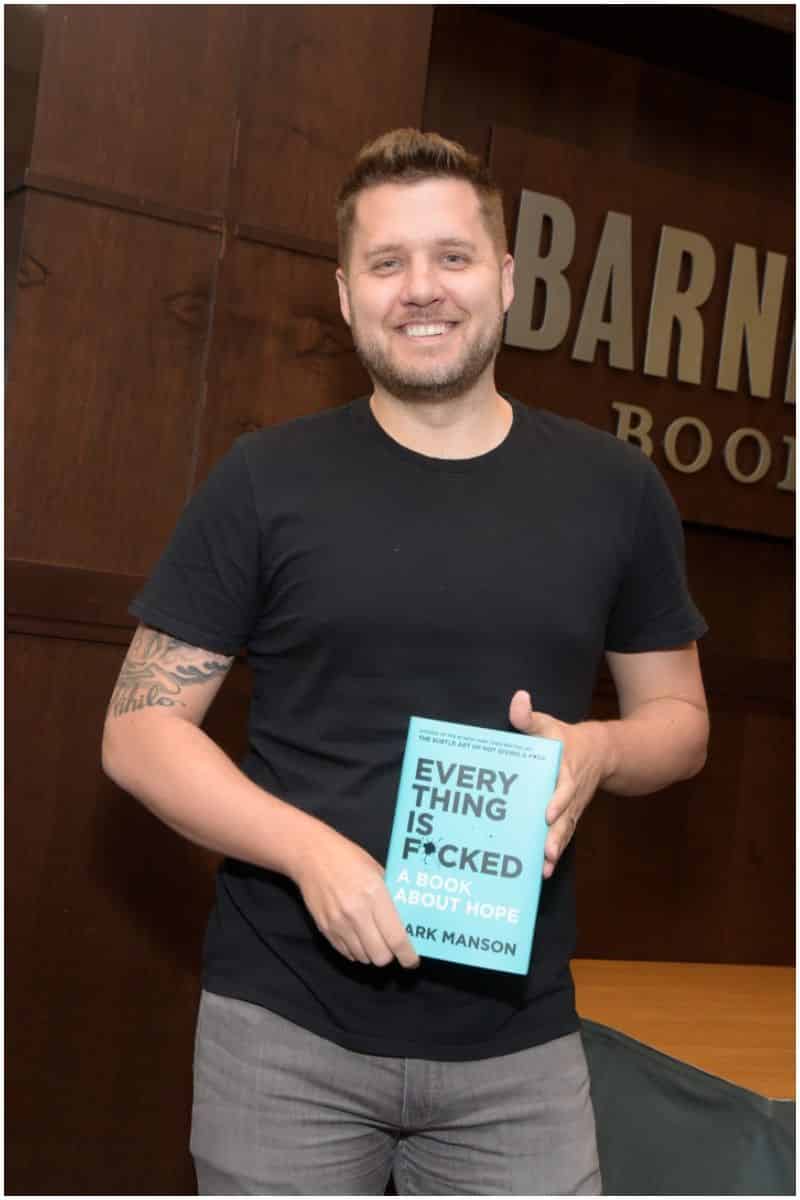 On his blog, Mark writes about topics related to modern American culture, psychology, life choices, relationships, and dating. He once said:
"What I really, really love is writing. If I can just write and make a really nice living out of that, why would I change that?"
Some of his popular articles are:
7 Strange Questions That Help You Find Your Life Purpose;
Attachment Theory;
The Levels of Eye Contact in Attraction;
5 Skills to Help You Develop Emotional Intelligence;
Maybe You Don't Know What Love Is;
9 Steps to Hating Yourself a Little Less;
The Truth About "The Secret";
3 Terrible Reasons to Get Married (And 4 Really Good Ones);
What's the Problem with Feminism?
Books
On July 28, 2011, Manson published his first book, titled – "Models: Attract Women Through Honesty."
The book details how a man can attract women without emulating others, without lying, and without faking behavior.
On September 13, 2016, Mark released his second book, named – "The Subtle Art of Not Giving a F*ck: A Counterintuitive Approach to Living a Good Life."
In the book, the author recommends us to get to embrace our uncertainties, faults, and fears. In addition, Mark says to start confronting painful truths.
During an interview, Manson said about the book:
"If other self-help books say you're special, I'm going to write a chapter called 'You're Not Special.'"
Mark went on to say:
"If other self-help books tell you to believe in yourself, I'm going to tell you to not believe in yourself."
The American author added:
"If other self-help books tell you 'just say yes,' I'm going to write a chapter that says, 'just say no.'"
The book became a New York Times and Washington Post bestseller.
On May 14, 2019, he published "Everything Is F*cked: A Book About Hope." In this book, Mark writes about the endless calamities taking place in the world around us.
He said to Nomadic Matt about the book:
"I've been calling it an "expansion" of the ideas from Subtle Art."
Manson continued:
"I think it's a deeper analysis and more complex application of the same concepts—values, pain/suffering, and our definitions of success."
Infinity Squared Media
Manson is the founder and CEO of Infinity Squared Media.
He said for Forbes:
"Even though I'm a writer, I've always viewed my work much in the same way as a startup or marketer might view their work."
Wife
In 2016, Mark Manson got married to Fernanda Neute.
READ MORE: Leslie Benzies Net Worth
Quotes
"Everybody wants to have great sex and an awesome relationship — but not everyone is willing to go through the tough communication."
"Conditional relationships are inherently selfish."
"Tragedy happens in everyone's life, everyone's circle of family and friends."
"Each book brings its own generational edge to the same fundamental idea."
"A healthy relationship is a relationship with healthy arguments."
"People tend to rely too much on self-discipline and eschew forming useful habits."
"Some people have an incredibly high IQ but low EQ."
"The only thing that changes is the meaning we construct around our suffering."
"While love may make you feel better about your relationship problems, it doesn't actually solve any of your relationship problems."
"Everyone wants to live a care-free, happy and easy life, to fall in love and have amazing sex and relationships."
"People with secure attachment strategies are comfortable displaying interest and affection."
"I definitely consume way less media these days. I am less active on social media."
"People typically struggle with boundaries because they find it difficult to hurt someone else's feelings."
"Everything includes some sort of cost. Nothing is pleasurable or uplifting all of the time."
READ MORE: Nick Clooney Wife
Trivia
His writing has appeared in:
Vox;
CNN;
The New York Times;
Vice;
Forbes;
TIME Magazine;
Wall Street Journal.
READ MORE: Who is Darcizzle Offshore?
Mark Manson – Net Worth
Manson earned most of his wealth from selling his books. For instance, the book – "The Subtle Art of Not Giving a F*ck" sold more than 6 million copies, according to Men's Health. This book costs about $14 on Amazon.
In total, his books have sold more than 9 million copies worldwide and have been translated into over 50 languages.
Moreover, Mark has a blog with over 2 million monthly page views. His blog doesn't have ads but sells a premium subscription for $48 per year. The paid membership features premium articles and several full-length courses.
The blog has over 500,000 subscribers (meaning around $2.5 million yearly revenue).
Manson has several free e-books, including – What the Hell Are You Doing with Your Life? and Get Your Shit Together — Here's How.
Therefore, blogger Mark Manson has an estimated net worth of $7 million.
READ THIS NEXT: Buffie the Body Net Worth
References

https://dailystoic.com/mark-manson-interview-2/