Nikki Sixx (birth name – Frank Carlton Serafino Ferrana) is an American radio host, musician, author, and primary songwriter of the band Mötley Crüe.
Biography
He was born on December 11, 1958, in San Jose, California, USA.
His father left the family shortly after he was born. Sixx later recalled in an interview:
"My parents both abandoned me – my father left when I was three, and my mom left when I was six."
At age 17, he moved to LA in order to pursue a career in music. He eventually joined the band, Sister.
Mötley Crüe
In 1981, he founded Mötley Crüe alongside drummer Tommy Lee.
On November 10, 1981, the band released its first album, titled "Too Fast for Love."
Their second album, Shout at the Devil, was released in September 1983. The album sold more than 4 million copies. "Shout at the Devil" generated controversy for its album imagery and the title track, both of which invoked Satanism.
On June 21, 1985, Mötley Crüe released their 3rd album, called – "Theatre of Pain." All lyrics are written by Nikki except "Smokin' in the Boys Room" by Michael Lutz and Cub Koda.
In May 1987, they released another album, entitled – "Girls, Girls, Girls." It debuted at number 2 on the Billboard 200.
Heroin Overdose & Death
On December 23, 1987, Nikki was declared dead for 2 minutes after a heroin overdose. Sixx woke up in an ambulance with two syringes sticking out of his chest, where paramedics had injected him with adrenaline, according to Newsweek.
In his own Heroin Diaries words, Sixx wrote:
"There was a cop asking me questions, so I told him to go f##k himself."
Nikki continued:
"I ripped out my tubes and staggered in just my leather pants into the parking lot, where two teenage girls were sitting crying around a candle."
He added:
"They had heard on the radio that I was dead and looked kind of surprised to see me."
In an interview for LA Times, the musician said:
"Heroin nearly killed me. As a matter of fact, it did."
Nikki went on to say:
"From the outside looking in, I was living the dream. But in reality, I was in the throes of a disease I couldn't control, addicted to heroin."
In 2000, Sixx formed side project group 58 with Bucket Baker, Steve Gibb, and Dave Darling. Later that year, they released an album, named – "Diet for a New America."
In 2006, Mötley Crüe completed a reunion tour. Also in 2006, Nikki formed his own group known as Sixx:A.M.
On June 17, 2008, Mötley Crüe released its 9th studio album, "Saints of Los Angeles," in Japan.
Since 2010, he started to host a nationally syndicated radio show, named – "Sixx Sense."
On March 22, 2019, Mötley Crüe released four new songs on the soundtrack for The Dirt. On the same day, Netflix launched the Mötley Crüe biopic The Dirt. The film stars Iwan Rheon, Daniel Webber, Colson Baker, and Douglas Booth.
Nikki said about The Dirt:
"The movie brought up a lot of pain around that. My grandparents, who aren't shown in the movie, were always there for me."
On December 4, 2019, it was announced that Mötley Crüe would embark on The Stadium Tour with Joan Jett & the Blackhearts, Poison, and Def Leppard, in the summer of 2020.
Books
On May 22, 2001, he published a book, titled – "The Dirt: Confessions of the World's Most Notorious Rock Band." The book was at the top of The NY Times best-seller list for ten weeks. He said:
"The book was written in 2000 during a really low point in my life."
Sixx added:
"I had lost my sobriety and was using drugs and alcohol to deal with a disintegrating relationship which I still to this day regret how I handled."
In 2007, he released his second book, named "The Heroin Diaries: A Year in the Life of a Shattered Rock Star."
Fiancée
In 1987, Nikki was engaged to Denise "Vanity" Matthews, a Canadian singer and actress. She was addicted to crack cocaine at the time.
Wife
On May 20, 1989, he married Brandi Brandt, an American actress and model who was Playboy's Playmate of the Month for October 1987. In April 2014, she pleaded guilty to a charge of conspiring to import drugs.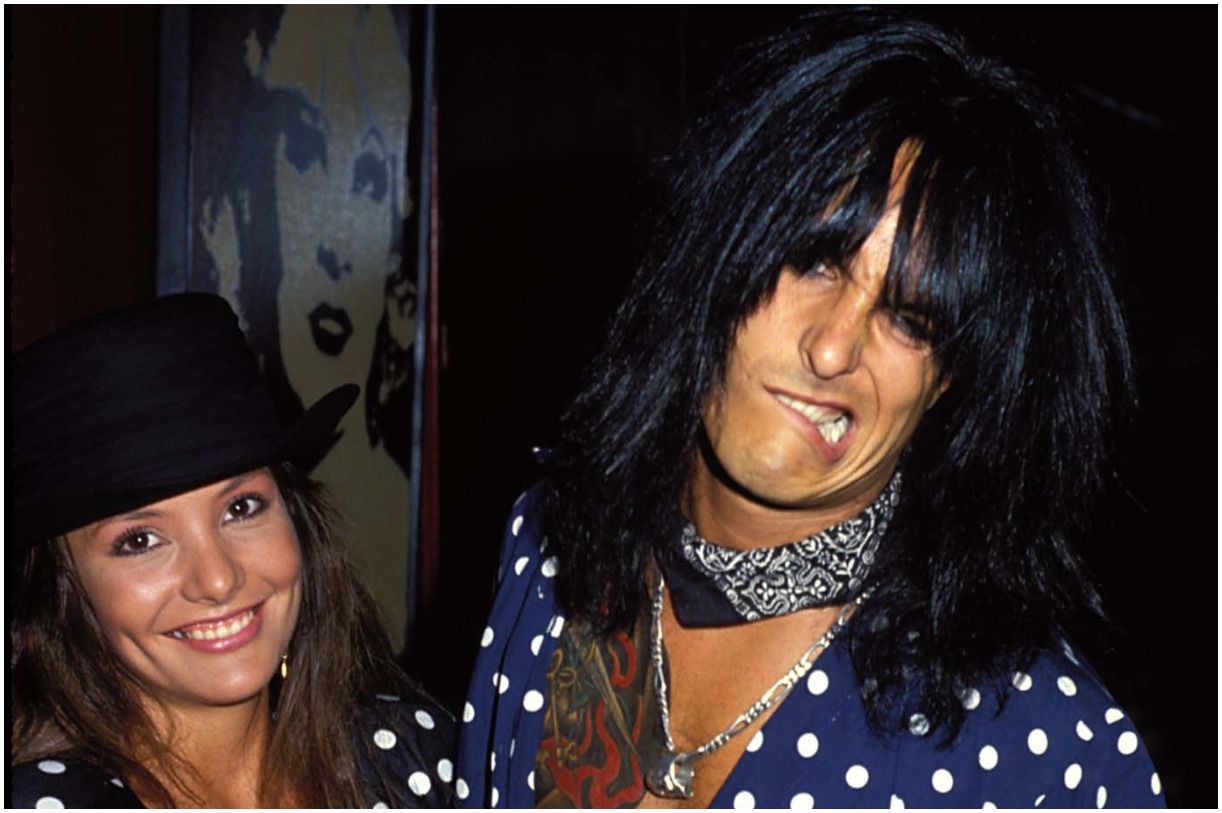 The two divorced on November 23, 1996.
On December 23, 1996, Nikki Sixx married Donna D'Errico, an American model and actress, who had a starring role on the TV series Baywatch and posed for Playboy as its Playmate of the Month for September 1995.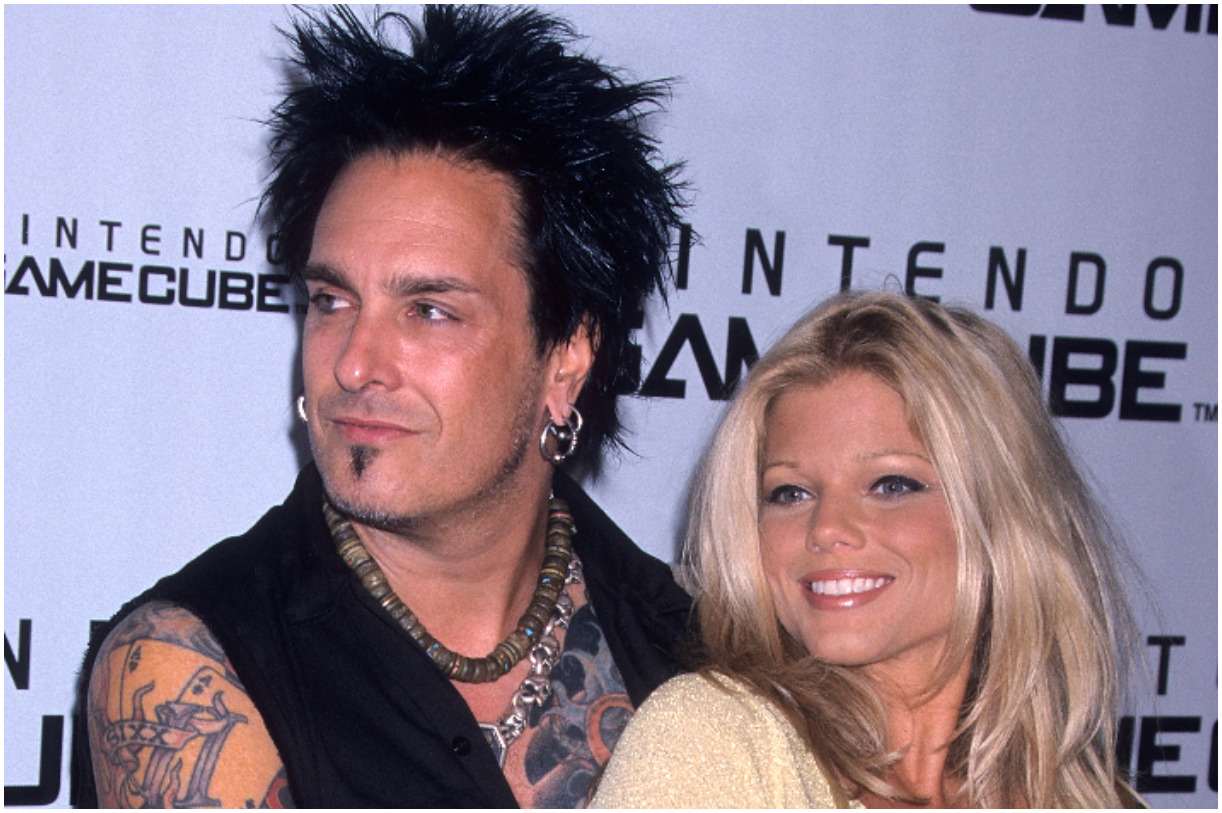 The pair divorced on June 27, 2007. Later that year, Donna appeared on an episode of "Millionaire Matchmaker" and said that they split because of infidelity.
In 2019, Yahoo reported that D'Errico said Sixx is using creative interpretations of their divorce agreement to avoid paying her what she claims he owes.
After the divorce from Donna D'Errico, Sixx underwent a vasectomy.
He said in an interview:
"I was once married to someone named Satan, and I said, 'I'm not going to live the rest of my life in court fighting over child support, so I don't ever want to do this again.'"
From 2008 to 2010, Nikki dated Kat Von D, an American tattoo artist who is best known for her work as a tattoo artist on the TLC TV show "LA Ink."
On March 15, 2014, Sixx married Courtney Sixx, a former model for The Wilhemina Models.
"10 years ago, this incredible man came into my life and changed it forever," Courtney wrote on Instagram in October 2020. "I love you, Nikki."
Children
Sixx has three children with Brandi:
Decker Nilsson Sixx (b. May 23, 1995);
Storm Brieann Sixx (b. April 14, 1994);
Gunner Nicholas Sixx (b. January 25, 1991).
Nikki also has a daughter (born in 2001) with his second wife.
In 2019, Sixx and his wife Courtney had announced the birth of their daughter, Ruby Sixx. He said for Fox News:
"Saturday night my wife Courtney and I welcomed into our world and family a very beautiful baby girl named Ruby Sixx."
In another interview, Sixx joked:
"I figure I'm going to be on an IV drip by the time she's 20."
Height
Sixx is 6 fr (183 cm) tall.
READ MORE: Sam Bailey Net Worth
Trivia
He practices Transcendental meditation.
Other famous musicians that are part of a band are Charlie Starr and Tom Higgenson.
Nikki Sixx – Net Worth
Sixx earned most of his wealth from being the founder of Mötley Crüe. The band achieved nine Top 10 albums on the Billboard 200 chart as well as seven platinum or multi-platinum certifications.
Mötley Crüe has sold more than 100 million albums worldwide. In addition, he has a radio show and was part of other bands.
Apart from his music career, Sixx made some money from selling his books – The Dirt and The Heroin Diaries: A Year in the Life of a Shattered Rock Star.
"I wasn't born with a silver spoon in my mouth," Sixx said in 2021.
Therefore, musician Nikki Sixx has an estimated net worth of $46 million.
READ THIS NEXT: What is Carrie Underwood's net worth?