Olivia Jade Giannulli is an American YouTuber and Instagram personality who uploads health and fashion videos on her popular YouTube channels.
Family
Jade was born on September 28, 1999, in the USA.
Olivia has an older sister named Isabella Rose who has more than 277,000 followers on Instagram.
She also has a stepbrother named Gianni, from her father's previous relationship.
Her mother is Lori Loughlin, an American actress who is known for her role as Rebecca Donaldson-Katsopolis on the sitcom Full House.
Her father is Mossimo Giannulli, a renowned fashion designer who founded the clothing company Mossimo.
Her parents currently face allegations of paying $500,000 in bribes to get Olivia and Isabella admitted into the University of Southern California as recruits for the crew team.
The problem is that the sisters are not row crew. Mossimo Giannulli and Lori Loughlin have been charged with conspiracy to commit money laundering and conspiracy to commit fraud.
They pleaded not guilty. If convicted, her parents could face up to 20 years in prison for each charge.
Recently, it was speculated that if their parents, Giannulli and Loughlin, don't plead guilty to their alleged roles in the scandal, Olivia Jade and her sister may be called to testify in the college admissions scandal.
On August 21, 2020, her father was sentenced to five months in prison and a $250,000 fine, while her mother was sentenced to two months in prison.
Education
In 2018, she graduated from Marymount High School in LA.
In the fall of 2018, Jade started her first semester of college at USC.
During one of her YouTube videos, she said about college:
"I don't know how much of school I'm going to attend. But I do want the experience of, like, game days, partying."
Olivia added:
"I don't really care about school, as you guys all know."
Later, she apologized to her fans. Giannulli said:
"I said something super ignorant and stupid."
During an interview in March 2019 with Zach Sang on his show, Olivia stated that her parents had pushed her into attending the USC because neither of them had attended higher education.
Gary Polakovic, the manager of research communications at USC University Communications, stated that USC plans to conduct a case-by-case review for current students that may be connected to the scheme alleged by the government.
In October 2019, the University of Southern California Registrar confirmed that Jade and Bella were no longer enrolled at USC.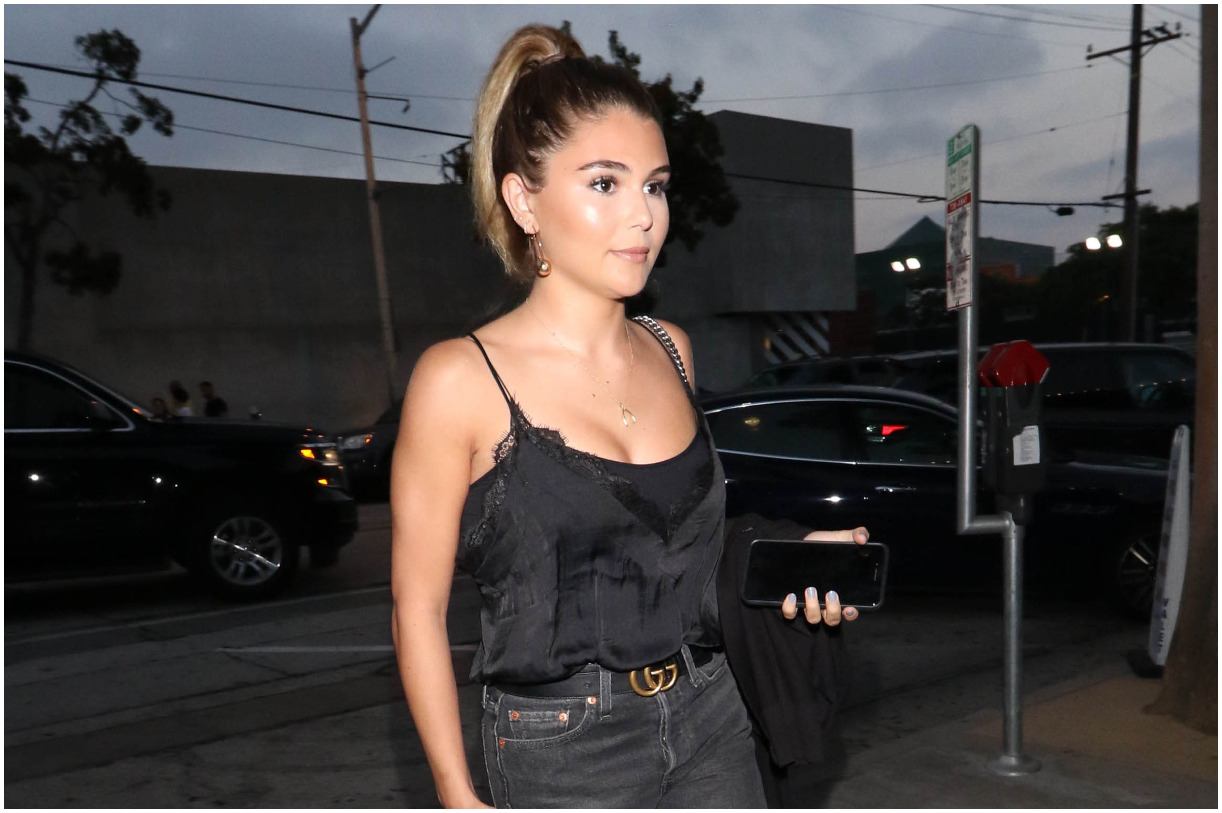 Instagram
In July of 2013, Olivia started her Instagram account (oliviajade). Currently, she has over 1.2 million followers.
On June 19, 2014, Jade started her YouTube channel. On YouTube, Olivia uploads fashion tips, makeup tutorials, and health-related videos.
So far, her channel has over 181 million views and more than 1.94 million subscribers.
On February 18, 2015, Jade started a secondary channel, entitled – "Olivia Jade Vlogs."
In 2017, she crashed her car while filming herself singing on her cell phone for a video.
Boyfriend
In 2015, Olivia Jade began dating Tyler Greenwald. The two broke up in early 2018.
In the summer of 2018, Jade started to date Jackson Guthy, an American singer-songwriter who had his debut single "Loving" in April 2011.
Height
Olivia is 5 ft 4 in (162 cm) tall.
READ MORE: Facts about Greta Thunberg
Quotes
"I don't really care about school, as you guys all know."
"I've gone to one class and I already want to die."
Trivia
In 2018, she trademarked Olivia Jade Beauty and Olivia Jade.
In 2016, Olivia appeared in an episode of the game show Tap that Awesome App.
Other famous female YouTubers are Corinna Kopf and Taylor Alesia.
READ MORE: Bethenny Frankel Net Worth
Olivia Jade – Net Worth
Jade earned most of her wealth from advertisements on her YouTube channels and sponsored posts on Instagram.
On YouTube, she has over 190 million views. This translates into about $400,000 in revenue, depending on several factors (video length, viewers' location, etc.).
On Instagram, Jade can receive at least $10,000 per sponsored post.
In the past, Giannulli had several sponsors. For instance, Olivia released a fashion line with the Australian e-commerce site Polly Princess in December 2018.
In addition, she had sponsorship deals with Boohoo, GlassesUSA, Marc Jacobs Beauty, the Smile Direct Club, HP, Amazon, Lulus, TRESemmé, and Calvin Klein. In 2018, she posted on her Instagram account – "I got everything I needed from Amazon with @primestudent."
All these brands have cut ties with Olivia.
Moreover, she introduced the Olivia Jade Sephora Bronze & Illuminate Palette with the Sephora Collection. Emily Shapiro, a rep for Sephora, stated:
"After careful review of recent developments, we have made the decision to end the Sephora Collection partnership with Olivia Jade, effective immediately."
In 2019, she moved out of her parents' house and bought an apartment. Therefore, Instagram personality Olivia Jade has an estimated net worth of $1.5 million.
Featured image source – © Guliver / Getty Images.
READ THIS NEXT: Who is Elizabeth Warren?
References

https://www.vox.com/olivia-jade-giannulli-lori-loughlin-daughter
https://edition.cnn.com/olivia-jade-giannulli-athletic-profile