Rev. Dr. William J. Barber II is a member of the National NAACP Board and a pastor of Greenleaf Christian Church (Disciples of Christ) in Goldsboro, NC.
Barber is effective at establishing inclusive fusion coalitions which are dedicated to addressing systemic racism, inequality, and poverty, and reach across class lines, age, and gender.
He approaches social justice through the lens of the moral and ethical treatment of people as explained in the Christian Bible
Rev. Barber has been called "one of the most gifted organizers and orators in the country today" and "the closest person we have to Martin Luther King Jr. in our midst."
Biography
He was born on August 30, 1963, in Indianapolis, USA.
His mother became the school's first black office manager. His father taught science at a formerly all-white high school.
In the 1960s, his parents moved back to eastern North Carolina to help desegregate the local schools.
During a 2013 interview, Barber said about his parents:
"My parents both had college degrees, and in the 1950s and '60s that was pretty good for African-Americans at that time."
The reverend went on to say:
"They had the opportunity to stay in Indiana and basically move on up in their jobs."
Dr. William later added:
"But they made a decision to take their only child at that time, come back here to my father's hometown and enter me into segregated kindergarten."
Barber received:
a doctorate from Drew University with a concentration in pastoral care and public policy;
a Master of Divinity degree from Duke University;
a bachelor's degree in political science from NCCU.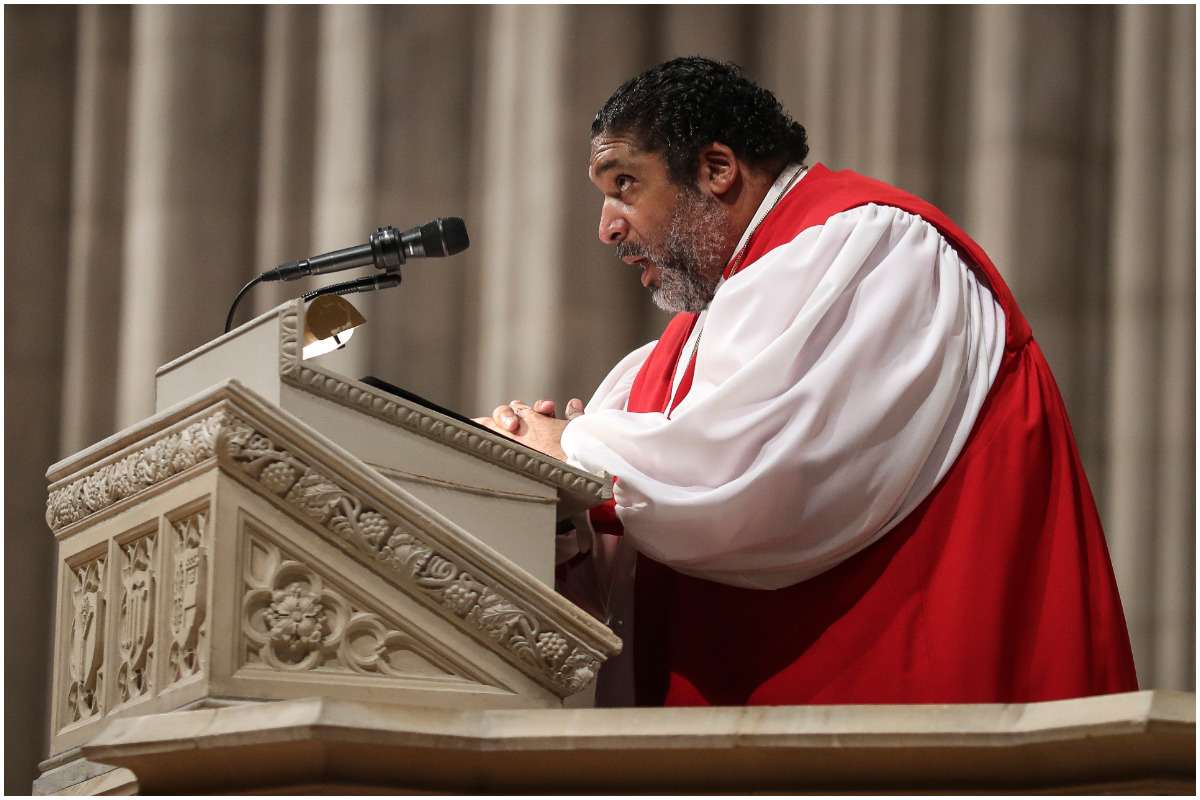 Since 2013, Dr. William has led a series of rallies in Raleigh which have come to be known as Moral Mondays. These rallies are intended to challenge local Republican measures to cut environmental regulations as well as unemployment health care funding and benefits.
In 2014, he founded "Repairers of the Breach," an extension of the Moral Monday protests and a leadership development program.
In 2016, Barber delivered a speech at the Democratic National Convention.
In 2017, Dr. William launched a revival of the 1968 Poor People's Campaign which was spearheaded by Dr. Martin Luther King, Jr.
Later that year, he announced he would step down from the state NAACP presidency. The reverend explained that he left his position to lead "a new 'Poor People's Campaign.'"
In 2018, the Poor People's Campaign launched 40 days of nonviolent civil disobedience in 40 states. This resulted in more than 5000 acts of simultaneous civil disobedience.
Dr. William was also named Tar Heel of the Year by the News & Observer.
In the same year, he was named a MacArthur Fellow for "building broad-based fusion coalitions as part of a moral movement to confront racial and economic inequality."
Barber will receive $625,000 over 5 years as a recipient of the MacArthur Foundation "Genius Grant." He can use the money as he desires.
The MacArthur Foundation said in its description of Dr. William's work:
"He is effective at building unusually inclusive fusion coalitions that are multiracial and interfaith, reach across gender, age, and class lines, and are dedicated to addressing poverty, inequality, and systemic racism."
Wife
Barber married Rebecca McLean in 1987. They meet in 1984 during a march in support of Jesse Jackson's presidential campaign.
Daughter
The couple has a daughter, named Sharrelle Barber. In 2018, she co-produced and co-directed a short documentary about Marielle Franco, named – "I, A Black Woman, Resist."
In the present day, Sharrelle Barber is a faculty member at the Drexel University Dornsife School. She received a Doctor of Science degree in Social Epidemiology from the Harvard T.H. Chan School of Public Health.
Arrest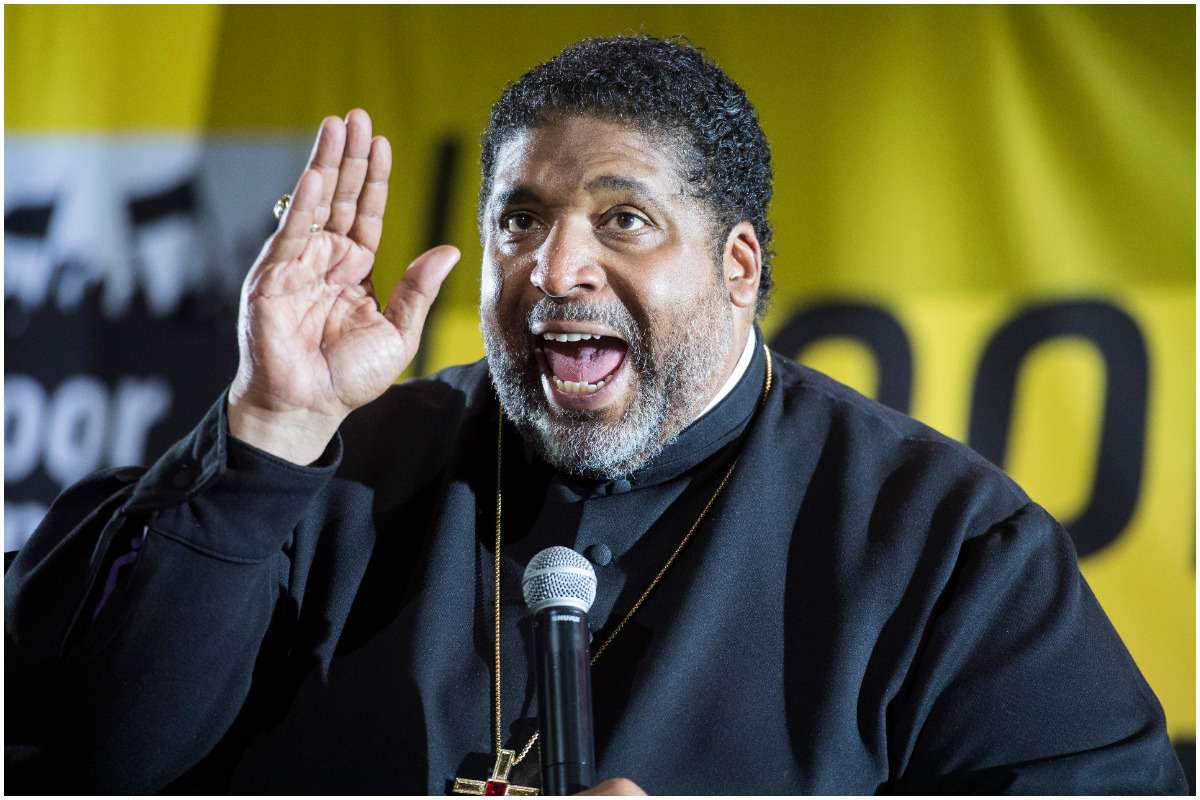 On May 30, 2017, Dr. William was arrested after refusing to leave the North Carolina State Legislative Building during a protest over health care legislation.
Previously, Barber has been arrested at least 15 times.
In 2019, after a jury found him to be guilty of second-degree trespass, he officially became a convicted criminal.
Books
On January 12, 2016, he published a book titled – "The Third Reconstruction: Moral Mondays, Fusion Politics, and the Rise of a New Justice Movement."
In this book, Barber offers a hopeful message for a nation grappling with persistent economic and racial injustice.
On December 4, 2018, Reverend William published another book, named – "Revive Us Again: Vision and Action in Moral Organizing."
In this book, he presents speeches and sermons of prominent faith leaders, activists, and public intellectuals.
Quotes
"The truth is, we must take a collective responsibility for the inequality, the unjust laws, and systems created."
"We know that non-violent civil disobedience works. We know that protest works. We know that voting works."
"We do not need more tax cuts for the rich. We must end this systemic policy violence against poor and low-wealth people."
"Study after study shows cash improves the lives of the poorest with next to no negative side effects."
"You don't just start protesting. You don't just start having civil disobedience. You have to have a map."
Trivia
Reverend William has spoken to a wide variety of audiences, including:
national gatherings of Jews, Muslims, and Christians;
national unions;
fast-food workers;
fraternities and sororities;
small organizing committees of domestic workers;
motorcycle organizations;
environmental and criminal justice groups;
drug dealer conferences;
justice groups;
LGBTQ communities;
voting rights advocates;
economic policy groups;
women's groups.
In 2009, he received "the Order of the Long Leaf Pine" from the North Carolina Governor Bev Perdue.
Rev. Dr. William J. Barber II – Net Worth
Barber is an amazing figure in movement-building politics, who is doing the tireless work of stitching together a multiracial democracy, especially in the South.
He held a number of positions, including:
the trustee boards of two colleges;
pastor of Greenleaf Christian Church (Disciples of Christ);
president of the NAACP's North Carolina state chapter;
adjunct instructor at Duke Divinity School and N.C. Wesleyan, North Carolina Central University;
the Executive Director of N.C. Human Relations Commission.
After he was a recipient of the MacArthur Foundation "Genius Grant," he received $650,000. Therefore, Rev. Dr. William J. Barber II has an estimated net worth of $1.2 million.
Featured image source – © Guliver / Getty Images.
References

https://www.theguardian.com/us-news/2019/jun/06/william-barber-trespassing-convicted
https://www.nbcnews.com/news/nbcblk/oped-why-i-was-arrested-fight-15-n690571
https://www.newyorker.com/podcast/political-scene/the-reverend-william-barber-talks-to-david-remnick
https://www.npr.org/2018/10/31/659837563/preaching-gospel-of-love-and-justice-william-barber