Rhett & Link, self-styled as "Internetainers," are an American comedy duo who created Independent Film Channel series Rhett & Link: Commercial Kings, comedic sketches and songs, and their YouTube Red series Rhett and Link's Buddy System.
But, they are known for creating and hosting "Good Mythical Morning," the most-watched daily show on the internet.
Biography
Link
He was born June 1, 1978, in Boone Trail, North Carolina, and was delivered with the help of forceps. Link's full name is Charles Lincoln Neal III. Link's dad was a tobacco farmer.
He is known to be awkwardly funny, a master of organization, the President of the Republic of Cheesistan, and prone to gagging and retching when introduced to unfamiliar or strange food.
Link has no full siblings; nevertheless, he has a variety of half-siblings and step-siblings, most of whom he does not discuss at length on camera.
His parents divorced when he was two years old, and he experienced many changes in his family structure over the years as a result. Link's mom is currently remarried to Lewis.
He went to pre-school at Lillington First Baptist Church. Also, he was also babysat by a woman named Loretta at some point in his childhood. He was totally blond as a child. However, his hair eventually naturally darkened.
Rhett
He was born October 11, 1977, in Macon, Georgia. Rhett's full name is Rhett James McLaughlin.
His family moved to Thousand Oaks, California, when Rhett was age 4. He graduated from pre-school in 1982 in Thousand Oaks. After he finished high school, his family moved to Buies Creek, North Carolina.
He has one sibling, a brother named Cole, who is three years older.
When Did Rhett & Link First Meet?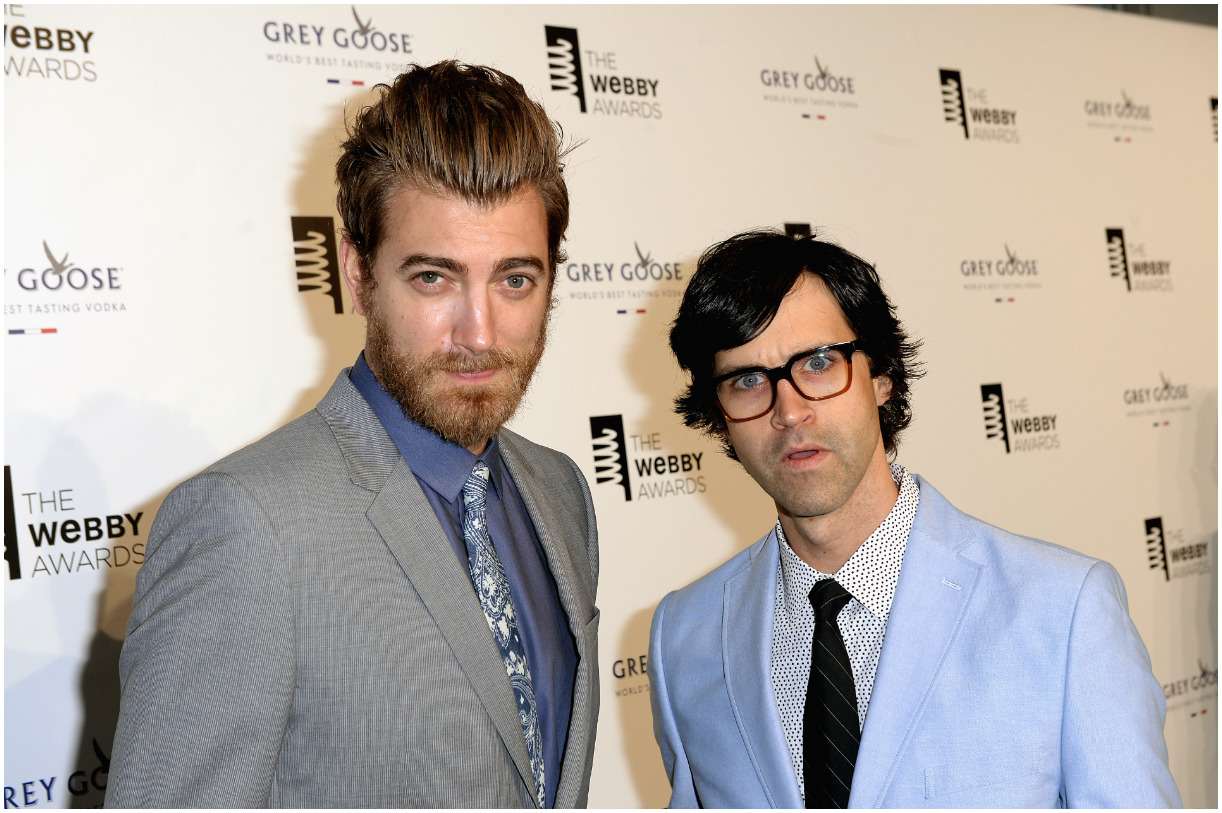 They met on September 4, 1984, the exact date they started school in Harnett County at Buies Creek Elementary School in Buies Creek, North Carolina.
In high school, the two best friends frequently used to listen to Merle Haggard whilst driving around the suburbs in silence for hours, later discussing the lyrics in detail.
They made a blood oath to "do something big" in high school.
YouTube
Rhett & Link quit their jobs as engineers soon after graduating from college to shift their concentration to their YouTube channel.
They started out by posting short documentaries, films, and commercials for local brands. They slowly expanded their content to funny sketches and even made songs and raps.
In the present day, the duo runs a number of YouTube channels, including:
"Ear Biscuits" is a channel for their weekly podcasts, called Ear Biscuits. This YouTube channel was initially presented in the GMM channel but then transferred to this new channel. This change went into effect on January 7, 2019. Currently, it has over 171,000 subscribers and over 11 million views.
"Mythical" (formerly This is Mythical) is a YouTube channel that features bonus and behind the scenes videos. "Mythical" has over 729 thousand subscribers and over 69 million views.
"Good Mythical MORE" is a YouTube channel that airs directly after "Good Mythical Morning" and is characterized as the "show after the show." It has over 3.87 million subscribers and over 882 million views.
"Good Mythical Morning" is a talk-show airing on weekdays at 6:00 am EST with over 6.2 billion views and over 16.3 million subscribers.
"Rhett & Link," which has 870 million views and over 4.81 million subscribers.
On December 20, 2019, Mythical Entertainment announced a new channel named – "Mythical Kitchen."
Wives & Kids
Rhett got married in 2001 to Jessie Lane. The happy couple has two children – Locke and Shepherd.
Link got married in 2000 to Christy White. They have three children – Lincoln, Lilian, and Lando. The family owns a dog named Lola, with whom the kids have a strong bond.
Vasectomy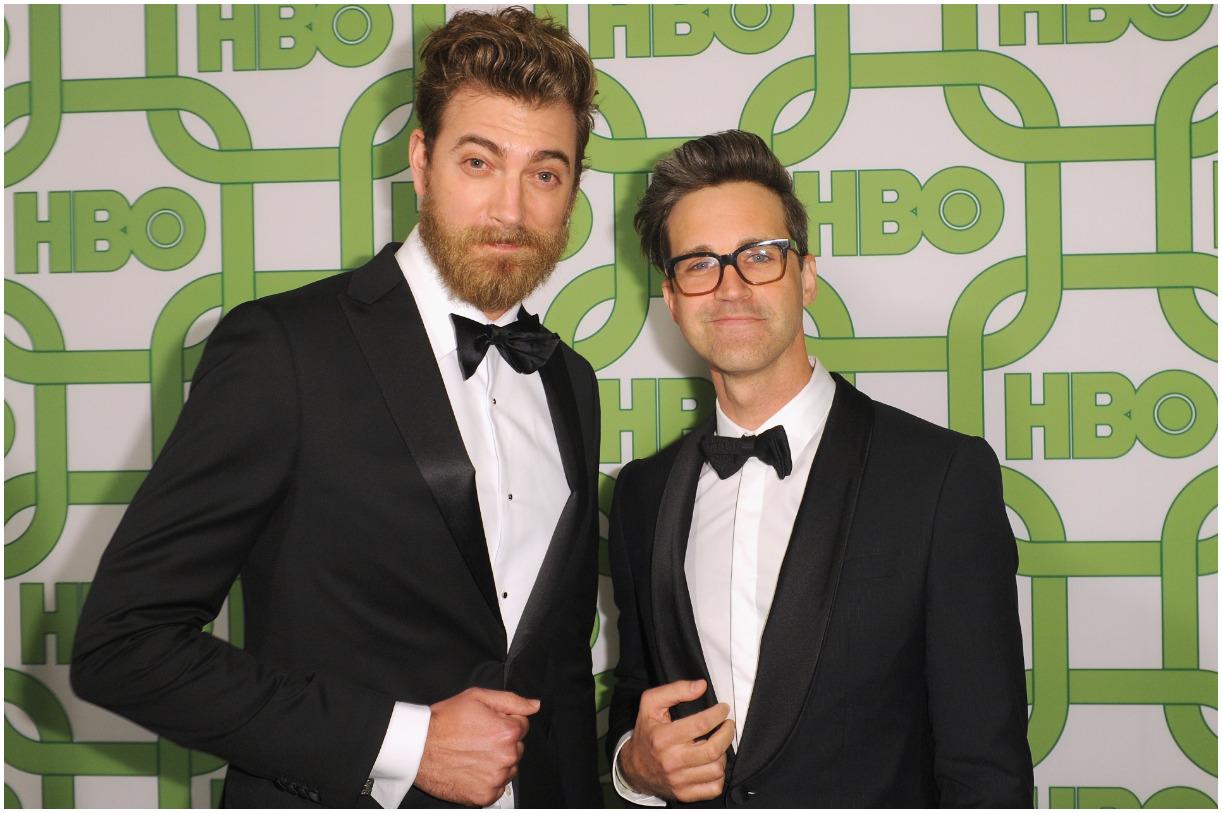 Vasectomy is a surgical procedure for male sterilization or permanent contraception. Vasectomy can be an appropriate birth control option for those who are not planning more children and is 99% effective in preventing pregnancy.
In 2017, the YouTube stars got vasectomies together and even vlogged about it for their "Good Mythical Morning" channel.
Height
Rhett is 6 feet 7 inches tall and weighs a total of 176 lbs. Link is 6 feet tall.
Book Of Mythicality
Rhett & Link's "Book of Mythicality: A Field Guide to Curiosity, Creativity, and Tomfoolery" is a hilarious blend of autobiography, trivia, and advice.
Tattoo
Link has a tattoo of his wife's name, Christy, on his butt. Rhett also has one on his buttocks.
READ MORE: Robert Jeffress Net Worth
Trivia
Their first sponsored video, "Cornhole Song," was made for AJJ Cornhole in 2007. Since then, Link and Rhett have integrated other small brands like Smule, with "iResQ" and "I am a Thoughtful Guy."
According to Rhett, Link is ambidextrous, which means he can write with both hands. Note – people who are ambidextrous are more susceptible to certain disorders.
Both have appeared on the show "Jelly Telly" many times as a singing duo known as The Fabulous Bentley Brothers.
In 2016, Link and Rhett won a Streamy Award for Best Comedy Show.
They are passionate about camping and are avid paddleboarders, mountain bikers, and off-roading enthusiasts.
READ MORE: Is Richard Montañez married?
In 2008, Link and Rhett released a documentary called "Looking For Miss Locklear," where they tried to find the teacher in whose class they met for the first time.
When working with Markiplier (an American YouTuber who is originally from Honolulu) on writing their Five Nights at Freddy's song, Link revealed that his son couldn't sleep alone after playing Five Nights at Freddy's.
Rhett has Restless Legs Syndrome (also called Willis-Ekbom Disease) that can be spotted anytime he sits. In addition, he has a few ruptured discs in his spine and psoriasis (a skin condition that speeds up the life cycle of skin cells).
In September 2012, they uploaded a video of them singing "All Night Long" by Lionel Richie.
On February 22, 2019, they had acquired the Smosh (an American sketch comedy YouTube channel) after the channel's former parent company, Defy Media, had gone into liquidation. Smosh has over 24 million subscribers on its main channel alone,
In 2014, the "Rhett & Link" YouTube channel was listed on New Media Rockstars Top 100 Channels, ranked at No. 35.
READ MORE: Biography of Josh Flagg
Link has appeared as a guest in the Epic Rap Battles of History (a YouTube web series created by Lloyd Ahlquist and Peter Shukoff) and has portrayed Explorer Lewis Meriwether, Leonardo Da Vinci, and Aviator Orville Write as rappers.
Rhett and Link – Net Worth
Both YouTubers earned most of their wealth by selling their book online (Book of Mythicality), sponsors, merchandise, and advertisements on their YouTube channels. Currently, all their channels have over 7 billion views, which means about $15 million in revenue, before taxes. Keeping this in mind, Rhett and Link have a net worth of $20 million.
Featured image source – © Guliver / Getty Images.
READ THIS NEXT: Ana Maria Polo
References

https://www.forbes.com/acquisition-of-smosh-as-a-model-for-creators
https://www.complex.com/rhett-and-link-hiccup-uncontrollably-while-eating