What is Joey Swoll's net worth? Also, what is Joey Swoll's height?
Introduction
Joey Swoll (born Joey Sergo) is an American fitness model, bodybuilder, athlete, and Instagram star, who has over 2.1 million Instagram followers.
In addition, Joey released his own book on fitness, Train Harder Than Me, and co-founded the Shredz supplement company.
Biography
He was born on January 11, 1983, in the USA.
Sergo grew up just outside of Chicago. During college, he developed a passion for weightlifting. During an interview, he said:
"I started to get compliments on my physique and my strength. I loved it."
Joey went on to say:
"But more than anything it helped me deal with the stress and anger inside I had for the people around me lacking compassion or respect."
In a different interview, Joey said:
"I view bodybuilding as an art form – painters have a canvas, musicians have instruments and voices, and bodybuilders have their physiques."
Height
Joey Swoll is 5 ft 6 in (167 cm) tall.
Wife/Girlfriend
There are some reports that Joey Swoll is in a relationship with keto coach Crystal Reneau.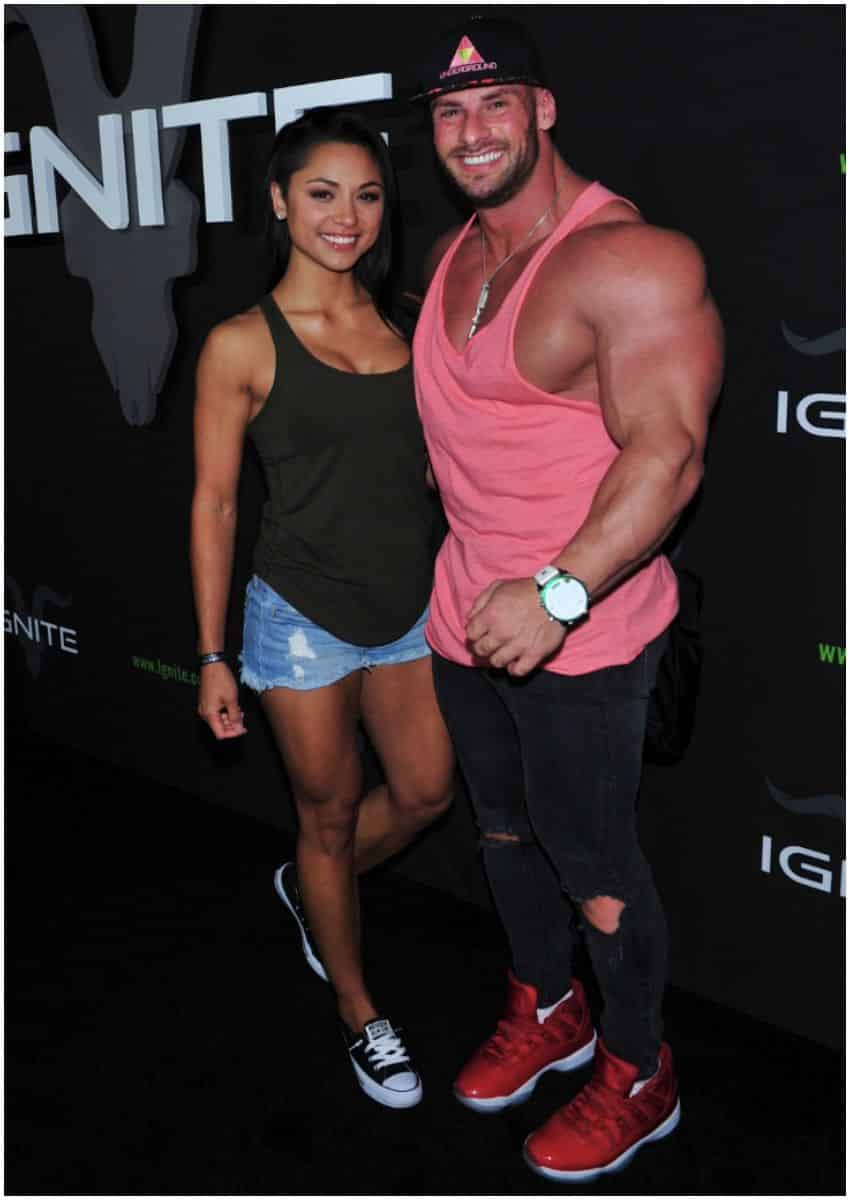 However, Crystal wrote on her Instagram in 2018: "Everything we do, we do together. This relationship gives the label best friend a new meaning."
READ MORE: Jake Ducey & Ashley Hall
Quotes
"My heroes are and always will be my MOM and DAD. They were the ones who worked 2-3 jobs for many years to make sure my brothers, sister, and I had food to eat, clothes on our back, and a roof over our head."
"Train your body to reach the goals you've set for yourself."
"You don't 'wake up' or 'fall into' greatness. You work your ass off, you fight, and you take it."
"My family is absolutely EVERYTHING to me. Everything I do is to take care of them and the people I love."
"There's going to be days you don't "feel" like working out. You're going to be sick, sore, tired, and hungry. You're going to want to quit… BUT YOU WON'T."
"I don't believe in destiny, fate, or luck. I believe in opportunity, hunger, and action."
"If you don't train legs, you'll never get laid. You'll never make 6 figures, you'll never drive a nice car, you'll never be a superhero, you'll never have a puppy."
"Years and years of training chest just so this little angel has a comfy place to nap."
READ MORE: Pascal Duvier Net Worth
Trivia
He mentioned Bob Prince and Steve Reeves (an American actor, professional bodybuilder, and philanthropist who is best known for his portrayal of Hercules) as sources of inspiration for him.
Sergo had his name legally changed after he became Swoll.
Joey gained a lot of fans during his time with Shredz, one of the fastest-growing names in the fitness and health industry, which has sponsored fellow bodybuilders such as Devin Physique.
Devin earned a full ride to San Jose State University for cross country; however, he changed his mind and started to pursue bodybuilding more intensively.
In 2012, through his enormous social presence on Instagram with over 1.8 million followers, Devin became sponsored by SHREDZ.
When he was with Shreddz, Joey had a t-shirt with the inscription:
"Maybe you should train as hard as you hate."
This unisex t-shirt is available in red on white as well as white on black and is made from 100% pre-shrunk cotton.
Swoll said that he is happy to see that people want to wear this t-shirt and help spread this positive message. In his words:
"It's amazing to see these words on the front of a t-shirt because they started as thoughts I had when I saw people online hating on other people's fitness progress."
After the Devin Physique controversy sparked up, Joey started distancing himself from Shredz (currently, he is still with them). This controversy exposed Devin for photoshopping his photos with Adobe and for selling workout plans and diet, which were created by some of his employees.
He released his own fitness book.
Swoll has been featured in some of the top bodybuilding and fitness magazine covers.
Joey founded Flex Your Heart, a nonprofit organization that has delivered an anti-bullying message to kids around the country.
His 3 favorite exercises are:
Pull-Ups – one of the best strength and mass building exercises;
Front Barbell Squats – a lower-body exercise that will strengthen your hips and legs;
Flat Bench Cable Flyes – by doing this exercise, you train your chest muscle group using a flat bench and a cable pulley.
His advice for amateur bodybuilders is:
"Hard, intense, focused training in an hour or so followed by the right nutrition and rest is the best way to grow and advance."
READ MORE: Who is David Wilcock's wife?
Joey Swoll – Net Worth
Swoll earns most of his wealth from being the co-founder of Shredz. In addition, he earns some money from coaching other bodybuilding enthusiasts.
Moreover, Joey has published his own book where he gives various advice on training and fitness in general. Also, he has an Instagram account with more than 2.1 million followers. On this platform, he can publish paid posts. With his current number of followers, he can easily earn $15,000 per paid post.
Also, he sells merch (especially t-shirts) on several websites.
Therefore, American fitness model Joey Swoll has an estimated net worth of $2 million.
READ THIS NEXT: Is Asmongold dating now?
References

https://www.tmz.com/videos/0-5ox15ahn/
https://comicbook.com/2015/06/17/joey-swoll-and-paige-hathaway
https://www.prweb.com/releases/2013/10/prweb11270036.htm