Kendra Sunderland Net Worth – $1.5 million
Kendra Sunderland is an American webcam model and #####graphic actress who became a popular internet sensation after her infamous library video went viral, which landed her a profession in the adult film industry.
Biography
She was born on June 16, 1995, in the USA.
In June 2013, Sunderland graduated from West Salem High School.
In her Ask.fm, Kendra says she smokes:
"as much [weed] as [she] can."
After high school, she joined Oregon State University. At the same time, she started to work at Uncle Doc's Diner in Lebanon, Oregon, the diner which replaced Herschel's Old Fashioned Ice Cream Parlour in the town.
Soon after, a #### video she made in the school's library went viral.
The clip appeared on P###Hub and garnered over 275,000 views before being deleted. The video showed Kendra, #######ating for around half an hour.
The clip led to a police investigation.
Kendra stated:
"A close friend of mine told me about MFC and #####bate. He knew girls that had done it. He told me you'd make a lot of money, and you don't really have to work very much, and people on there will buy you anything you want."
She continued:
"I told him I was broke and it was hard for me to find a job. I'd just lost my job at the diner. So I mentioned it to my boyfriend and I decided to sign up one night."
The video of her #######ating in the Oregon State University library earned her the moniker "Oregon State Library Girl."
Kendra has been charged with public indecency.
The complaint, written by Senior Trooper Christopher Graves, reads:
"On January 27, 2015, at approximately 2:30 p.m. I was tasked into a complaint of a video of a female that was posted to a #####graphic site claiming that the solo act that was being performed occurred in the Oregon State Library."
Christopher Graves continued:
"I was able to identify the suspect as the female and she admitted that she performed the act in the OSU Valley Library back in October."
Kendra said:
"I'd never done anything like that before, no. I decided to do it at the library because I thought there'd be less people, and it'd be cooler in front of books. I was trying to look like a cute college girl or something."
Sunderland also said:
"Well, my mom brought it up to me. She called me when she'd found out about it from one of her friends at home. She told me, "Well, I thought something worse had happened to you." She thought I was dead or pregnant. My dad said I needed to be careful and think first before I did everything."
Aside from the public indecency citation, which ultimately cost Kendra a $1,000 fine, she's lost friends over the incident.
READ MORE: David Joyner is a tantric sex therapist
Sunderland explained:
"When the video first came out I was depressed and sad, because my life changed so drastically. I didn't ask to become known as Library Girl, but now I have embraced it and love to tweet #librarygirl."
She also said in an interview that she left school since:
"It wasn't what I wanted for my life. I was bored there."
That same year, Kendra was contacted by Penthouse and Playboy magazines for some photoshoots. In the case of Penthouse, it was proclaimed Pet of the Month for the month of May.
In 2015, she also debuted as an adult entertainment actress under the direction of director Greg Lansky (a French entrepreneur and adult film director) for companies Vixen and Tushy.
READ MORE: Facts about Beth Toussaint
Sunderland even started her own website called 'Library Girl,' on which she regularly uploads videos and photos.
She has a second website – PlaywithKendra.com, where she hosts live ##### shows.
During an interview with Huffington Post in December 2015, she said:
"I've been told I'm wise beyond my years. I am "really blessed" to have found the soft-#### webcam world. If I stuck through college, I'd be in debt years from now, hating my life," she says. That wasn't for me. I dropped out."
On Aug 20, 2017, she signed a contract to perform in #### video shoots with Vixen, a film production company based in Los Angeles, California, that specializes in performers with natural beauty.
Sunderland said:
"I wanted to be around people that live my lifestyle. Up in Salem, Oregon, there are no #### stars. There's a few webcam models. But nobody really understood the lifestyle that I live or why I am the way that I am."
She continued:
"When I moved down here it was great to make friends with people that are in the industry who you can talk to about your work and they're not all weirded out by it."
In 2017, she was named "Vixen Angel of the Year" at the AVN Entertainment Expo. Greg Lansky gave her a diamond necklace worth $20,000.
READ MORE: What is Richard T. Jones's net worth?
In early 2018, Kendra announced that she will be retiring from the film industry.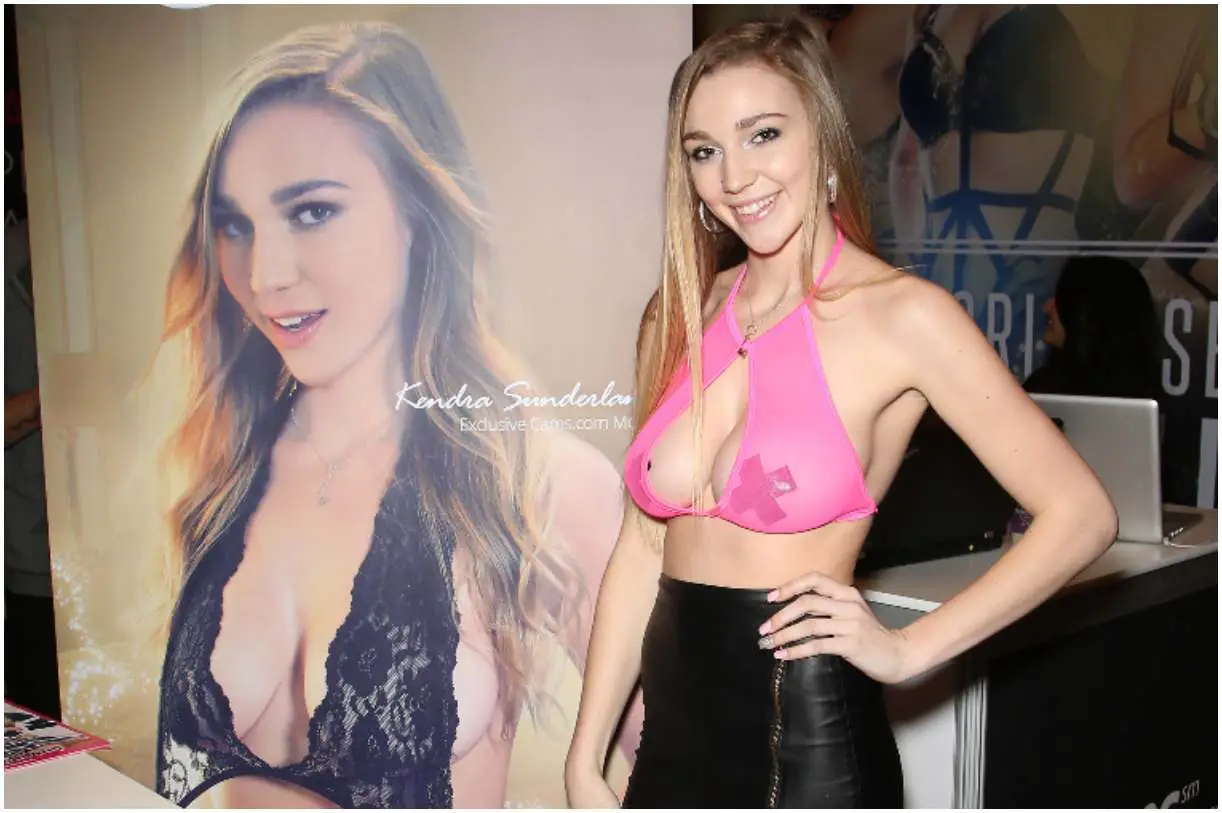 In late 2018, she filmed a #### scene. But, it was just an exclusive scene for Greg Lansky.
According to a new interview with Sunderland, currently, she wants to take her talents into "mainstream" movies. She said:
"I like to be filmed. I like to be photographed. My mom said I always used to beg to have my picture taken. I've always loved being in front of the camera."
Kendra continued:
"I think that's part of why I want to go off and do mainstream acting and movies and television…. Now I look at things different. Movies, ####, anything that I watch I just think about how they made it."
In December 2020, her Instagram account was removed from the platform after she posted a series of x-rated stories.
Boyfriend
Kendra is exclusively dating black men in her personal life since she "finds them more manly." In addition, she "wants to have mixed babies."
Tattoo
She has a Yin/Yang tattoo as well as piercings in her nose and navel.
READ MORE: Who is Neil Breen?
Height & Weight
Kendra measures 36DD-25-35, with those breasts being 100 percent natural. Also, Sunderland is 5′ 9″ (1.75 m) tall and weighs 125 lbs (56 kg).
Trivia
Until now, Kendra has shot more than 52 movies.
In November 2019, she participated at Sapphire 60 in NYC. Kendra said:
"The Sapphire clubs are my favorites. It's always an awesome time and I look forward to seeing my Big Apple fans."
READ MORE: Tommy Wiseau Net Worth
Kendra Sunderland – Net Worth
Sunderland earned most of her wealth by appearing in numerous magazines (like – Penthouse and Playboy), live ##### shows, sponsors, and starring in over 52 #### videos. Her fee for appearing in any movie was not released to the public, but here is a breakdown of what top talent can earn per video:
Girl-boy: $1,020;
Girl-girl: $1,020;
Insertions solo: $612;
Explicit solo: $476;
Open leg solo: $408;
Nude-only solo: $340.
Considering that she only worked for top companies, like Vixen, Blacked, or Tushy, she was most likely paid much more. In addition, she makes some money from selling tickets to her shows. She also has an OnlyFans account.
Therefore, Kendra Sunderland has an estimated net worth of $1.5 million.
READ THIS NEXT: Milburn Stone & Gunsmoke
References

https://www.adelaidenow.com.au/kendra-sunderland-who-filmed
https://www.oregonlive.com/library_girl_convicted_sentenc.html